At Portable, we explore problem areas in the community that have the potential to be improved through design and technology. Over the past few years, we've been working toward increasing access to justice in Australia by working on projects we feel can demonstrate the value of a design-led approach to tackle systemic issues and provide practical solutions. We believe applying a design-led approach to the justice sector leads to more efficient, accessible, and empathetic solutions that have sustained impact.
Our experience in the justice sector over the past few years has led us to draft the following principles that guide all our work:
We actively work toward equitable outcomes, recognising diversity and systemic disadvantage
We empower people to understand their rights and options, providing accessible and usable services
We give people the means and ability to take action to help themselves, meeting people where they're at
Based on these principles, we're excited to be able to work on projects that we hope will bring about both practical change and sustained impact. These principles act as a driving force directing our work in the sector. Here are some of our focus areas for 2022 and beyond.
Understanding what young people need from the justice system
There are still pernicious, ongoing challenges in the way that the justice system interacts with young people. Government policy and services are struggling to deal with social inequality, mental health needs, and the overrepresentation of First Nations people. Shifting our perspective to youth justice and the treatment of young offenders will need large-scale collaboration and participatory approaches to problem solving.
For instance, despite the UN setting a benchmark of 14 years old as the minimum age of criminal responsibility, Australia has yet to raise the age and is still incarcerating children as young as 10. International pressure is growing to increase the age of criminal responsibility in line with modern human rights standards. There is also growing recognition of the disproportionate representation Aboriginal and Torres Strait Islander children in the justice system. According to First Assistant Secretary of the Attorney-General's Department, Andrew Walter, Indigenous Australian make up 78% per cent of young people incarcerated between the ages of 10 and 13. 
As these pressures build it is becoming clear that youth justice is a necessary area for reform. But identifying alternatives to punitive, reactionary models and improving outcomes for young people who commit offences requires a human-centred approach. We need to hear more from young people and the people who support them in order to understand the root causes of offending behaviour, including the systemic failures that lead to inequalities in the justice system. Only then can we tackle the existing problems with new design-led solutions. 
We hope our work in this space over the next year will help build more understanding of the unique challenges facing young people in order to define more human-centred approaches to youth justice, through our own research and through client partnerships with legal assistance organisations across the country.
Helping employees understand their rights
Employment law is a highly complex area in Australia. Understanding your workplace rights and obligations means having to understand which one of the over 120 awards, enterprise agreements, or minimum standards apply, and then working out the details of your overtime, leave, or allowances based on your situation and experience. But even with this maze of regulations, people are still being taken advantage of.
High-profile instances of wage theft have been increasingly in the news, and the Victorian Government has recently drafted standards to regulate the gig economy. They acknowledge the lack of protections the food delivery workers and aged care professionals faced while their services were more in-demand than ever during the pandemic. Young and migrant workers are particularly vulnerable to experiencing wage theft and other workplace issues, as they often have lower levels of literacy of their rights and work in casual positions with high turnover in industries like hospitality, retail, or cleaning.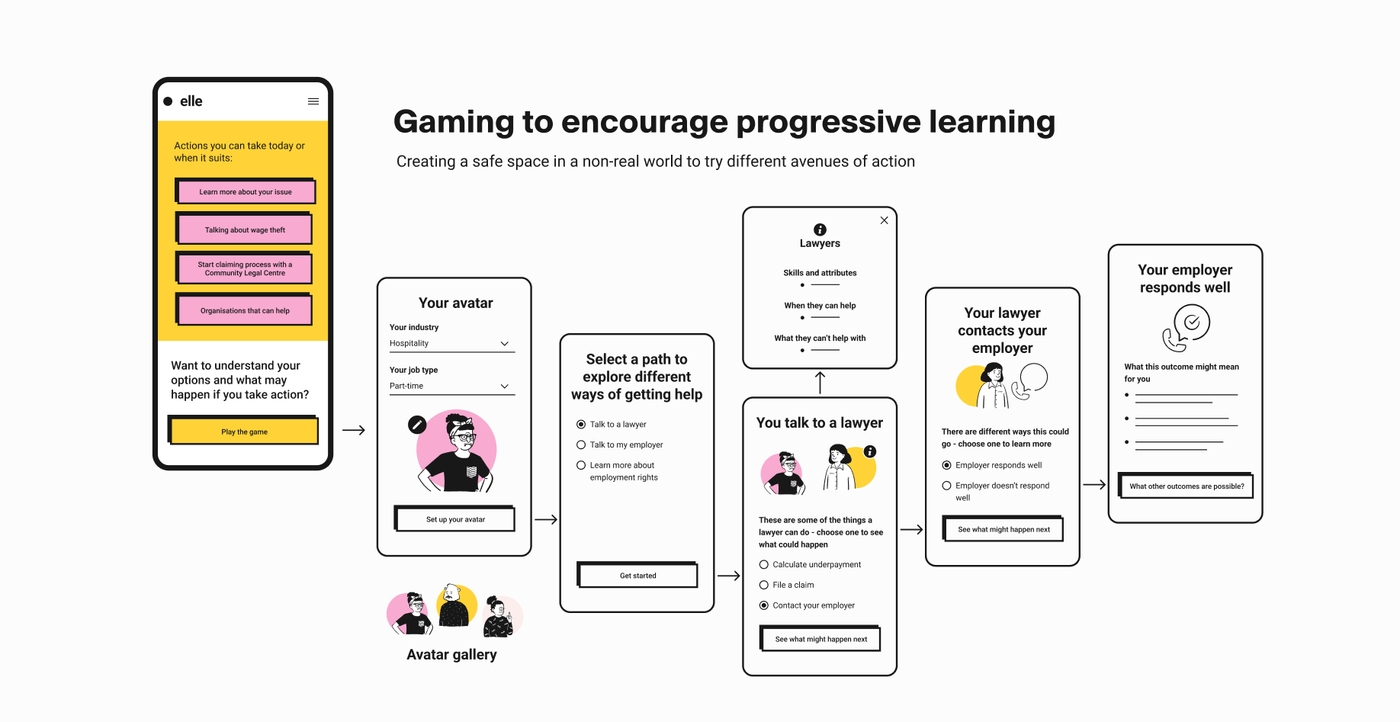 We've partnered with the Melbourne School of Government, who are also working on a project to discover ways to support young people at risk of wage theft and provide better data to drive change. We're currently exploring how to use technology to enable employers and employees to identify and work out employment issues before they escalate or cause further harm, including recently completing designing and testing a prototype for an onboarding platform that puts both parties on the same page.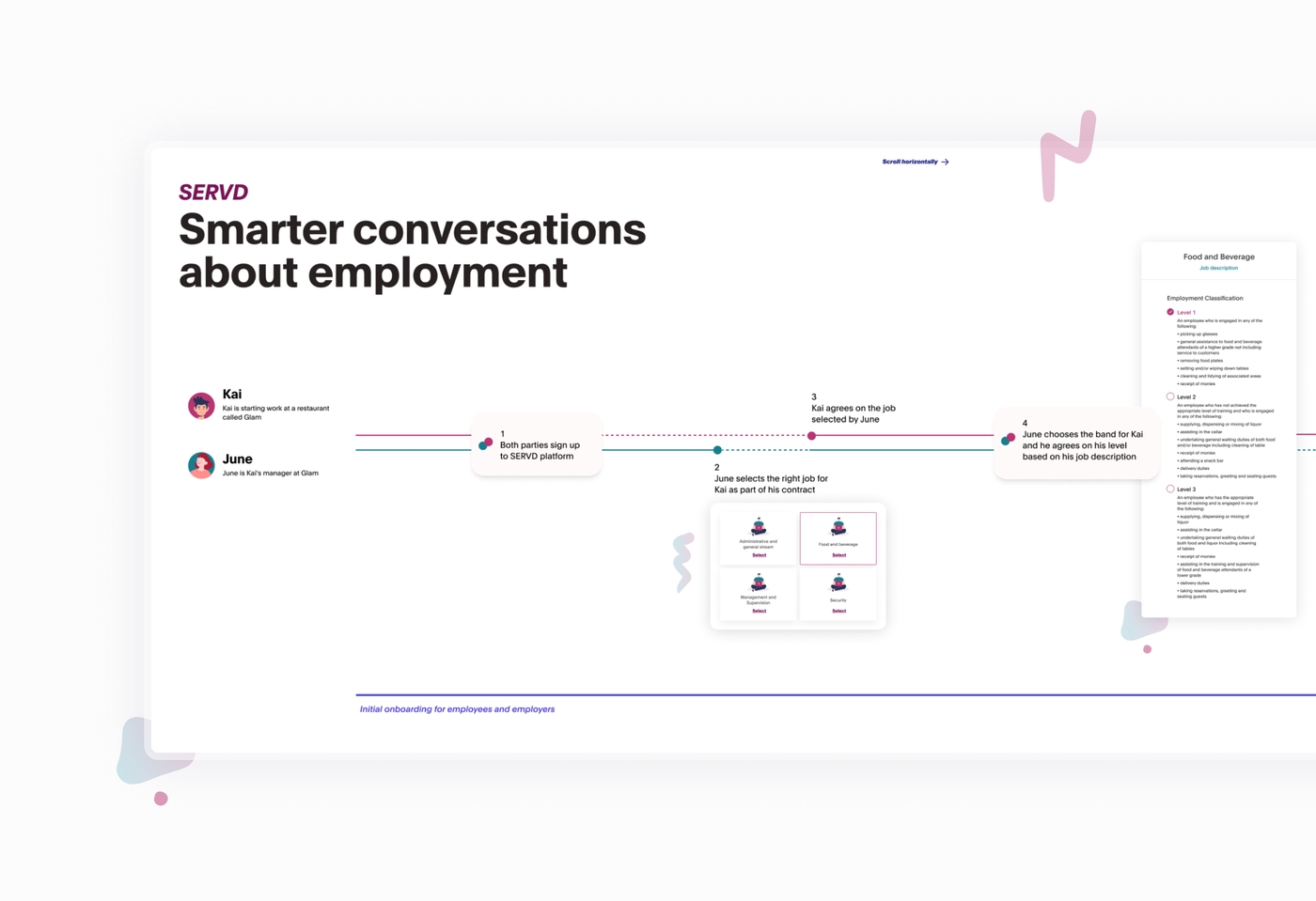 This builds on our work in 2021 completed for the Attorney-General's Department where we explored the complexities that small businesses experience when employing people and complying with employment legislation and awards. Through engaging with small business owners from a range of industries, we were able to provide the Department with clear recommendations on how regulatory technology could help to improve awards compliance in Australia accompanied by a regulatory technology strategic roadmap to guide future implementation.
We're committed to designing a future where employers and employees are able to have smarter conversations about employment, informed by relevant employment regulations and best practice conversational design.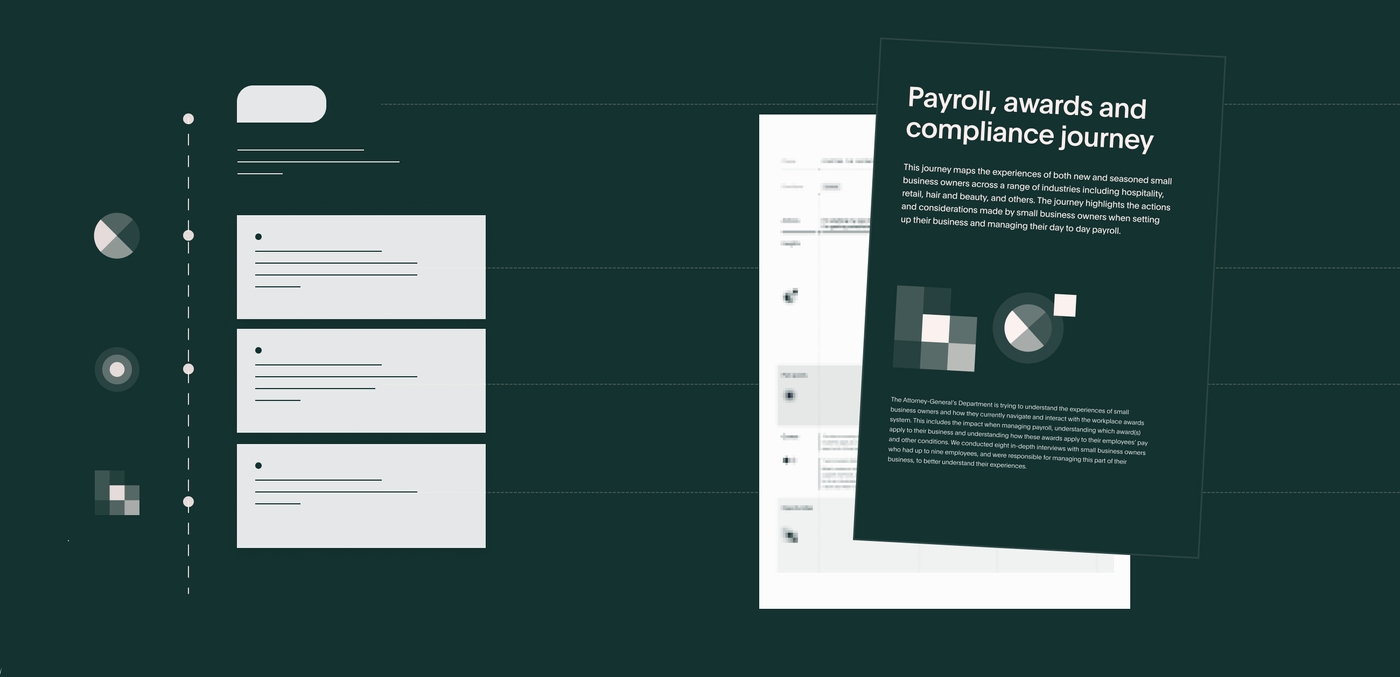 Bringing in the next generation of online dispute resolution
Over the past few years, we've been designing, testing, and improving the online separation platform, amica, in partnership with National Legal Aid and the Legal Services Commission of South Australia.
For us, an effective product is always evolving and adapting to growing user or organisational needs. Over this past year we've been focusing on improving the usability of our product, including building a new amica website to introduce people to the process of using the amica platform and connecting them to useful legal resources and helplines, with the aim of driving up engagement of the tool.
The increased amount of information amica captures and the multiple legal processes it performs also warranted a review of the navigation and user Interface of the amica application in 2021. Testing with users highlighted a need for greater clarity on where they were in the process. Following these research insights, we've recently released a range of updates to amica to help alleviate these pain points, improving the  user experience of navigating through the tool, communicating with each other, and reaching agreement at key points.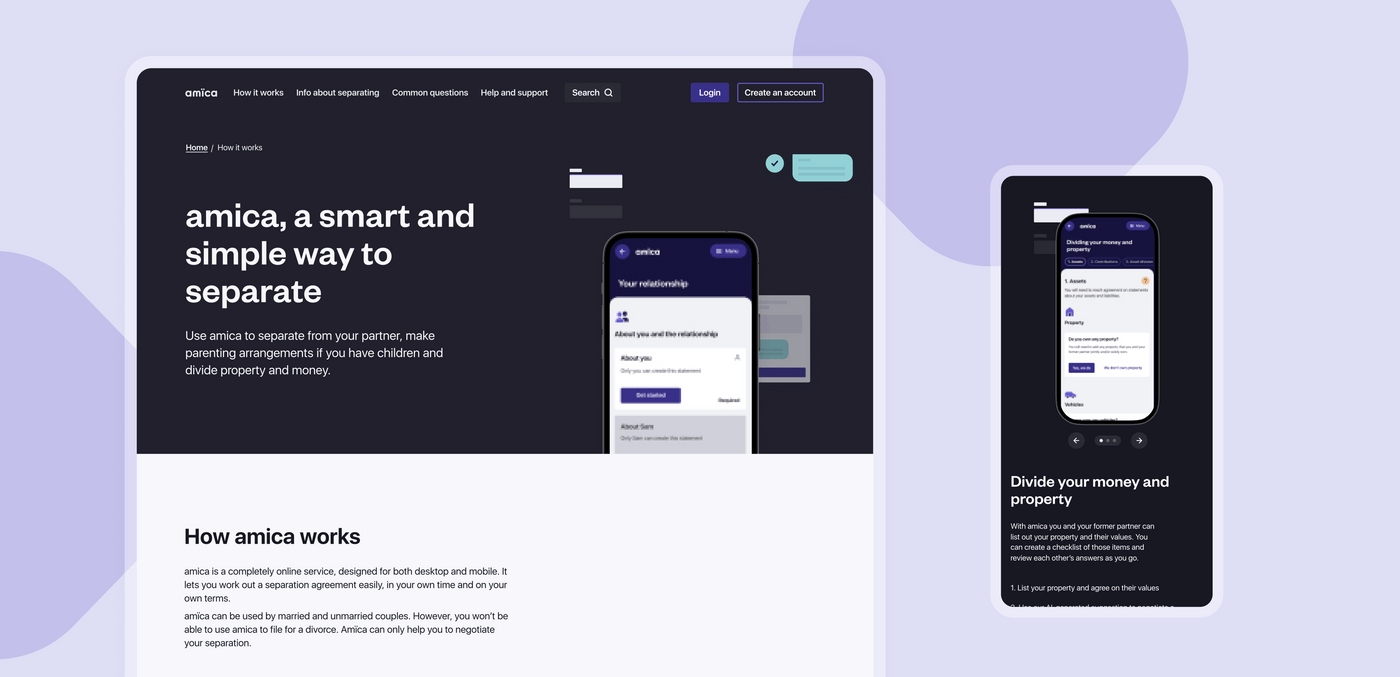 Over the next year, we're looking forward to taking what we've learned about how people communicate and agree on mutually beneficial outcomes to help people resolve issues in a range of contexts, including workplace settings and small civil claims.
Designing accessible platforms with informal pathways to resolve disputes will help empower people who may currently be missing out on their legal protections through formal avenues, thereby increasing access to justice. 
We look forward to sharing our journey with you in this space as we work to ensure that everyone can equitably access justice. 
Download our report on design for justice