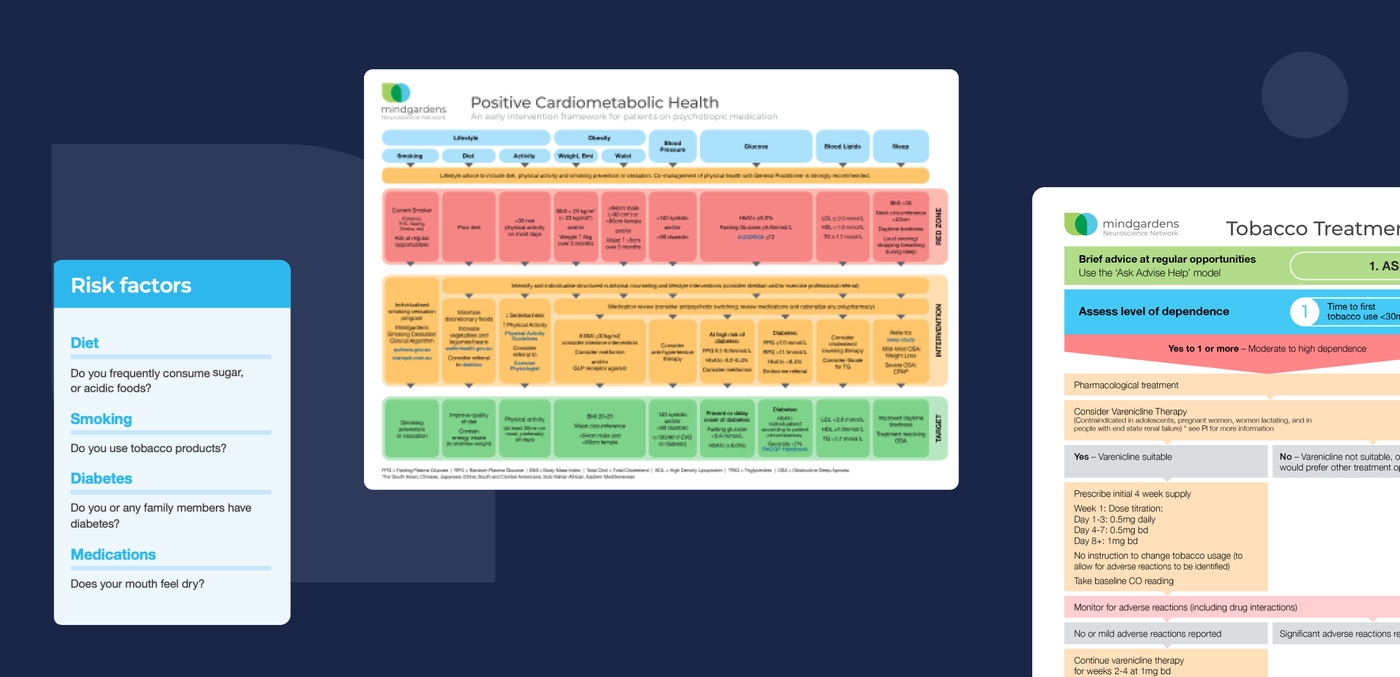 The Challenge
To update and design current clinical algorithms and to produce a new learning module template and DL brochures for consumer use.
In an era where access to accurate and actionable health information is critical, individuals with severe mental illness often find themselves without easy access to essential resources. 
The healthcare professionals who assist them often rely on printed materials to disseminate this crucial information. 
Mindgardens Neuroscience Network recognised for its unique community-driven approach to mental health, engaged with Portable to update a decade-old series of clinical algorithms. 
These algorithms, which serve as early intervention frameworks, required modern revisions to include new treatments and clinical insights.
Our Solution
A key requirement of this project was to keep branding and design a low priority and consumer and clinician use a high priority.
Portable worked closely with the original author of the clinical algorithms and the core project team to ensure the highly reviewed data and information was correctly translated to the new designs.
A series of new designs were developed and tested with a group of clinicians who currently use these algorithms.
Once the preferred design was selected, the team continued to refine this based on the author's design preferences.
Learning Module template
To provide clinicians and health professionals with supporting materials to share with consumers, a Learning Module template was produced for Mindgardens to populate with targeted information and actions.
The template was developed reflecting both the brands Mindgardens and their partner Keeping the Body in Mind (KBIM) equally and to include the functional design requirements of being 'black and white' printer friendly and easy to use in a clinical setting. 
Re-designing brochures:
Lastly, the Portable team re-produced two DL tri-fold Oral Health brochures. The original designs used photography to visualise 'oral health items' such as dental floss, toothbrushes, mouthwash and toothpaste.
After the collaboration session with Mindgardens, the teams agreed to use illustrations to visualise the same items with highlights of the Mindgardens brand colours throughout.
These brochures include information such as 'how to make an appointment, the closest dentist, what you need to bring and how much this will cost'.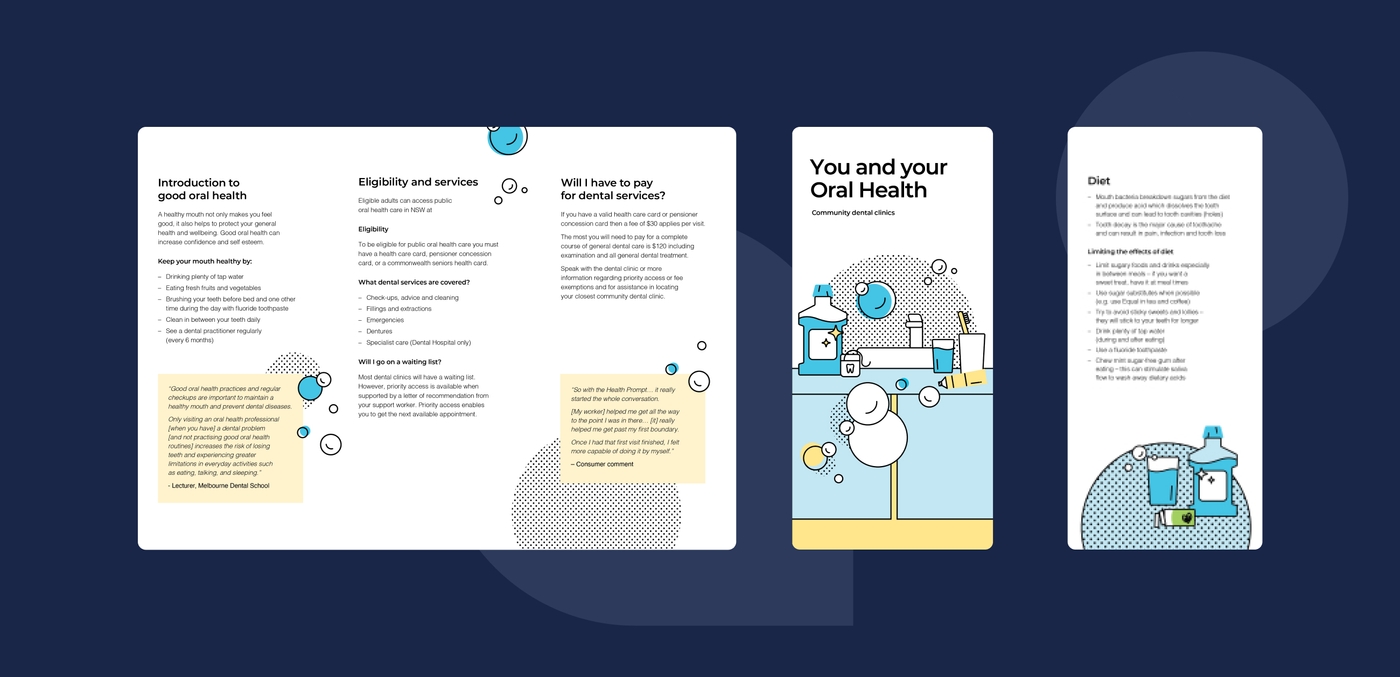 Outcomes
What was delivered:
Four updated clinical algorithms, designed closely with the original authors, tailored for modern clinical needs.
A Learning Module template that balances the branding of both Mindgardens and their partner, Keeping the Body in Mind (KBIM), without compromising on functional design.
Two consumer-friendly, DL Oral Health brochures with a focus on accessibility and actionable information.
This project exemplifies the power of focused collaboration in healthcare, marrying clinical expertise with design efficiency to create resources that genuinely assist those in need.
The project team:
Tess Waterhouse, Senior Digital Producer
Cass Eddy, Senior Designer
Vickie Gillie, Junior Designer
Read more about our recent work: