Meaningful Ageing Australia is a national not-for-profit and peak body for spiritual care and ageing. As defined by Meaningful Ageing Australia, spirituality is integral to, but not confined by, religion and faith. It's about what gives our lives purpose, and our sources of meaning and hope, which in turn is intimately related to our connectedness to ourselves, others and the world. Meaningful Ageing Australia is focussed on the emotional, social and spiritual wellbeing of older people and advocates for spiritual care to be included in all care settings. They aim to put the holistic needs of older people and personal case assistants at the centre of how we, as a national community, care for them.
Meaningful Ageing Australia has many useful resources and learning tools on practising contemporary spiritual care. However, personal carers are time-poor, and many have misconceptions about what spiritual care is. Knowing this was a challenge that they wanted to tackle, Meaningful Ageing Australia came to us with an initial concept for a "choose your own adventure" style experience that asked users to make the right choices to ensure that the older person in each scenario was receiving spiritual care. Akira was a personal care assistant who faced everyday challenges in her work.
Ilsa Hampton, CEO at Meaningful Ageing Australia, worked closely with us to bring the concept to life through addressing the core design challenge that we identified: 
How might we help carers realise that spirituality is more than religion and that their role already includes spiritual care so that they are encouraged in their work and interested to learn more?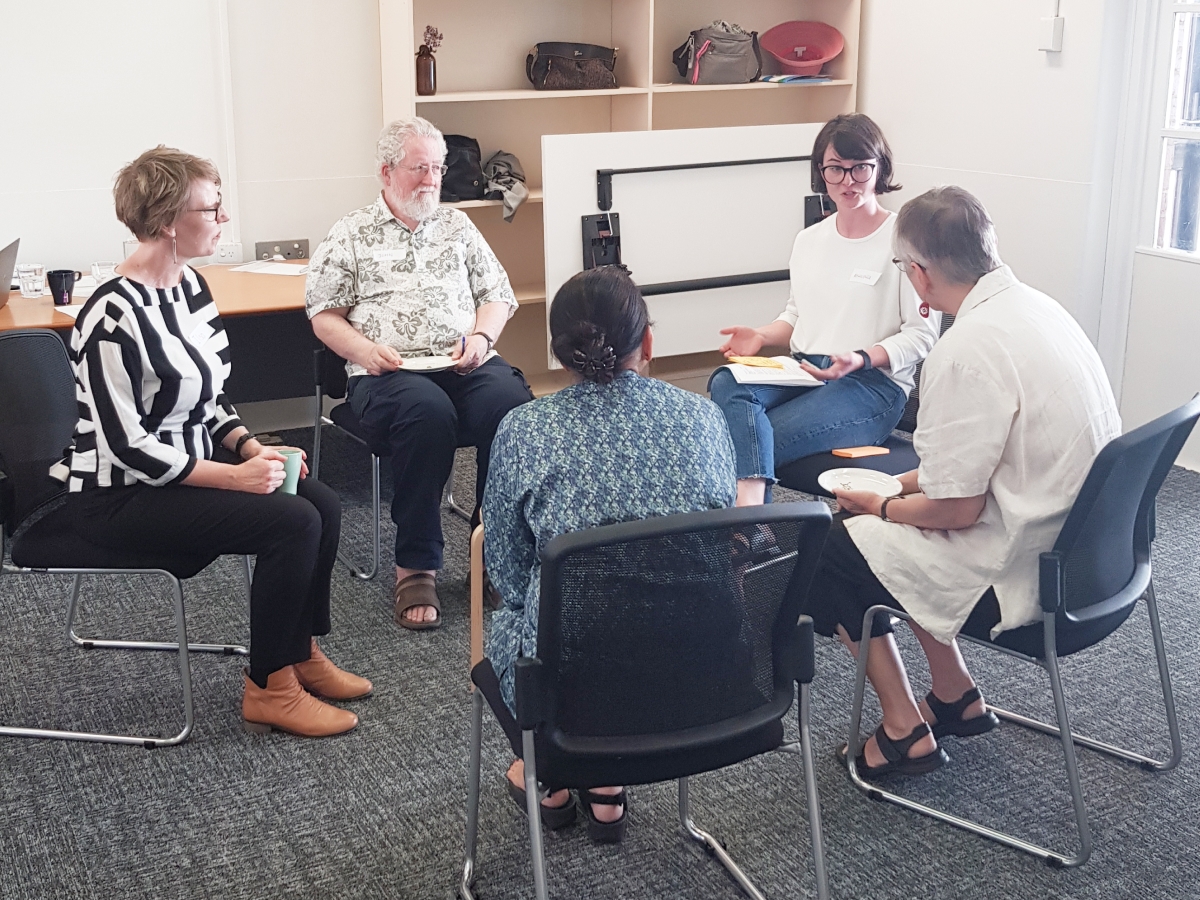 Through an initial discovery phase, we co-designed and user-tested a prototype solution, which was later named Meet Akira (the Akira / "a carer" connection was a happy accident!) Following the completion of this discovery phase, Meaningful Ageing Australia received funding from Prime Super for the design and development phases of Meet Akira.
This project builds on Portable's work in the sector and our self-initiated research into the 'Future of Death and Ageing' in Australia. We spent a year researching how the experience of death and ageing could be transformed by taking a human-centred approach.
Approach
We took a human-centred approach to validate the concept that Meaningful Ageing Australia presented to us, sought to understand the design challenges deeply, and collaboratively define a product vision, identify user stories and design the user experience.
Scoping
In a co-design workshop with Meaningful Ageing Australia, we defined the scope of the project through the following lenses:
Users—who are we designing for and what are their needs?
Context—where does it fit into the user's work, life, day or week?
Content—what are the intended learning outcomes?
Concept—how is the learning delivered?
Building on previous work undertaken by Meaningful Ageing Australia with aged care service providers and academics, we then confirmed the essential learning outcomes for users as:
"My work already includes spiritual care."
"Spiritual care is more than religious care."
Prototyping
Once we clarified the vision for the product, we designed a testable prototype to validate our assumptions by engaging directly with personal carers. The prototype for Meet Akira presents an interactive story and invites viewers to learn about spiritual care by guiding a character through familiar scenarios. When engaging with the story, viewers follow a personal carer, called Akira, through her day at work where she engages with different people in her care.  The initial idea cast the user as the first-person main character in a "choose your own adventure" style experience where the carer faces options and receives feedback from each older person. Given that many personal carers might have already been practising spiritual care without realising it, and we had some concerns about putting the user in a potentially disempowering position where they could make the wrong choice. We decided instead on a strengths-based approach and designed a concept for Meet Akira that casts the user as a guide and "helper" for the main character. 
User testing
We tested our prototype for Meet Akira with a variety of users, including residential carers, a community carer and a registered nurse, focusing on the structure and layout of content and how people navigated through the story and engaged with it. We then refined the prototype based on the insights gained. Our strengths-based approach to designing the experience tested well with personal carers of varying degrees of knowledge about practising spiritual care. It reinforced existing strengths, as well as helped build awareness with those for whom the practice and / or understanding of spiritual care was new. We found that many personal care assistants felt validated and heard when they interacted with Meet Akira. 
Sector stakeholder engagement
We also presented the prototype to stakeholders working in the aged care sector and subject-matter experts, and we workshopped how organisations might communicate and support Meet Akira and the value it could bring to their staff, their operations and the sector. Stakeholders strongly verified the need for personal care assistant training and were excited to see how Meet Akira presented an innovative approach to this. This workshop validated the need to continue refining Meet Akira and to develop and launch it as a resource for personal carers working in the sector.
Co-design
The design and development phases began in early 2020 to further refine Meet Akira and prepare it for development. We facilitated a co-design workshop with personal care assistants, older people and representatives from Meaningful Ageing Australia. Using a storytelling research activity, we gathered more real-life experiences of care from the perspectives of caregivers and recipients of care. The insights gathered from this research fuelled the character development and narrative arc that became the final interactive Meet Akira story.
Visual design
We created a custom style guide for Meet Akira that extended the current Meaningful Ageing Australia brand while remaining distinct. We used colour very intentionally in the design and storytelling of Meet Akira to help communicate the emotional journey of the characters. In the beginning of the story, Akira's world is in black and white, as she struggles with some difficult care situations throughout her day. With the user's help, Akira reflects on her day and commits to practicing a more connected care the following day, and colour gradually begins to enter her world again. The colours chosen are warm, vibrant and calming, reflecting the impact of spiritual care on people's emotions. The illustration style and its clean and simple lines ensure that the narrative is relatable, easy to follow and gives space for the colour to express essential moments.
Website development
We utilised static site generation and Amazon Web Services infrastructure to ensure a high performing experience for users. Core to Meet Akira was the animated illustrations - to accomplish this we combined Scalable Vector Graphics, web animations and React with a custom-built tool to generate the each of the scenes that make up the experience. This tool allowed the design team control over the learning experience in the app, helping us iterate quickly on the look and feel.
Promotional videos
We also created two videos for use across the Meaningful Ageing website and social media platforms. One video was focused on promoting Meet Akira to potential care providers to engage with via a subscription service. The other an implementation guide for people to understand and see how they could easily implement this into their organisation. Seeing these videos, alongside the launch of Meet Akira, made our team proud of what they had achieved in partnership with Meaningful Ageing, the project stakeholders and the project sponsors.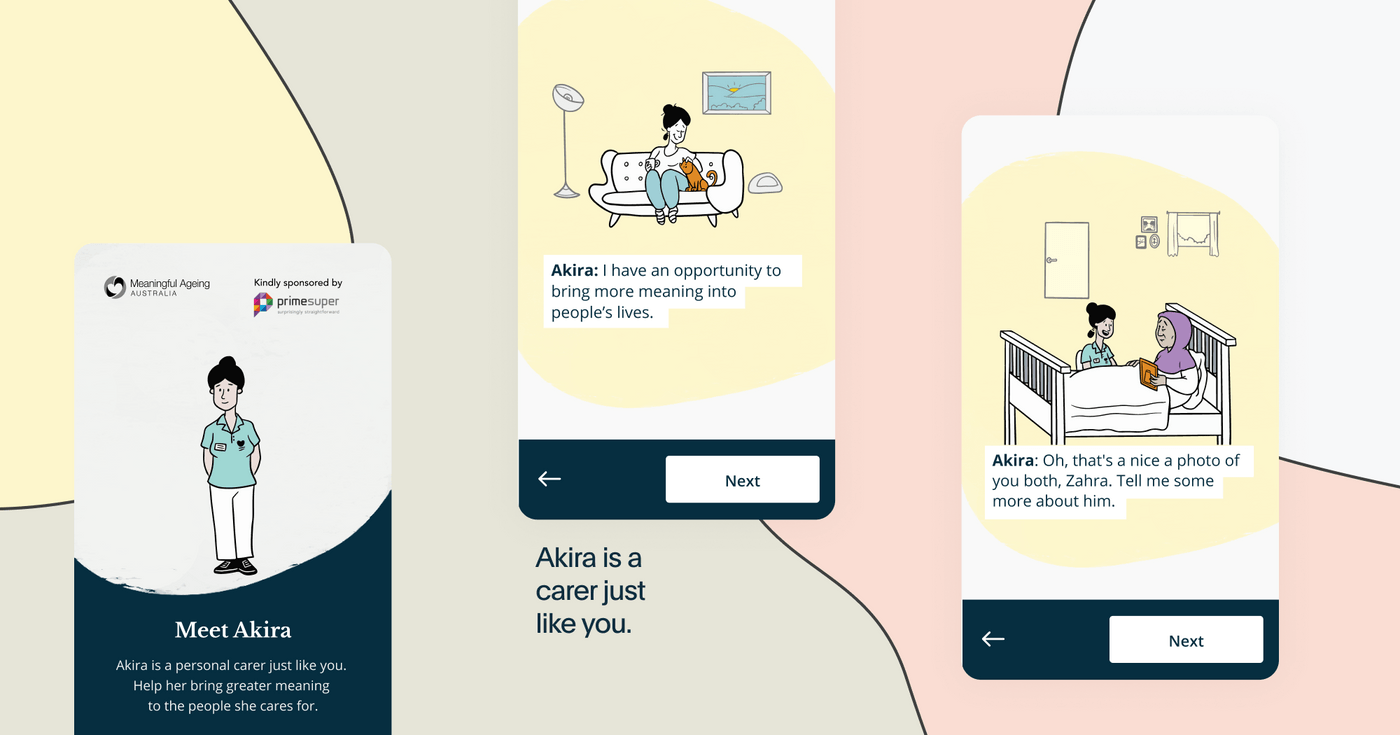 Outcomes
Development and launch of the mobile-first platform that provides users with easy access to the experience.


We have set up the platform to enable us to set up specific URLs for each organisation so that we can understand engagement and drop-offs via Google Analytics. 


Meet Akira was launched as an Implementation Pilot in September 2020 with several aged care services participating. Throughout the pilot, we collected feedback to understand the impact this had on personal care assistants' understanding of spiritual care and if they would recommend it with others as a useful tool; as well as gained insight about how implementation can be supported.


Following the pilot, Meet Akira was launched for use by aged care organisations and their staff across the country on a subscription basis to support their learning. 


You can find out more about Meet Akira and how to access it on Meaningful Ageing Australia's website.
Download our report on the future of death and ageing