Placing users at the centre of the creation of new digital tools.
Portable began working closely with Legal Aid NSW (LANSW) in 2018 through undertaking a user needs analysis for a range of new services and digital tools to improve the user experience of people living in NSW accessing legal aid support and services. Given Portable's specialisation and dedication to working on projects which improve access to justice and in bringing a user-centred approach to designing for justice, working with LANSW directly aligns with our purpose and mission.
As part of their 2018 to 2023 strategic plan, LANSW committed to improving access to justice through integrated and tailored digital legal aid services that focus on client needs and take into account their capability, disadvantage and means. We worked together to help implement user-centred design and technology in the delivery of services for the largest legal aid body in Australia, and to help identify quick wins to help improve the experience for those accessing legal aid services. 
To help guide their vision, we ran a discovery phase for a client portal using human-centred design methods to research the problem from the client's perspective. We ran 3 co-design workshops with clients of LANSW, prototyped an interactive online tool and tested it with users with 8 users at Legal Aid NSW to develop early-stage designs and identify quick wins. It was from this user research that we determined that the grants tracker could be a low-cost, effective, and user-friendly way to meet an urgent client need.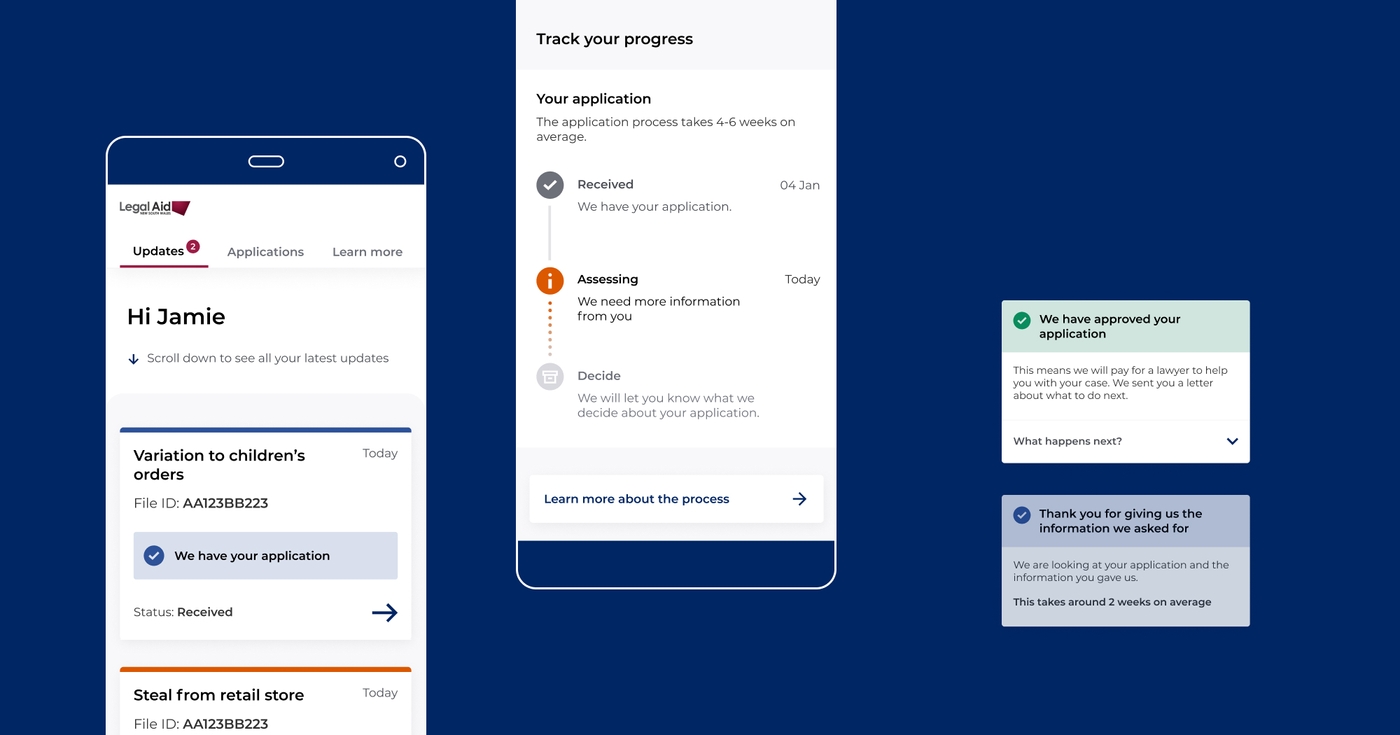 Improving access to justice.
One of the most pressing needs for clients was the ability to receive timely updates on the status of their grant of legal aid application, all while worrying if they'll be able to get a lawyer before they're due in court. Understanding this client need helped us to prioritise a quicker and cheaper minimum viable product (MVP) solution, before building out the full client portal over the next few years.
Piloting and implementing a tracker for grants of legal aid.
We used this insight to iterate on the initial prototype and create an SMS tracker for legal aid applicants. We built a platform for sending SMS notifications, which was triggered by updates entered into the LANSW grants management system. Once a client receives an SMS notification, they can log in to the grants tracker (using a code they've been sent in a separate SMS) and view a webpage which lets them know the status of their grant application, any important messages and answers to FAQs about the process. We tested and sought feedback from people who would eventually use this product on a regular basis, and we collaborated with the LANSW team to create accurate and simplified content. 
The Grants Tracker MVP has been operational since July 2019. Our initial analysis and evaluation of the pilot period (July-August) uncovered the following:
20% of applicants consented to use the tracker when prompted (622 applications)

Applicants with Family Law matters had the highest uptake of the tracker during the period

Out of the 39 survey respondents, 80% of users gave the tracker a rating of 4 or 5 stars

34% of applicants used the grants tracker outside of office hours. 
As of April 1, 2020, our tracker has been used by 2990 clients for 3128 applications. We've seen uptake of the tracker across a range of user groups, ages, and matter types.
We are now working with LANSW on the scale-up of the Grants Tracker and in adding new features and functionality, including the ability to manage and view updates from multiple applications concurrently, and expanding the scope of application updates to include more stages of user grant management. We're excited to see how we can build out this application to better meet the needs of Legal Aid NSW users into the future.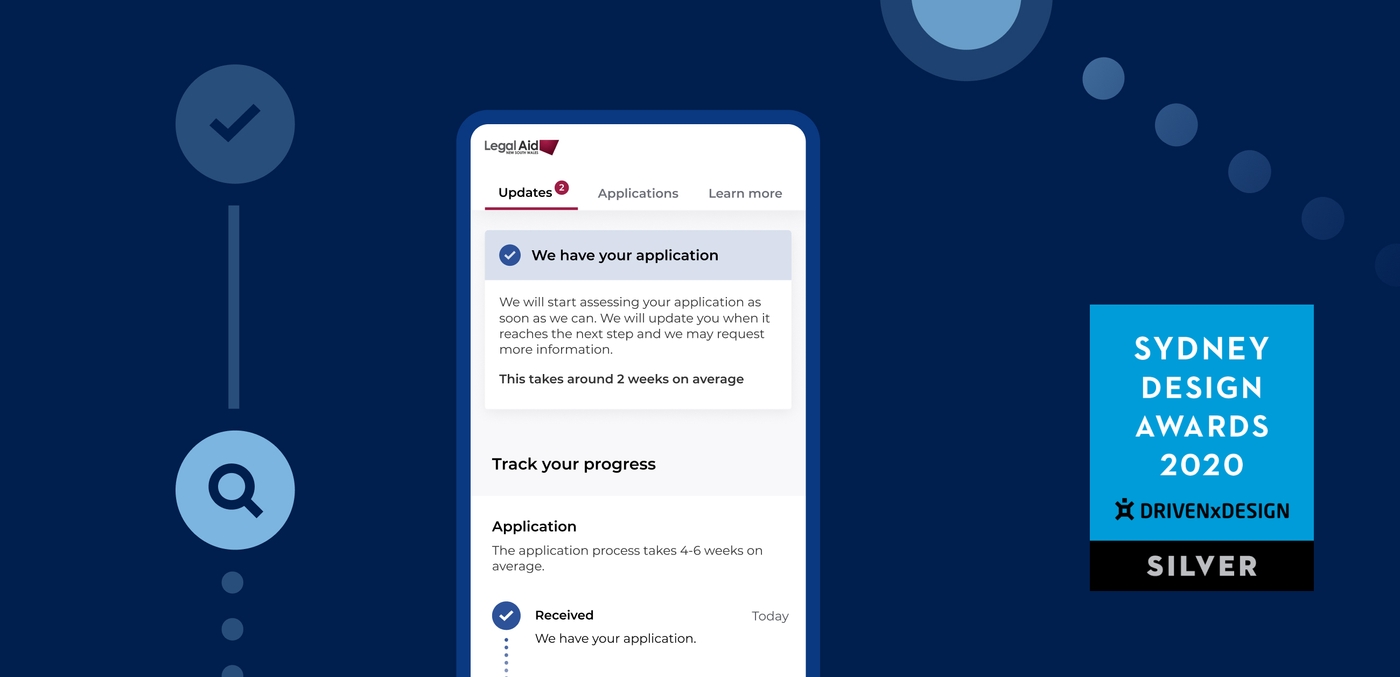 Grants Tracker has since been awarded silver at the 2020 Sydney Design Awards.
It was great to see our work on this project recognised at the 2020 Sydney Design Awards. The Grants Tracker took home silver in the 'Digital - Government Services' category. This category recognises:

"The provision of timely government services that have been transformed as applications and sites that are developed and implemented to either replace or complement previous methods. Be it the delivery of current and up to date critical information, compliance, community support and engagement, notification and registration or providing greater accessibility to government resources". 
Thanks to all of those involved in helping us to design and develop this tool and to Legal Aid NSW for their commitment to digital transformation and innovation in the justice sector.
Download our report on design for justice