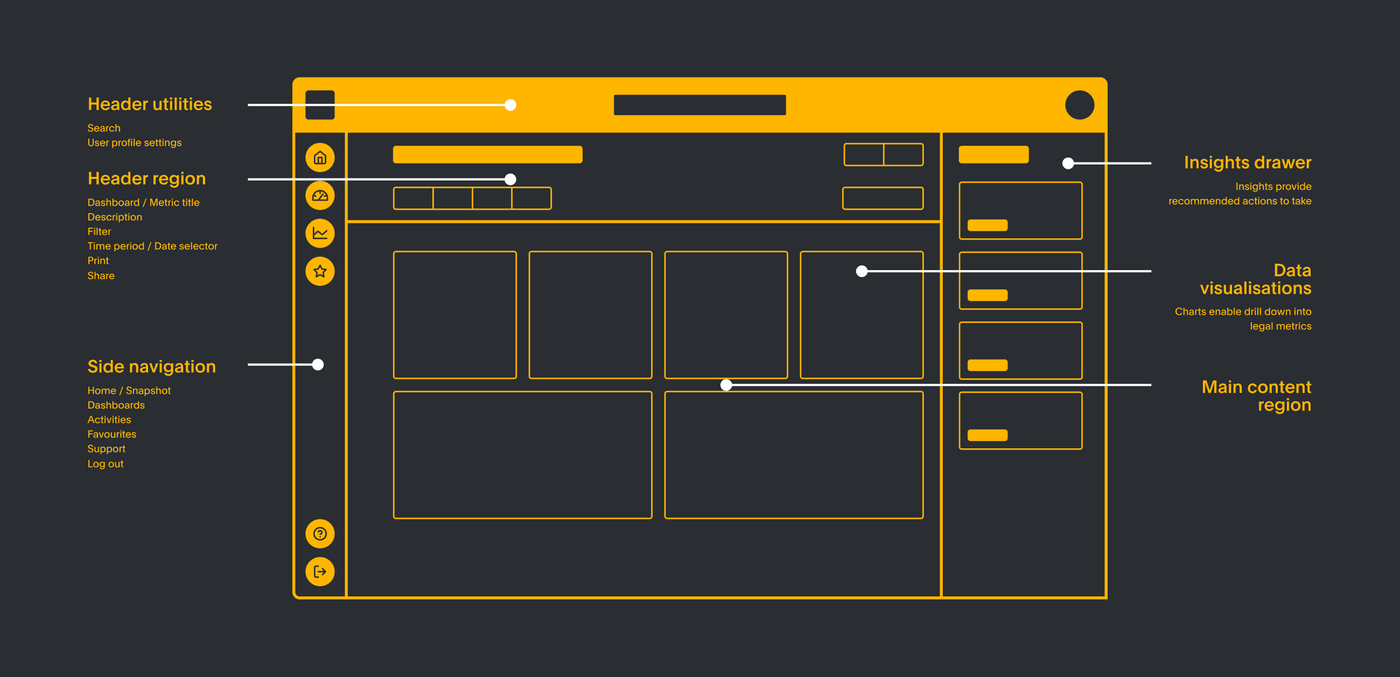 The Project
Client's Challenge
An ongoing challenge for clients of PwC NewLaw is that they cannot obtain consolidated snapshots of data insights themselves to help support their strategic goals and visions. Current concerns from clients around not having this information readily available, include and are not limited to: 
not being able to focus on work that matters 
not being able to demonstrate the way in which decisions are made 
the lack of transparency on how a resource's time and effort is being utilised
the risk of not having data insights to support strategic goals and growth 
and the time and effort required to ensure this data is current. 

Partnering with Portable
PwC believes there is an opportunity to capitalise on this data by making an 'off the shelf' product that clients can customise to align with their strategic goals. By providing clients with this visibility, PwC NewLaw believes that legal departments can quickly identify via a series of dashboard insights, areas of improvement, pain points and growth opportunities. 
PwC NewLaw's vision is that in the near future they can offer clients a tool that visualises key data about their department and that supports the most important decisions for their team and organisation. PwC NewLaw envisages a standalone centralised dashboard that requires low implementation effort and high data insights. 
Portable partnered and worked closely with stakeholders from the PwC NewLaw team throughout the delivery of this prototyping engagement, efficiently producing a prototype that effectively validates the product concept before any additional resources were invested into the initiative.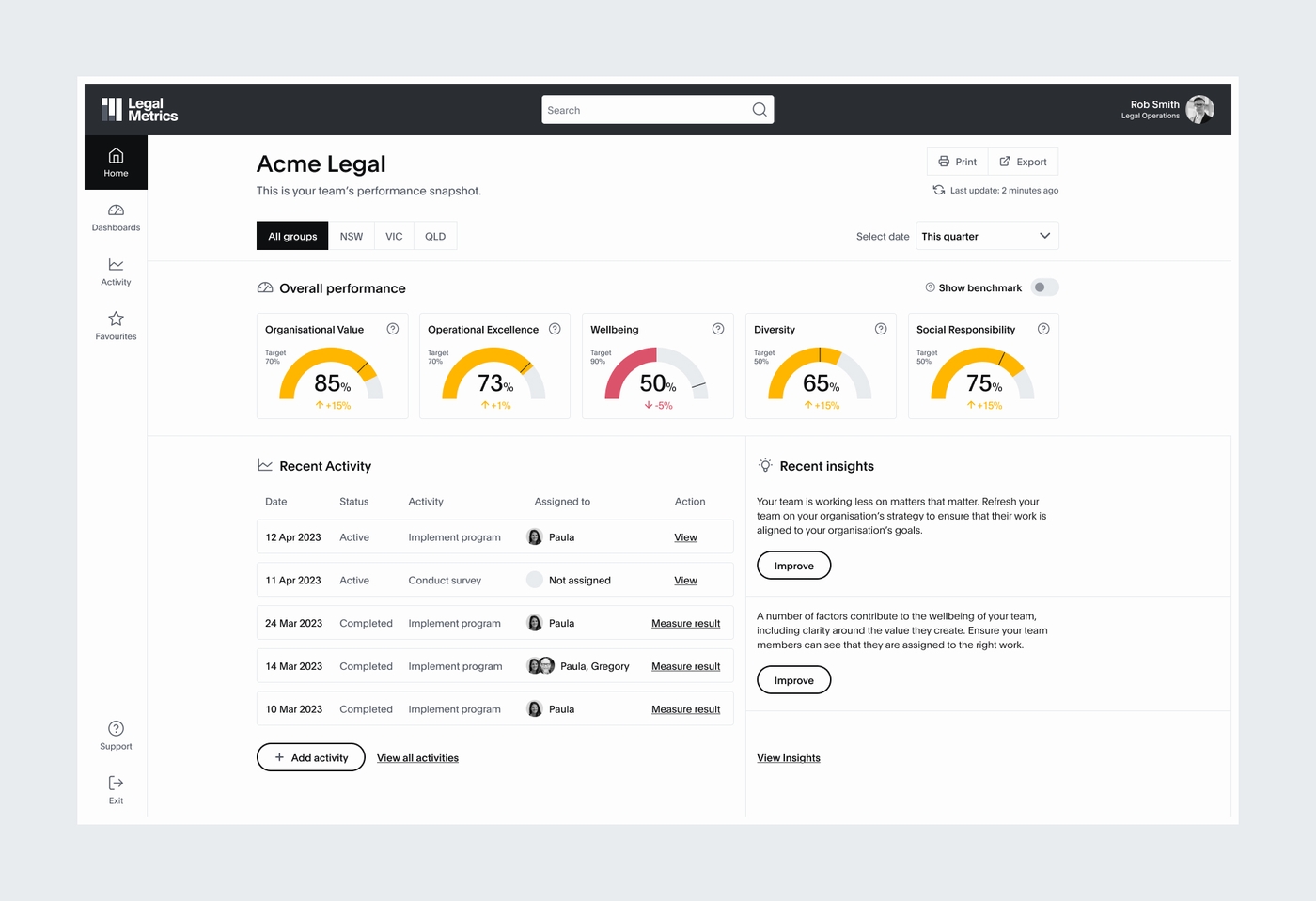 Portable's Solution
Discovery & Definition
The Portable team began by mapping out how each of the project deliverables would be approached, what information was required, how we would capture and synthesise the information and how we planned on delivering these insights back to PwC NewLaw.
The agreed deliverables for the project included:
creating a proof of concept including a low-fidelity prototype (validated through user testing)
client-facing pitch deck to support an internal business case.
Conceptualisation
Once a general structure was established, the two teams collaborated in a 4 hour 'Concept Workshop' which focused on:
prioritising on who we were talking to (personas)
the opportunity PwC NewLaw were wanting to present
the key metrics identified as the highest priority to users
and the use cases for the prototype.

All of which would help inform the product's Value Proposition deck and metrics dashboard. 
Collaboration
After completing the 'Concept Workshop', the Portable team collaborated with PwC NewLaw to produce a Discussion Guide targeted at understanding the market need and desire for the proposed product and for use during the stakeholder interviews.
Additionally, we began the first round of low-fidelity wireframes of the legal metrics dashboard based on the user stories captured in previous sessions.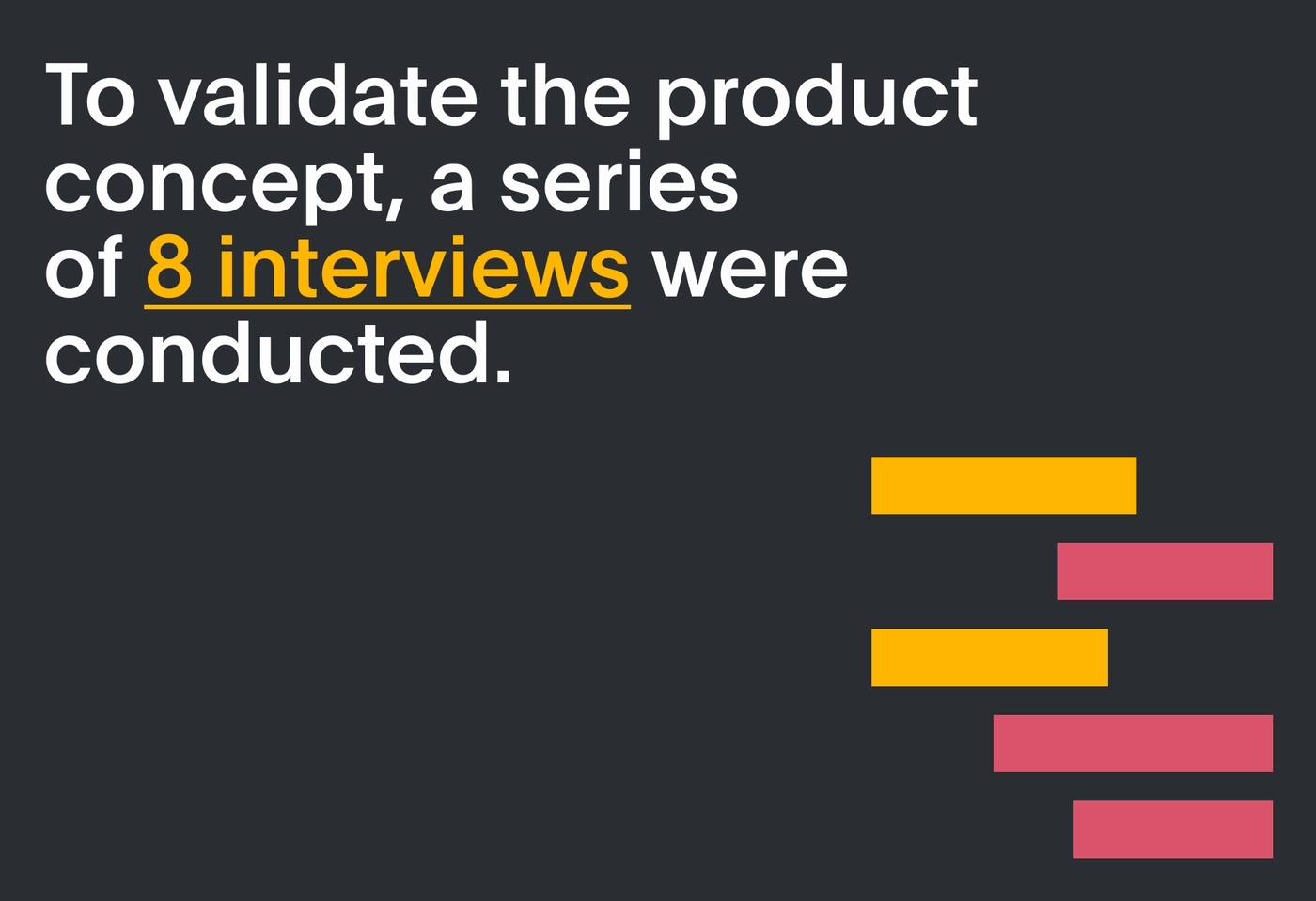 Stakeholder Engagement
To validate the product concept, a series of 8 interviews were conducted with current clients from a range of specialisations including General Counsel, Legal Leadership and Legal Operations. 
Feedback from these participants indicated that there was a strong desire for key metrics in legal teams including:
industry benchmarking
organisational targets
departmental trends
and staff wellbeing metrics.

Having a customisable centralised dashboard would not only provide a more accurate reporting cycle but would also assist users with efficiency gaps, capacity issues and forecasting. 
Despite strong support for the product there was hesitation regarding how the data would be captured if it wasn't already being captured, the additional effort required in capturing this, and how complex the implementation would be should this data not be currently available or reported on.
Project Outcomes
Insights Playback
Following the interviews, a playback session was conducted by the Portable Team, with the interview participants key desires and objections fleshed out further for consideration.
The interviews performed successfully validated the product concept while also highlighting another potential opportunity for this product with a different stakeholder group.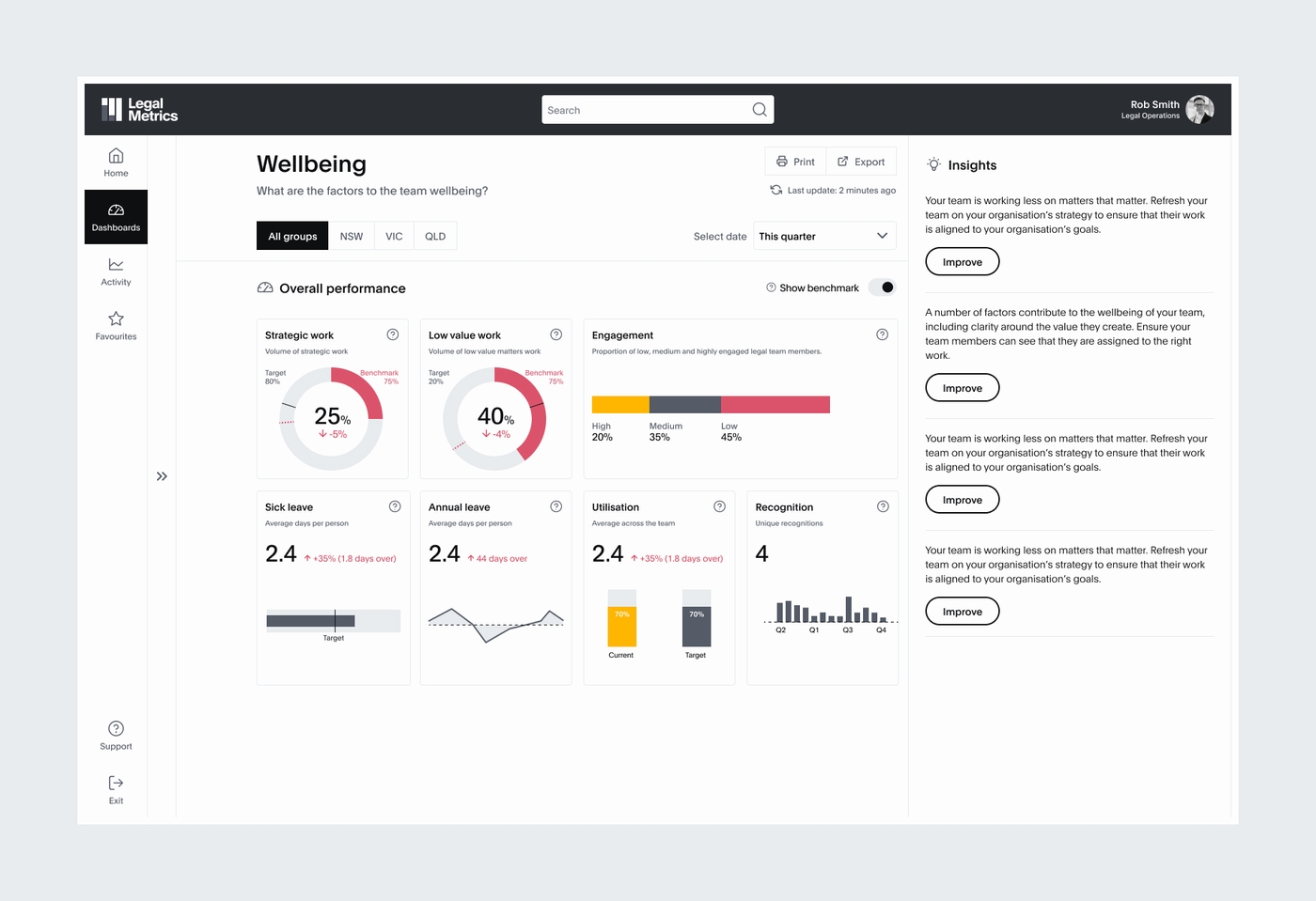 Recommendations
Portable provided two scenarios for PwC NewLaw to consider:
Firstly, a series of recommendations were made by Portable to consider further researching the desirability, viability and feasibility of the product with a broader stakeholder group before committing to a Business Case.
Secondly, should PwC NewLaw wish to continue with the current prototype business case, a list of recommended Minimum Viable Product (MVP) requirements was provided.

Overall, PwC NewLaw were pleased with the findings and appreciated and respected the journey into early product discovery which was executed efficiently by the Portable team.
Client Feedback
"The Portable Team expertly guided us through the stakeholder design and testing process. It was a hugely valuable exercise through which we learned critical insights to ensure we take the right next steps."
— Mick Sheehy, Partner, PwC NewLaw
Project Team
Melina Hamilton, Design Lead 
Tess Waterhouse, Senior Producer 
Daniele Milazzo, Senior Designer
Read more about our work in this space: