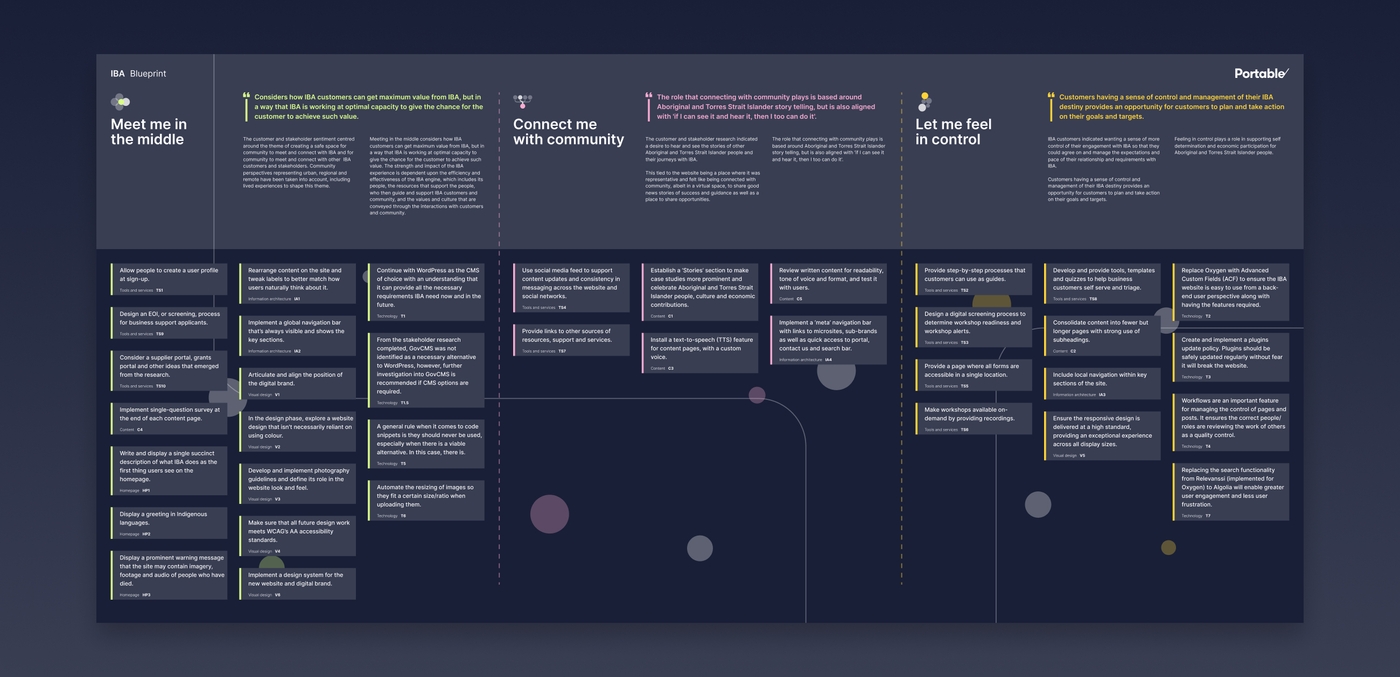 Indigenous Business Australia is a statutory authority that has been assisting and enhancing Aboriginal and Torres Strait Islander people self-management and economic self-sufficiency for more than 30 years. It offers services including loans and support to help First Nations people own their own home, business finance and support to help people start or grow a business, and an investment portfolio focused on making a positive impact for communities and partners.
Indigenous Business Australia's digital user experience wasn't hitting the mark. It was realised that its website could play a larger role in helping customers, both current and future, to take control of their journey towards economic independence by providing more accessible information, self-service tools and transparency around the loan process.
Indigenous Business Australia had been rolling out a number of digital upgrades and enhancements of its systems and hardware as part of its Digital Futures project, including improving the digital user experience. Their current website was built in 2011, using WordPress, and they plan to complete a redesign and rebuild of the website in the near future. To kick off that website redesign and rebuild, they engaged us to create a digital strategy to set the direction in alignment with user expectations and  accessibility.
The Challenge
The digital strategy was to include a comprehensive blueprint that could be used to design and build a new Indigenous Business Australia website. As such, it needed to deliver on user needs in ways that also reflected Indigenous Business Australia's vision, purpose and values.
The website being envisioned needed to be a go-to resource for Aboriginal and Torres Strait Islander people on the journey of economic independence. It needed to provide a seamless experience, be rich with tools and information, and inspire, celebrate and promote Aboriginal and Torres Strait Islander people, culture and their valuable economic contributions.
Partnering with Ngakkan Nyaagu (NGNY)
We partnered with Ngakkan Nyaagu (NGNY) in the delivery of this engagement and worked with them closely throughout to plan and conduct user research to capture insights, ideas and evidence that would allow us to recommend changes to a whole range of aspects of the website, as well as new features.
NGNY is an Aboriginal owned and operated digital services agency who deliver tailored digital solutions that enhance the Indigenous digital economy and ultimately aim to impact sustainable growth and opportunities for Aboriginal and Torres Strait Islander people.
Our Approach
Our combined project team conducted user-centred design research to find out how the Indigenous Business Australia website could become a go-to resource for Aboriginal and Torres Strait Islander people focused on business ownership, home ownership or investments.
1. Tech and Strategic Design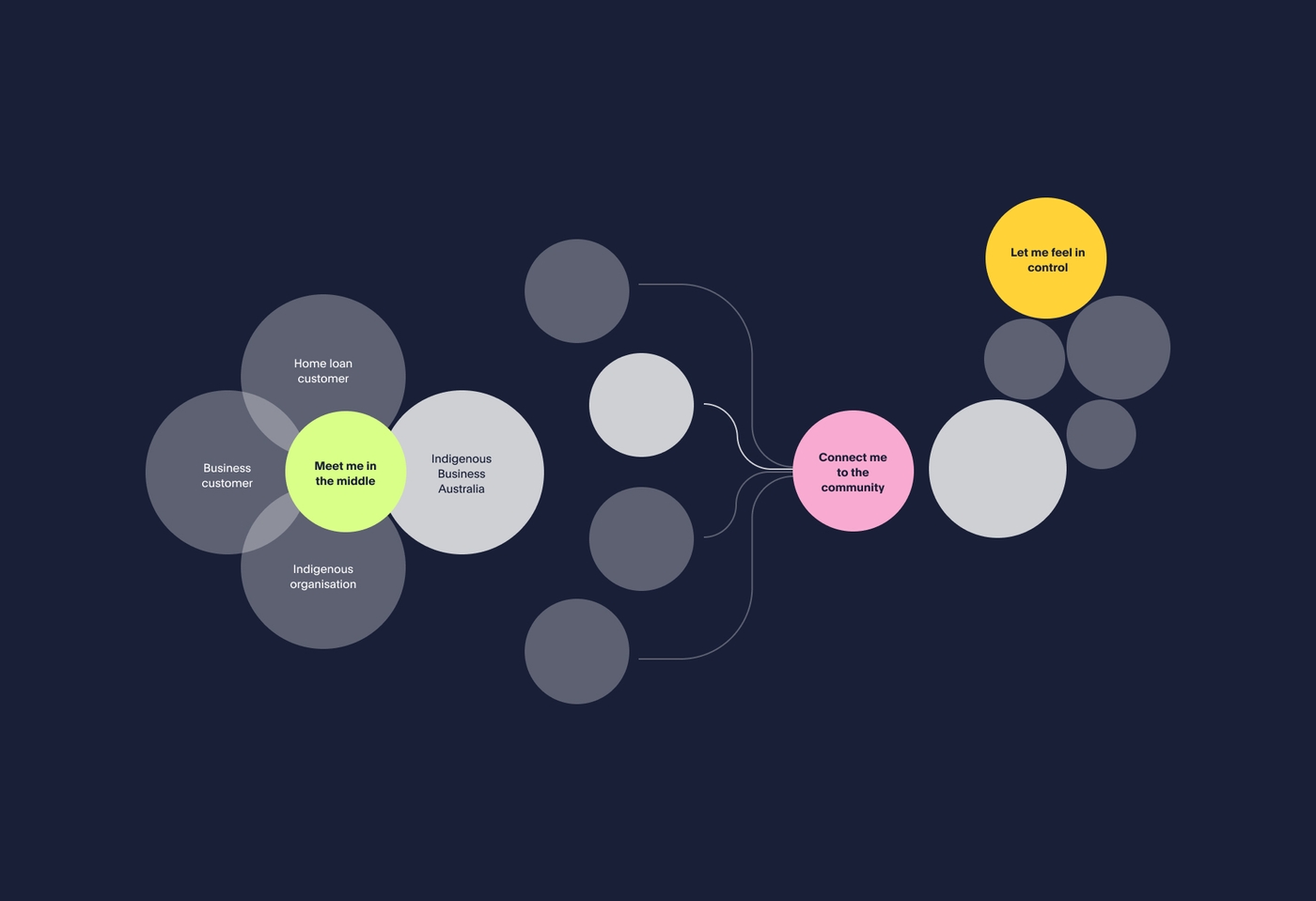 Planning the research
Our research plan was designed, comprising methods to collect qualitative and quantitative data, to explore solutions on how Indigenous Business Australia could best meet its goals of providing:
a go-to resource for any Aboriginal or Torres Strait Islander person interested in IBA's products and services
a seamless customer experience for those looking to apply for a home loan, business loans or support, or investment advice or support
a rich experience with useful tools, information and resources on how to purchase a home, start, grow or buy a business, or invest or seek investment opportunities
a place of inspiration and to help celebrate and promote Aboriginal and Torres Strait Islander people, culture and the valuable contribution our First Nations people have on the Australian economy.
Tech review
Our business analyst sat down with six Indigenous Business Australia staff members to discuss the ways in which the organisation uses technology currently, as well as the objectives and intentions of its other digital initiatives. They also conducted an audit of the website's WordPress back-end, looking at how it uses pages, posts, forms, plugins, settings, themes and templates.
Content performance
Our content strategist pulled out and cleaned Google Analytics data for around 5,000 pages, looking at the content performance of each section of the website and the most popular individual pages, as well as the top website search terms, in order to identify any clues as to where visitors were getting lost or confused.
Interviews with users, staff and partners
The researchers from NGNY and Portable worked with Indigenous Business Australia to identify the key groups of website users and stakeholders, and set about planning and organising interviews that would explore their motivations, needs and stress points. We conducted 32 in-depth interviews, with business customers, home loan customers, customer service staff, Executives, and Indigenous organisations that have a partner relationship with Indigenous Business Australia and who use its website.
Persona development
Personas can be used as decision-making tools to help anyone who needs to make decisions about the website now or in the future, to understand and empathise with the people who use the website. Based on our in-depth interviews, six personas were crafted.
The personas were written in terms of thinking styles: the guiding principles, reactions and reasoning that people have and use. In addition, an element of behavioural and contextual information to bring them to life was also incorporated . They were written without reference to demographics, like gender and age, to avoid shortcuts in thinking, like assumptions and subconscious stereotypes.
2. Information architecture design and testing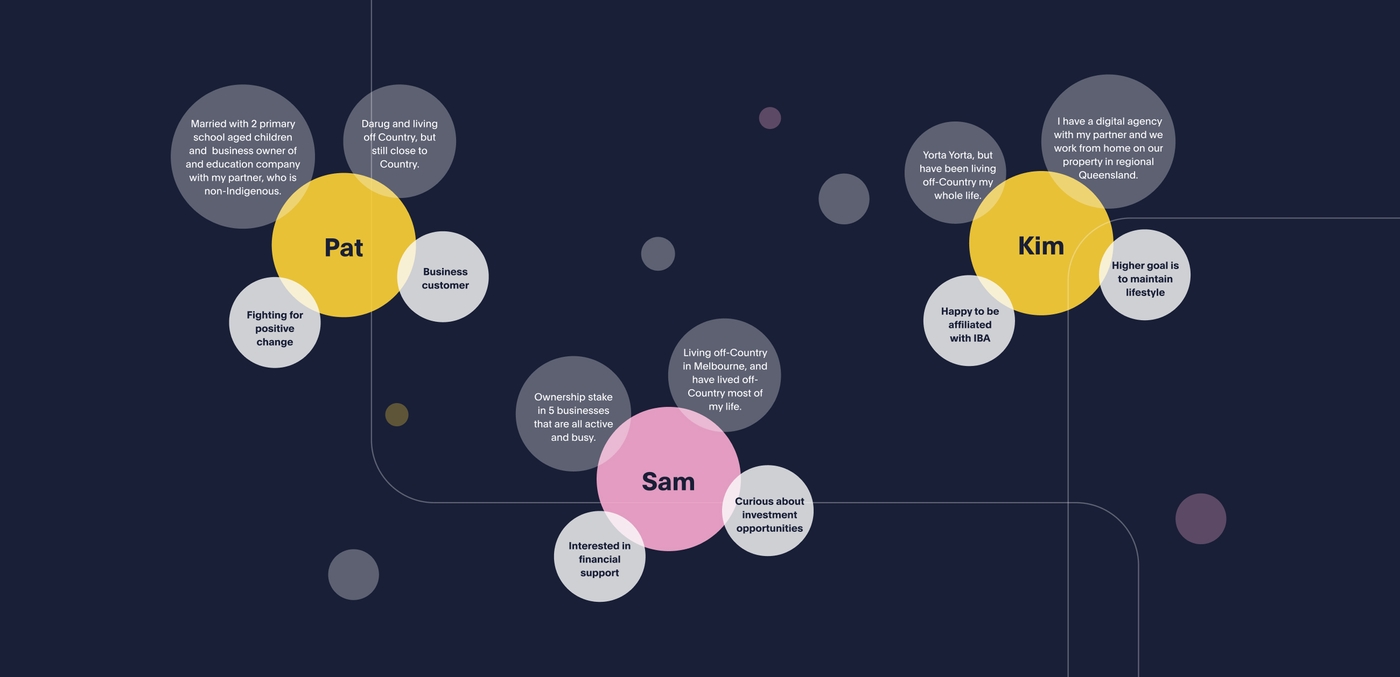 Information architecture strategy workshop
To undertake the information architecture aspect of the project and deliver a new sitemap – a key deliverable we were delivering as part of the digital strategy, was the need to figure out how we could make the content that people need from the website easier to navigate and find. 
To articulate and align expectations for the information architecture work, we ran a strategy workshop with seven staff members at Indigenous Business Australia that challenged participants to empathise with visitors to the website, prioritise goals, define success and consider best and worst-case scenarios.
Card sorting workshop
Building on the outputs of the strategy workshop, we ran a card sorting workshop with eight  website users: potential customers and Indigenous people with little or no pre-existing familiarity with Indigenous Business Australia's website. We wanted to find out what approaches to organising content on the website made most sense to people who use the website (or might use it). 
We hoped they would share their own mental models for the relationships between content – that is, how they naturally organise and label it. The card sorting workshop resulted in ideas for structuring content on the website that we could synthesise and test.
Online tree testing
We conducted online tree testing with 88 participants. Tree testing is a type of usability testing that measures how findable the content on a website is. We used an online, unmoderated approach, which gave us quantitative data. 
We ran one round of testing against the sitemap of the existing website to identify usability issues – findability, specifically – while also providing a baseline against which we could compare against our revised sitemap. Running the same test with another sample of participants against the revised sitemap gave us evidence to validate (or not) that our proposed changes would improve findability of content.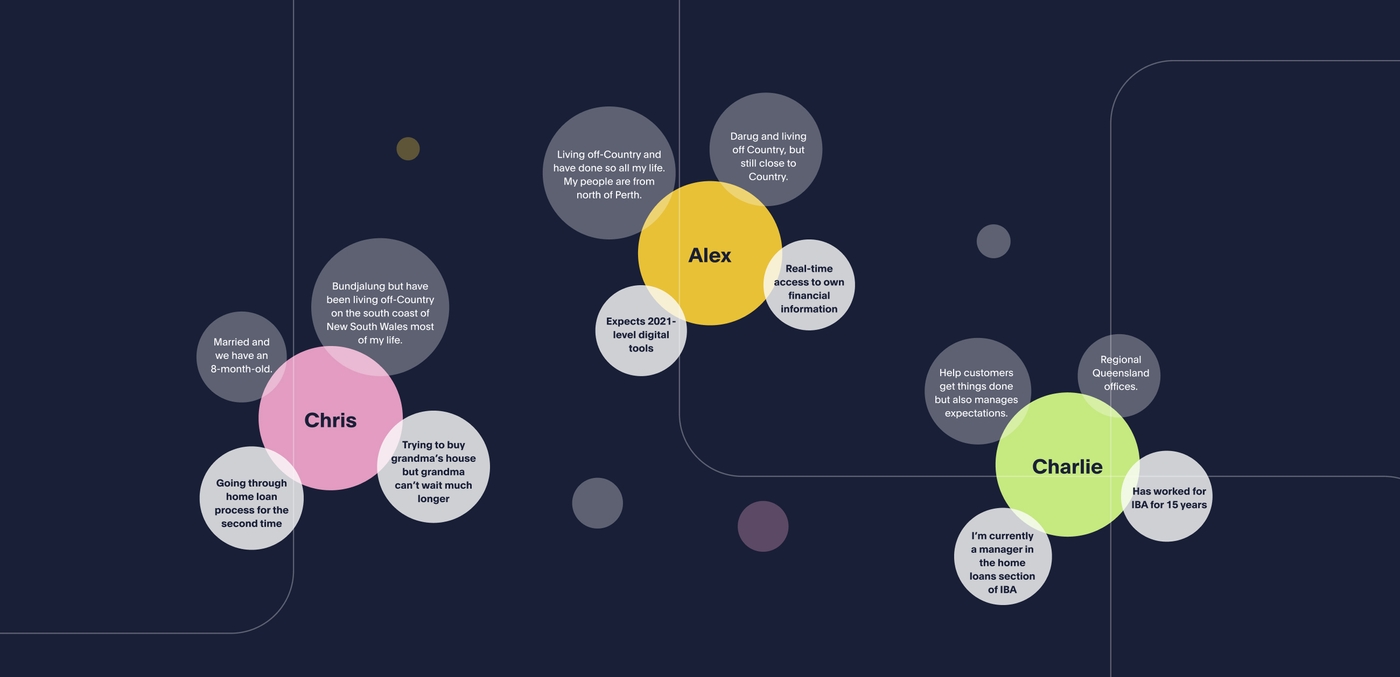 Recommendations and final report
We provided recommendations that together comprise a vision for a future-state website that is more welcoming, easier to use, informative and helpful to customers. This included recommendations covering information architecture, tools and services, content, the homepage, visual design, and technology.
All the recommendations were based on the user research and the combined experience and knowledge of best practice within the team. 
Future state blueprint
The blueprint showed all recommendations on 1 diagram. It's a vision of a future state in which the website is welcoming, informative, empowering and easy to use. This blueprint complemented the contents of our final report by bringing the insights and recommendations to life visually.
The artefact gives a high-level view of how the recommendations come together and connect holistically into a future experience. It also gives decision-makers an easy reference point for how individual recommendations fall into various aspects for the website, and how future decisions can be anchored in the user-centric themes that have emerged from our research.
Outcomes
Insights
User research revealed a wide breadth of insights into how business customers, home loan customers, staff and stakeholders in the Indigenous sector view and use the website, and the role it plays in their relationship with Indigenous Business Australia. These insights are empowering Indigenous Business Australia to continue to develop a website that will be easy to use, easy to understand and, ultimately, will help people take control of their financial future.
Themes
Our final report outlined three overarching themes that can help us understand what customers want from the website: 
Meet me in the middle: create a safe space for community to meet and connect with Indigenous Business Australia, as well as other customers and stakeholders.
Connect me with community: people want to hear and see the stories of other Aboriginal and Torres Strait Islander people and their journeys.
Let me feel in control: customers want more control of their engagement with Indigenous Business Australia, to better manage the expectations and pace of their relationship.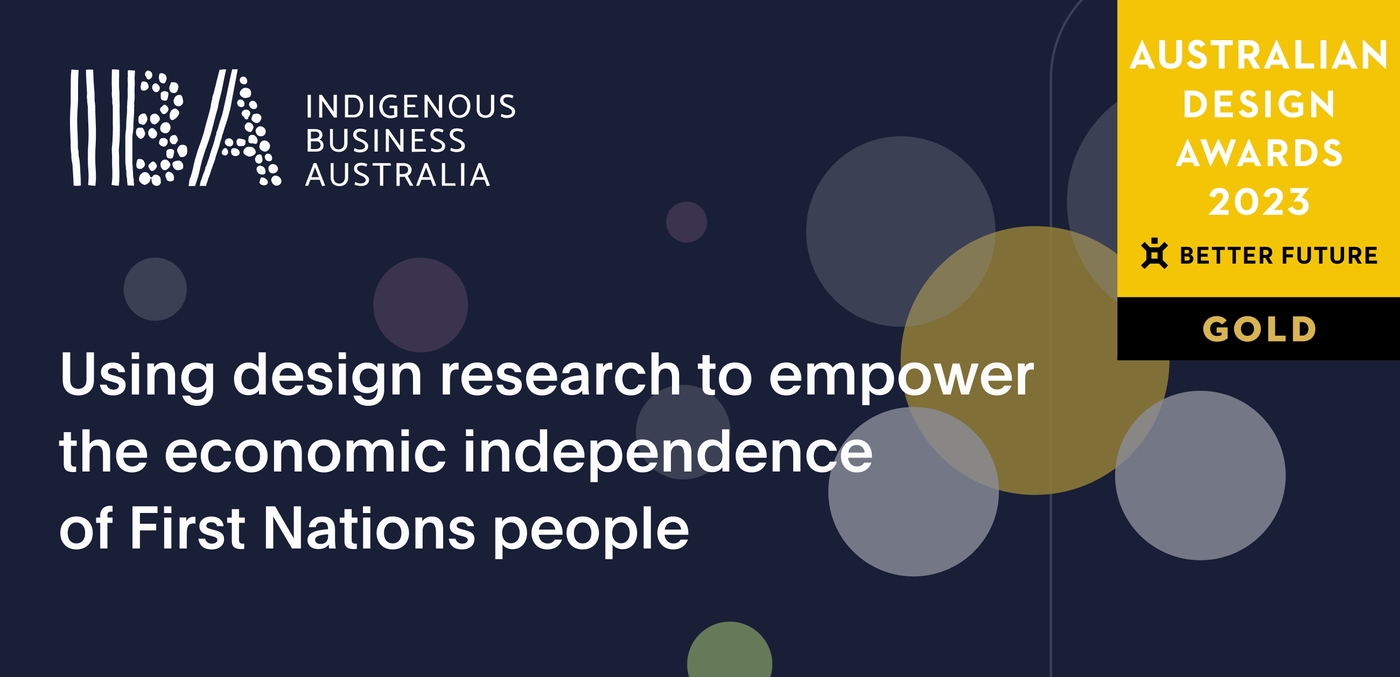 Portable has since been awarded Gold in the 2023 Australian Design Awards.
BETTER FUTURE (previously known as DRIVENxDESIGN) have awarded Portable Gold in the category of 'Better Future - Economic Growth' at the 2023 Australian Design Awards. This category recognises "projects that expand and grow the economy through additive methods rather than extraction, encompassing circular economy, environmental. equity and community values."
We are delighted that our work in facilitating user-centred design has been recognised in this way and we'd like to thank all of those involved in the project and setting it up for success. We hope that this helps promote the systemic need for co-designing services with those who have lived experience to ensure that new developments both align with the expectations and successfully offers services which meet the needs of those seeking much-needed support.
Project Team
Liam Ridgeway, Co-Founder, Ngakkan Nyaagu
Tom Morris, Senior Producer, Portable
Peter Roper, Senior Content Strategist, Portable
Matt Dalla Rosa, Senior UX Researcher, Portable
Ryan Thompson, Senior Design Strategist, Portable
Download your copy of Co-Design With Purpose today