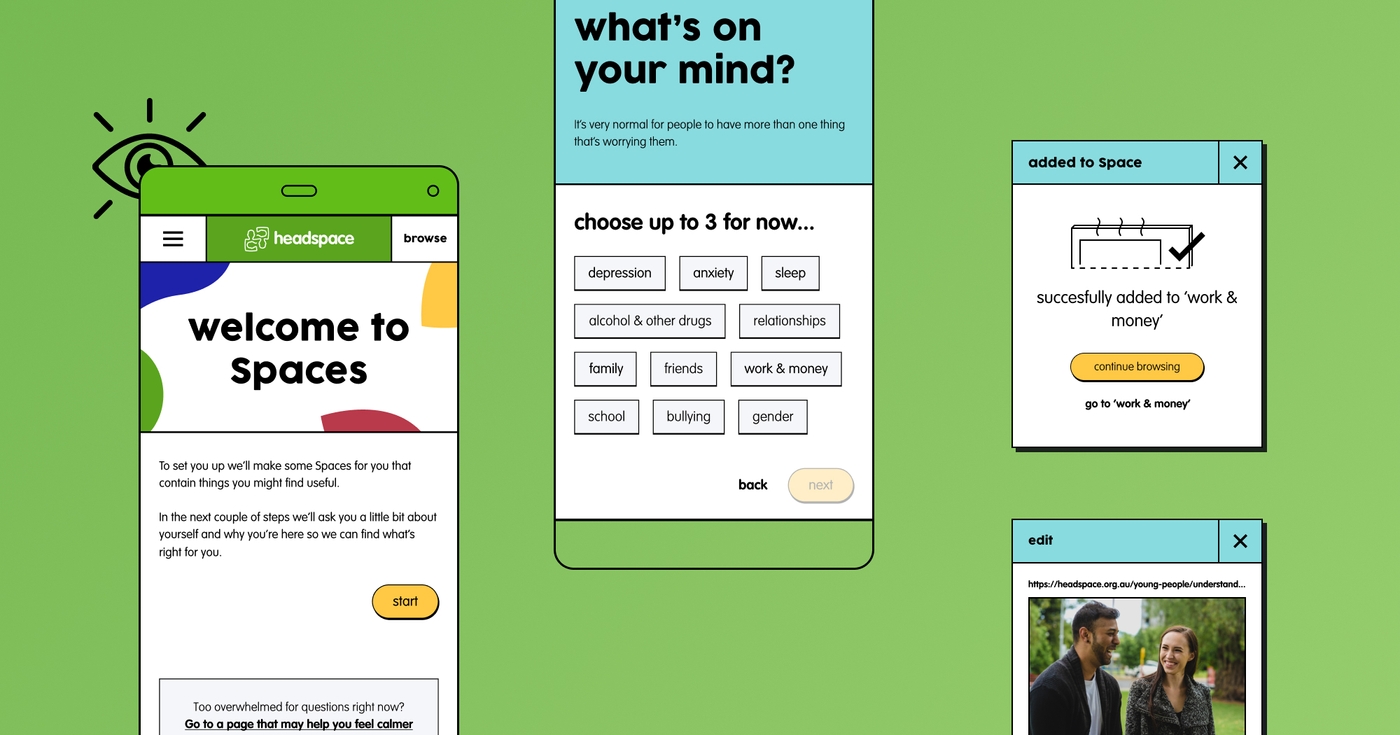 headspace is the national youth mental health foundation, providing early intervention mental health services to 12 to 25 year-olds. Since inception, headspace has provided over 3.6 million services to more than 626,000 young people across Australia. Services are confidential, free or low cost. headspace sites are found in more than 130 communities around the country and aims to ensure that all young Australians are mentally healthy and engaged in their communities.
As part of our first engagement with headspace, where we sought to unify their digital presence, we conducted extensive research into the needs of young people seeking mental health support online.
Following the launch of the new website, eheadspace, the department within headspace who oversee their suite of online and phone-based clinical services, wanted to expand on their existing online service offerings to be able to meet a growing need - which is where we stepped in again to help.
Mental health is a priority issue of concern for young people in Australia today and headspace's research in 2019 found that one third of young Australians (32%) report high to very high levels of psychological distress, which is more than treble the rate in 2007 (9%).
We were excited to build on what we learned during our first engagement and work with headspace to expand its digital service offerings to meet the needs of more young Australians experiencing mental health issues.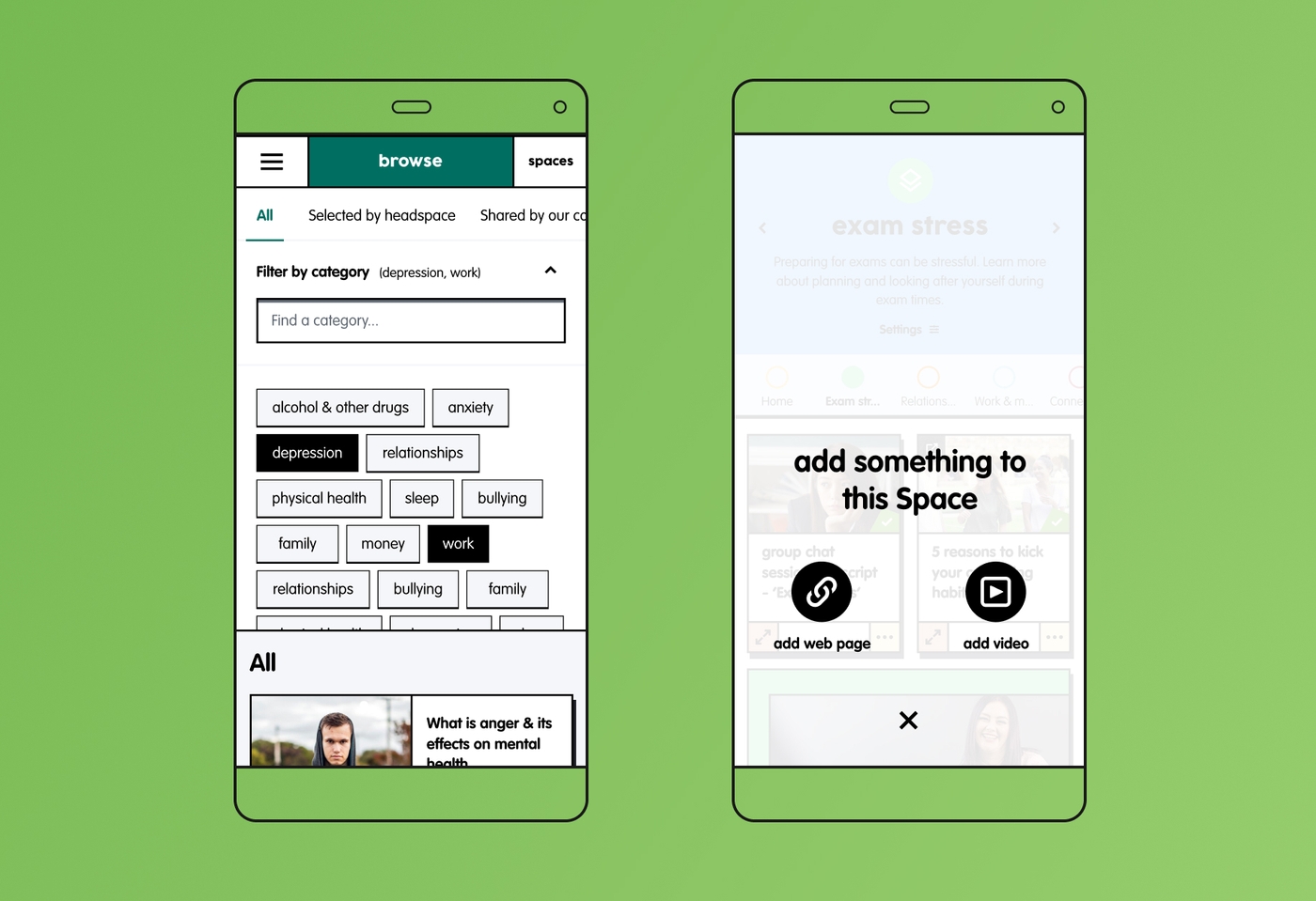 Project context
User needs
Grounded in our previous research, we identified various unmet user needs and opportunities for improving service outcomes. User research conducted in our first engagement with headspace had uncovered some key needs of young people, which became part of our focus on this new project:
Young people need help finding resources relevant to them
Young people want the ability to personalise their experience
Young people want to be in control of help-seeking and go at their own pace, connecting with their peers

Together, with the eheadspace clinical team, we interrogated the potential benefits and risks of each opportunity and prioritised them on the basis of what we uncovered. There were two clear choices for us to pursue as potential new concepts for digital services on the headspace website.
The first was to create an online community for headspace users. We wanted to unlock the benefits of giving young people an ongoing network of support - creating healthy connections with their peers, taking ownership of a shared space, and validating and normalising their experiences.

Approach
Discovery and co-design
We co-designed concepts in a series of workshops with a group of clinical and digital subject matter experts and identified a solution in the form of a single platform which could deliver on both the priority opportunities.
Feature areas for the platform were identified including specific features that would benefit from being co-designed with young people. 
We then ran a series of workshops with young people where we validated the concept and co-designed specific features with members of the headspace Youth National Reference Group (hYNRG) and a group of young Indigenous people. 
User experience design
Our first focus was on getting the process of 'set-up' working well for users of the platform – when users first start interacting with these community or personal spaces they move through a process to answer questions about themselves and what they are going through so that relevant content can be suggested to them. 
The set-up process was also a priority to get right from a clinical safety point of view in order to support those with different help seeking needs. 
We then designed a content library within the CMS that underpinned all content placed within these spaces. This allowed headspace to tag, organise and prioritise content in a way they previously couldn't. It also gave headspace the ability to offer content from external sources (including a partnership with ReachOut forged for this specific reason).
We then mapped out user flows in collaboration with headspace staff to understand how personal and community spaces connect to each other on the platform, and how they connect to the rest of the site.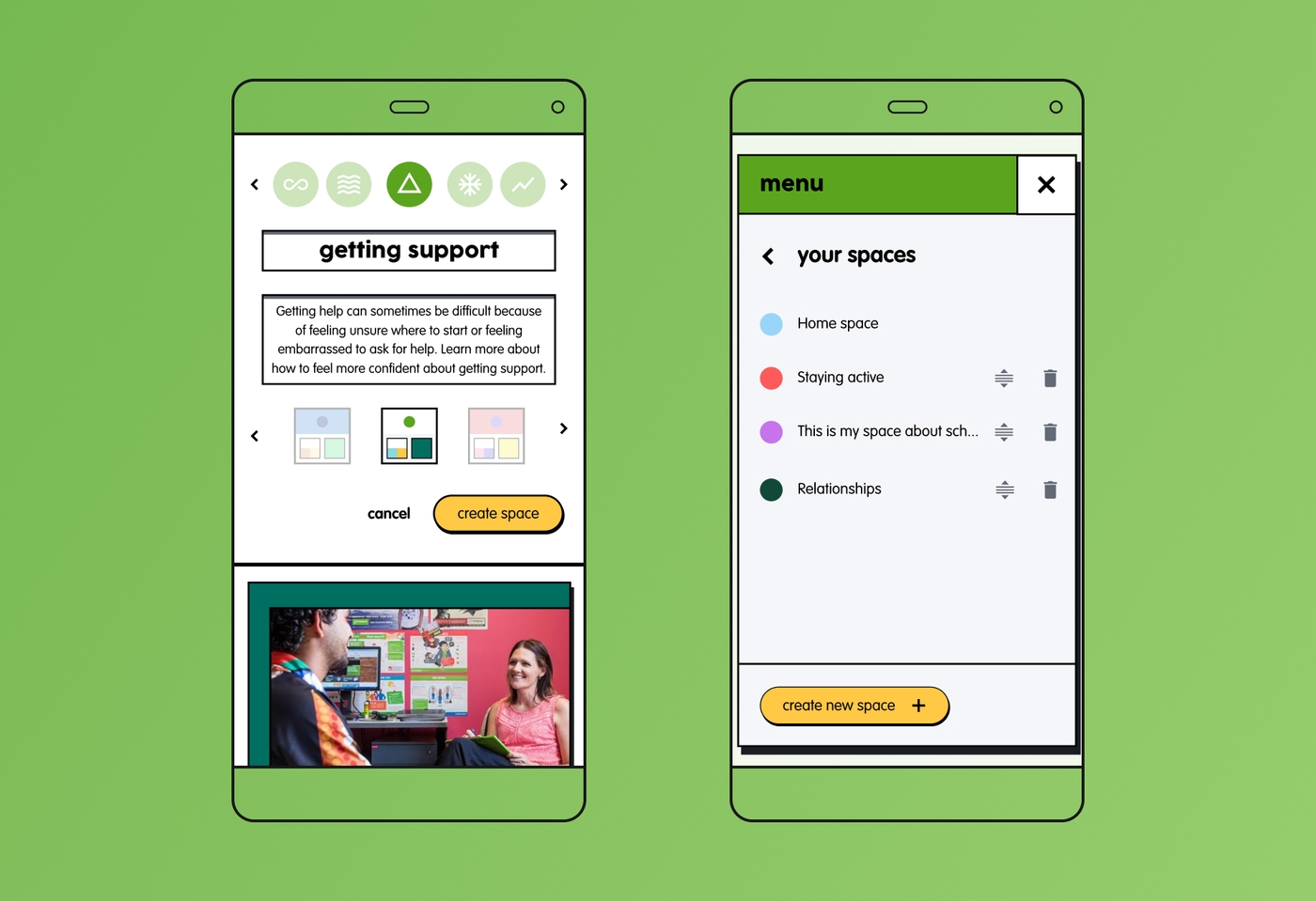 User testing
We validated our designs, the structure and look and feel of community and personal spaces in user testing sessions with young people. In these sessions we took them through prototypes of the platform and evaluated whether it was meeting their needs and our previously identified user stories.
These prototypes were then refined based on feedback from the young people.
Development
Our development team built the CMS content library of the spaces first, so that the eheadspace team could start loading in the content immediately.
The supporting CMS was built on Silverstripe, the same CMS we used for the main headspace website.
The primary application is made up of two key components, the React front-end that powers the user interface, and Silverstripe serving as the back-end API for the data handling and authentication.
Community and personal spaces was developed with support for modern browsers in mind for the best user experience, but we've also catered for legacy browser support for Internet Explorer 11 users.
We launched the personal spaces area of the platform first, by working through a series of development sprints. Personal spaces allows users to customise their own area of the platform with component boxes that link to different pages to meet their specific needs. Personal spaces also provide general information about mental health and wellbeing, handling tough times, and getting help.
We then moved on to building Community Spaces. Community spaces allow groups of users to share helpful content with each other around specific areas of need. They also link to a Group Chat functionality by providing transcripts from relevant conversations such as on 'general coping' and 'navigating relationships,' and advertise when the next group chat session will be. (We built the Group Chat platform as part of the original headspace.org.au website build).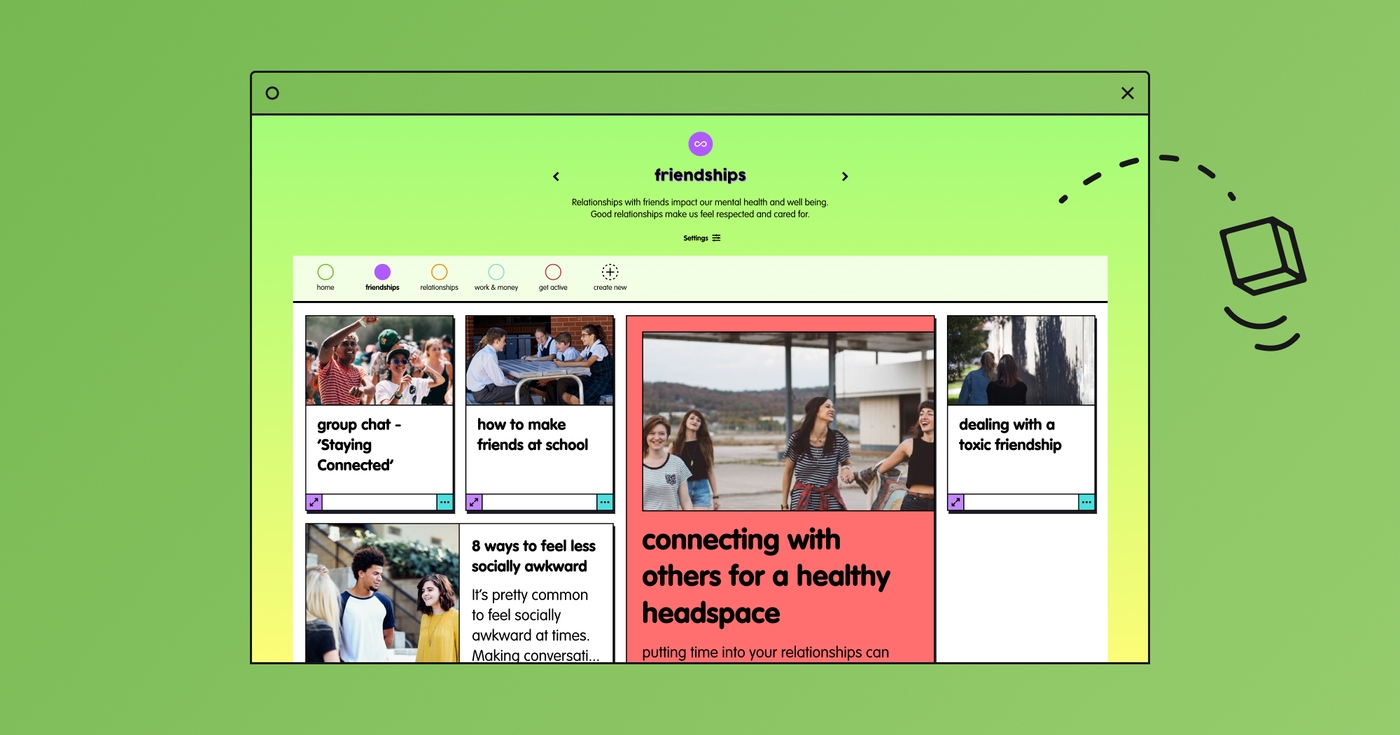 Outcomes
Spaces is a personalised solution gives young people, and those supporting them, a way to gather and organise tailored information and resources for their mental health and wellbeing


Personal Spaces give users their own private area on the headspace site where they can save content either chosen by them or suggested by the platform. Individual users are now creating a place to return to when they need easy access to the mental health tools that work best for them.


Community Spaces give users a collaborative space on the headspace site where they can share content that works for them, or seek support from their peers. Together, users are creating a place to return to where they can connect and communicate with purpose.