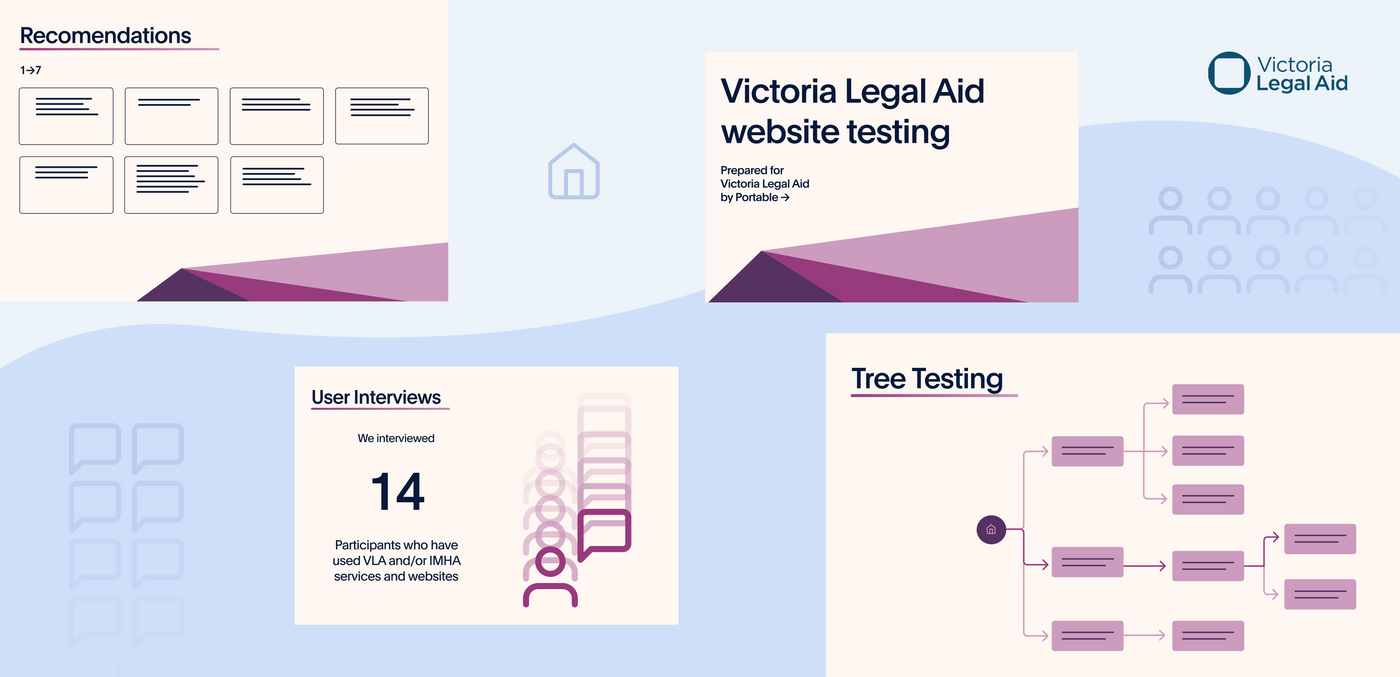 Victoria Legal Aid (VLA) helps people with their legal problems. They focus on protecting the rights of Victorians and representing those who need it most. They provide free legal information and education to all Victorians, with a focus on prevention and early resolution of legal problems.
Over the past few years, VLA has been focusing on improving how they provide information and access to their services online, including by redesigning their website. Portable worked with VLA in 2019 to help identify their target audience for their new website and created personas and journey maps to help guide them through developing their new, client-focused website. 
Fast forward to 2022, VLA was in the final stages of building their new website and engaged us to conduct user testing interviews and tree testing for both their website and the Independent Mental Health Advocacy (IMHA) website, to support their website redevelopment, as they migrated into the Victorian Government's Single Digital Presence (SDP).
The Independent Mental Health Advocacy supports people who are receiving, or at risk of receiving, compulsory mental health treatment. They aim to help people make decisions and have as much say as possible about their assessment, treatment and recovery. 
VLA wanted to create better websites for both VLA and IMHA that served their core audiences, by assisting individuals in understanding and progressing their legal issues, and helping people find mental health advocacy when faced with court mandated mental health treatment, respectively.
The Challenge
Our aim for the project was to understand how well the new content and structure improved people's ability to find information, solve legal problems, or get the help they need. Many people visit VLA's website without knowing what their problem is, or what kind of legal or support services they actually would need to contact. People who may need to visit the VLA website to seek legal help may also have unique situations or needs that require extra support, so we needed to ensure we spoke with a representative section of the audience, and put supports in place for people who may have had distressing or traumatic experiences during their legal journey.
We also set out to capture a baseline of the challenges and potential opportunities for improving the Independent Mental Health Advocacy website's content and information structure, so that it meets user expectations and needs. 
Our Approach
We used a design research process to learn more about the motivations, goals and pain points of our audience when trying to find and interpret content on the two websites. We also sought to understand how they accessed information through each website's structure.
Recruitment
Respectful conversations about a participant's readiness to engage with the subject matter are a key aspect of our respectful recruitment practices. This can take many forms, depending on the perceived risks to participants in any particular project – from a dedicated prior conversation with a staff member trained in mental health first aid using a framework adopted from Beyond Blue, through to informal check-ins about how someone is feeling before we progress into an activity.
On this project, we adopted the latter approach, taking the core principles of the Beyond Blue framework and applying them to a set of caring and supportive questions to determine a participant's readiness to engage. The client was inspired by the simplicity and effectiveness of this approach, and has since adopted elements of it in their own work.
Tree-testing research
The purpose of tree testing is to gain a high-level understanding of how people interpret and navigate the site structure of a website. We set up a tree testing activity to evaluate the findability of information, services and content on the VLA and Independent Mental Health Advocacy websites.
We shared raw data from the activity, as well as synthesised insights with Victoria Legal Aid to help them validate the site structure of their website. This data and information can also be used to guide future design work.
User testing interviews
The objective of our interviews was to understand what users wished to learn from, and how they chose to find the website content. We facilitated multiple interviews in an agile manner over a fortnight, to allow us to adapt our approach as needed, so that we could explore specific insights or challenges in more detail. 
Synthesis and playback
Following the research activities, our Design Strategists and Legal Designers synthesised the findings in order to identify key themes and trends emerging which could inform suggested changes to the information architecture or content on both websites.
As a final deliverable of the project, we played back the research activities and synthesised findings backed up with key quotes, facilitator observations and/or quantitative findings to VLA and Independent Mental Health Advocacy stakeholders.
Outcomes
The insights, data and information captured during this project supports VLA and the Independent Mental Health Advocacy teams as they continue to improve the online experience for their users.
Both organisations are able to make informed decisions based on real data that will help them shape the content, information architecture, design and digital experience of their websites.
Reflections
"Often recruiting people who access support services can be tricky. However, the VLA team works hard to establish networks so that their design work is co-created with people who use their services. The VLA team's enthusiasm to engage people and passion to share their stories to improve their services made working on this project a delight."
- Aishling Costello, Senior Design Strategist
Project Team
Adam Corcoran, Lead Design Strategist
Aishling Costello, Senior Design Strategist
Joel Langford, Producer
Jude Walta, Senior Design Strategist 
Lauren Manning, Senior Producer
Luke Thomas, Senior Legal Designer
Download our guide to designing for justice