CarePage is a revolutionary, aged-care-specific, data collection and analytics tool that was developed to give aged care providers tangible evidence of customer and employee experience in real-time.
One of their many initiatives is the free HelloCare newsletter, which provides content and stories tailored for the health and ageing sector. HelloCare is funded by advertising products and services in the newsletters, with readers often reaching out with questions about making purchases for an aged care resident in their life.
Many elderly people living in residential care facilities experience loneliness and a feeling of isolation — with recent research showing that these feelings of loneliness can also have a direct impact on the physical health of these people.
HelloCare anecdotally learned that up to 40% of elderly people living in residential care facilities do not receive regular visits, and thus developed the concept of a gift-giving platform. The aim of this platform would be to improve the lives of people living in residential aged care facilities who may not have visitors or external acknowledgement on a regular basis by facilitating personalised gift giving.
HelloCare partnered with Portable to research, design and develop Connect the 40%. Connecting businesses and consumers and enabling them to pay it forward directly, or pay it forward to individuals or homes to improve activities, improve facilities or allow them to brighten someone's day.
Design Challenge
Working within a tight timeframe, Portable worked with HelloCare to rapidly research, prototype and build the digital marketplace.
The marketplace has to support a number of workflows including:
Enables an elderly person or an aged care facility on their behalf to Register via a form, complete their profile and choose what gifts they want to receive.

Enables the general public to search through profiles, products/experiences/services and choose their gifts and recipients. A payment gateway was developed for real time payment processing.

Enables a workflow for HelloCare and suppliers to manage the dispatch of gifts.

Our Approach
Co-design
Our initial workshop was to codesign the initial solution with HelloCare staff, themselves having experience in aged care as nurses in residential aged care. We defined an initial Minimal Viable feature set, user flows and the initial site map.
We created 3 separate sets of style tiles that capture three distinct directions for the platform and refined these with HelloCare to develop the branding and direction for the website. 
Importantly, we were also able to bring into scope user testing, where we took residential aged care operators and members of the general public through the prototype to rapidly refine and edit the features before any development had taken place.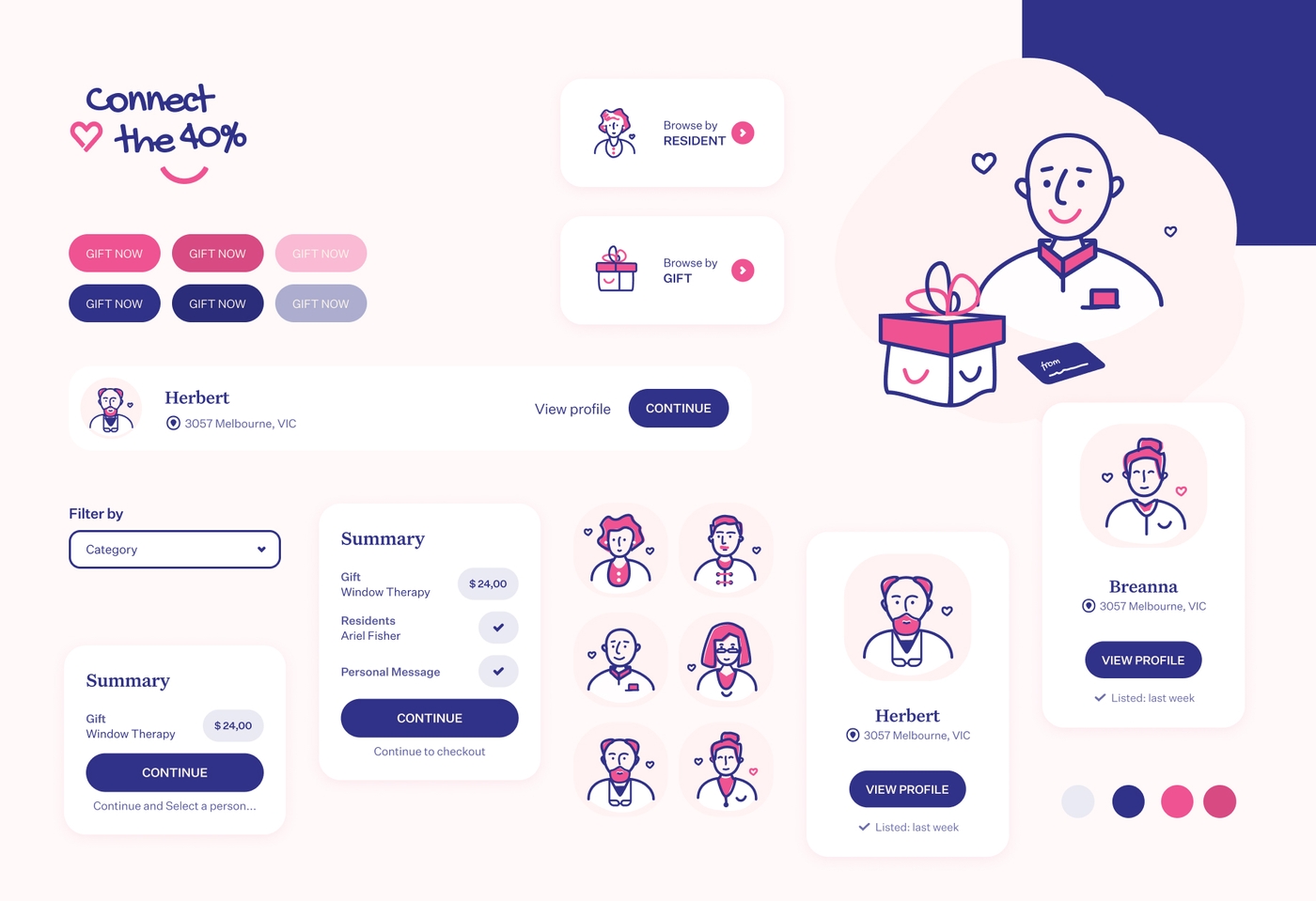 Technical scoping
Portable researched various options and determined the best technical solution was to design and build its Webflow content management system and Stripe for the payment gateway.
Webflow is a designer-led low code platform which allows for the creation of websites without code. It is the perfect platform as it will allow the HelloCare team to easily add and edit content and add pages in the future without the need for developer support.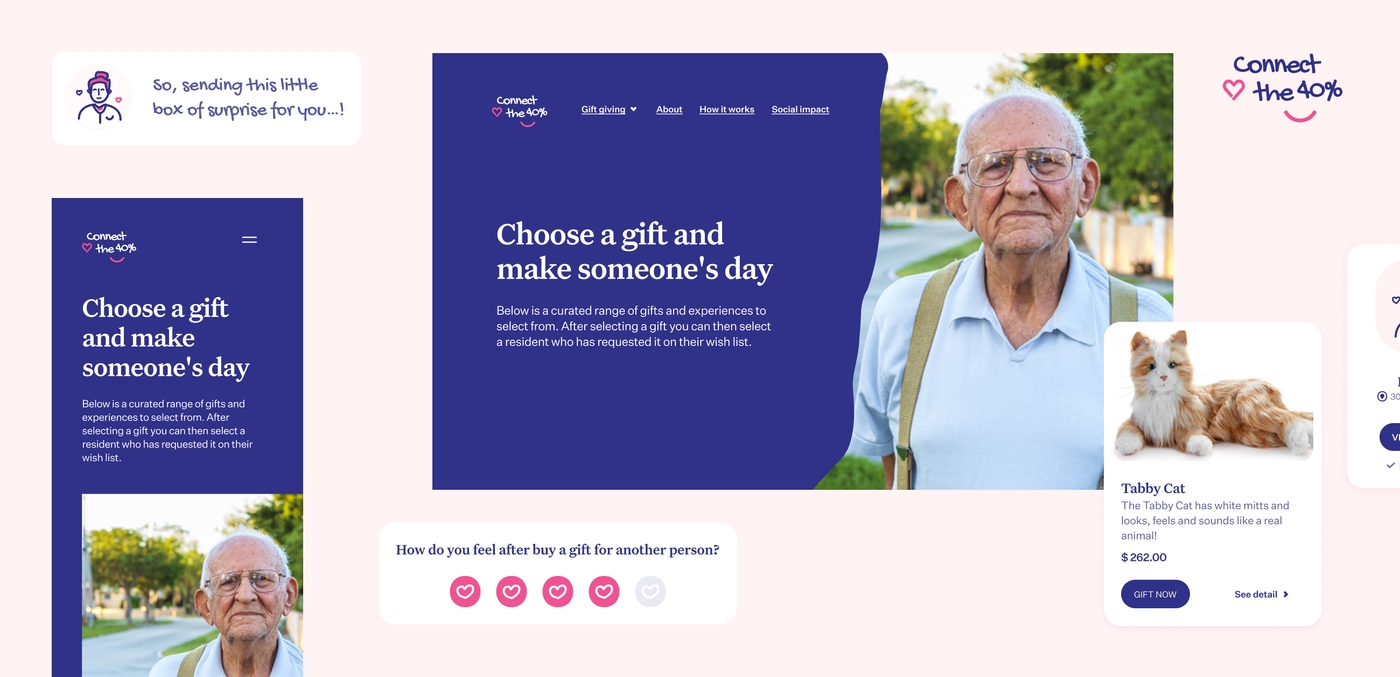 Development
The Portable development team was brought on board to begin the set up of the Webflow CMS, beginning with the initial configuration before diving into the creation of all core pages. Using the designs and assets which had been previously created by the team, the following pages were set up:
Home Page
About Us
Recipient Page
Recipient Survey
Form Templates

While our QA team was performing User Acceptance Testing (UAT) with key stakeholders, our development team worked to integrate the Stripe payment platform and collaborated with the HelloCare support team to define workflows.
The HelloCare team was then provided complete access to the Webflow CMS, empowering them to finalise the on-site content. A final round of UAT was performed before launching.
Outcomes
Launch
The website was launched to positive engagement from aged care residents and the general public. 
Check out the finished product on the Connect the 40% website.
Reflections
"A staggering 40% of older Australians living in nursing homes don't have regular visitors or receive any gifts throughout their entire time in aged care. We were working with HelloCare to design and build this platform during covid lockdowns when residential aged care was closed to visitors so the project had an extra meaning to us all"

- Naomi Wilson, Lead Client Partner
Project team
Alice Reeves, Digital Producer 
Cristiano Fantasia, Experience Design
Rick Measham, Developer, 
Tam Ho, Developer
Darcy Glennen, Developer 
Naomi Wilson, Client Partner
Read more about our work in aged care: