BirdLife Australia (BirdLife) is Australia's largest bird conservation organisation. They work to be a voice for Australia's birdlife, protecting birds and their habitats through their robust programs and informed advocacy.
BirdLife had been through significant transformation integrating two organisations, both founded in the early 1900s and with long-established and differing focuses, into one strong national charity with a unified voice for bird and habitat conservation, leveraging its assets, IP and stakeholder relationships to stand together with partners, and communities to stop bird extinctions.
Since 2013 there has also been significant growth in the organisation's supporter base from 40,000 in 2013 to 145,000 volunteers, members, donors, campaigners and contacts, and a shifting focus to place the donor / supporter at the heart of the charity. Supporter and donor growth for BirdLife is projected to continue on this trajectory.
The challenge
Together, with the need to capitalise on the potential for the contribution of new supporters, BirdLife identified an urgent call for enhanced digital supporter experiences for donations, campaigns, and volunteer participation in science and conservation programs.
Previous strategic reviews and strategies at BirdLife had identified that in light of recent growth, the organisation needed to improve its adoption and usage of technology to support its mission and capitalise on this growth. 
To chart a path forward for the organisation's technical uplift and digital strategy, BirdLife selected Portable to define a digital engagement strategy to provide:
a clear understanding of key supporter groups, their online behaviours and actions and future state needs
targeted key messages and engagement journeys for the different supporter groups (donors, members, volunteers, bird watchers, scientists, researchers, partners)
a clear vision for BirdLife's future website space: its purpose, primary functions, and the associated governance of websites from a technology, content, user experience, functionalities and branding perspective
the target technical architecture for overall website, digital consolidation and supporter relationship management capability, including the integration with websites, social media e-communication channels, CRM
a plan for integrated social media channels engagement
an implementation roadmap identifying quick wins, short term and long term strategies
Our approach
Our team worked to explore how to capitalise on the potential contributions of new and existing supporters through enhanced digital experiences for donations, campaigns, and volunteer participation in BirdLife's work. 
Our aim was to provide an understanding of user motivations, frustrations and needs, identify user journeys, understand business requirements from BirdLife's digital presence, develop strategies and recommendations to build engagement and generate revenue and address technical and digital needs.
Understanding the current state
We began the engagement by completing a range of discovery activities to understand the current state and identity pain points and opportunities for change.
Technical review
Kicking off the engagement, our Senior Developer and Solutions Architect worked to complete a walkthrough of different aspects of BirdLife's technical ecosystem including the conservation portal, Plantical and the main BidLife website including its CMS admin console, google analytics setup and hosting environment. 
We then worked with the BirdLife team to produce a consolidated list of its full technical ecosystem across the country, uncovering 37 sites managed by various offices, programmes and groups - a legacy of BirdLife's previous structure prior to the two organisations unifying.  We then documented our technical insights and observations in a report, providing a holistic view of the current state technical landscape at BirdLife.
Mapping digital footprints
We then visited each of the 37 sites, documenting each external link on a home page and logging what we found on a digital footprints map. 
The map shows the connections and lack of connections between certain sites, and in the inner circle depicts the full range and diversity of social media accounts BirdLife has within its social ecosystem. It is split into quadrants of national and volunteer sites, alongside sites for programs and special interest groups / reserves. The map helped to provide a visual representation of the entirety of BirdLife's current state digital ecosystem, its complexity and breadth.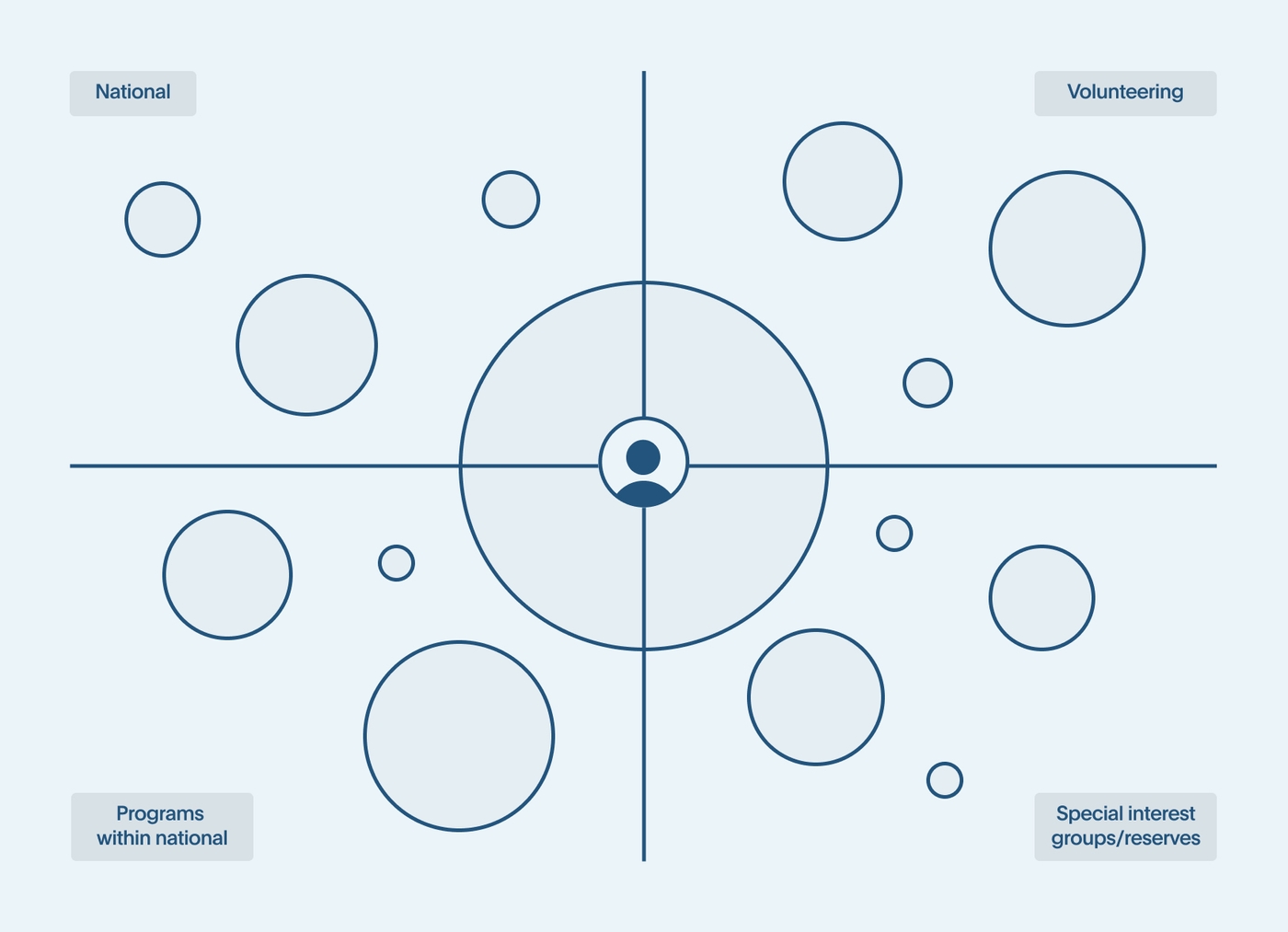 Stakeholder and audience engagement
To further dive deeper into current state experiences, an audience survey and a series of interviews and workshops with internal and external stakeholders was completed to inform our understanding of user motivations, frustrations and needs and gather insights that would direct future state journey maps.
Content audit
Our Content Strategist completed an analysis of site metadata, analytics and navigation elements across the main BirdLife website. 
The audit helped to provide a snapshot of how much content and types of content exist across the site; document a benchmark to compare to after future changes are made; assist in future migration planning and suggest some improvement to be made to site content and navigation.
Defining the future state
Personas
Through synthesising our insights from stakeholder and audience engagement, we were able to create personas to represent target audience cohorts, at both the current and future state, identifying the reasons why they do or not yet engage with BirdLife, their core values, digital engagement levels, needs, pain points and suggested ways to engage with them. 
We worked to identify their position on an engagement spectrum ranging from not yet engaging with BirdLife to retiring from engagement. The personas provide a useful visual cue of audience needs for BirdLife's team in the implementation of identified digital transformation strategies.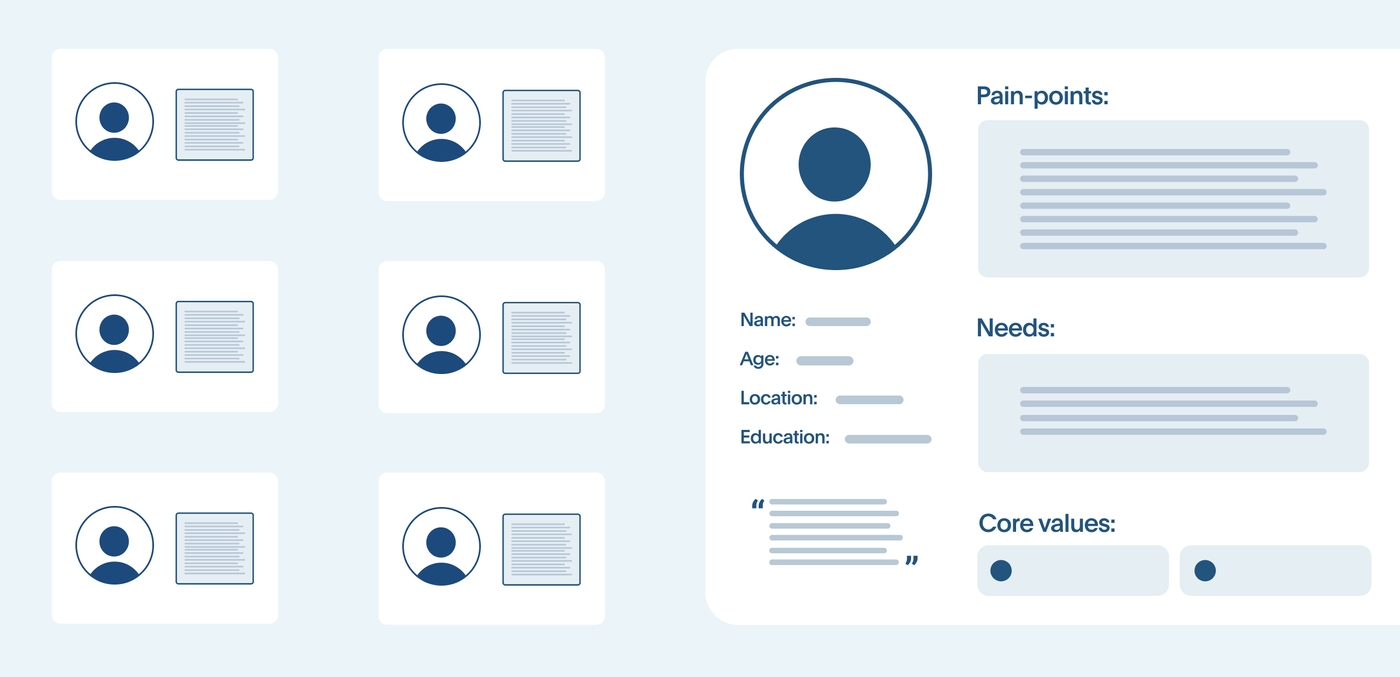 Future state journey map
Another useful supporting asset produced was a future state journey map depicting the life events of a future BirdLife supporter with a focus on their digital engagements with the charity. Each touchpoint was informed by lived-experience insights gathered during interviews and a co-design workshop run with supporters and staff. 
In the journey map we follow the story of our persona Tomac, a curious teenager and enthusiastic environmentalist. We see how major life events shape how and when Tomac chooses to engage or disengage from supporting BirdLife. 
This expression of a supporter experiences helps us visualise how and why supporters might increase or decrease when they donate money or voice towards BirdLife campaigns and opportunities to pivot services and communications to retain or increase engagement through digital channels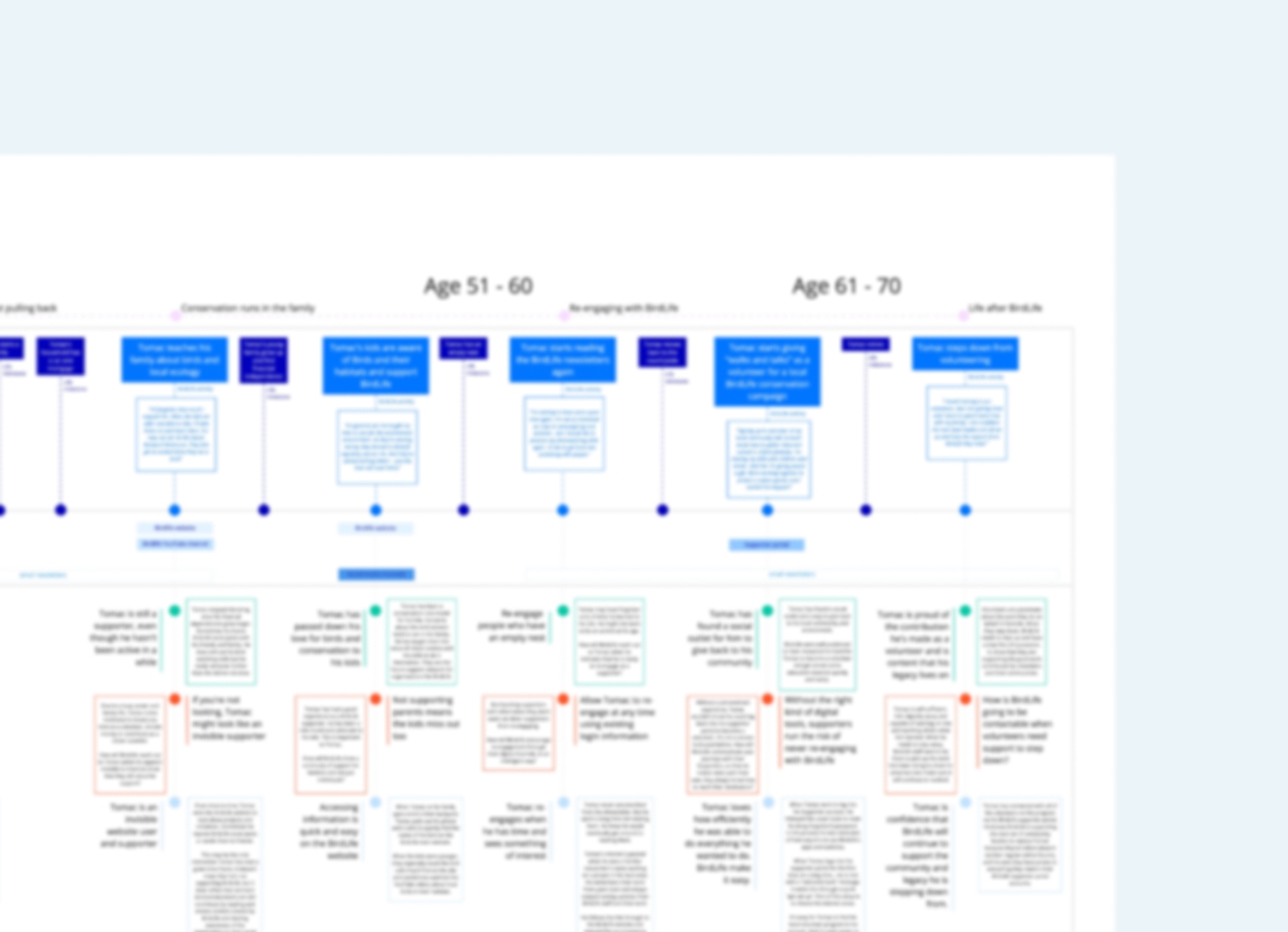 Content governance workshop
Our Content Strategist facilitated a workshop with staff from across BirdLife involved in content creation and governance. Together they worked to map current state processes involved in content conception, creation and publishing and then collaboratively defined an ideal content governance process for the future state to assist in setting clear directions for BirdLife's digital ecosystem that better suits user journeys across this ecosystem.
Digital engagement strategy
We completed the engagement by providing BirdLife Australia with a Digital Engagement Strategy which summarised user insights and needs and put forward a range of recommendations for website redesign and redevelopment. 
One of our main recommendations was for BirdLife to explore consolidating its 37 digital channels using an event-driven integration platform alongside a headless CMS, which will connect to each application and provide the additional layers of separation. Other recommendations included guidance on improving the UX for BirdLife donors surrounding the way in which journeys through the site are structured, how content is created and governed and how impact is communicated.
Birdlife is currently exploring redeveloping their website and using Portable's user personas and technical documentation and content recommendations to guide this process.
Implementation plan
This strategy was accompanied by a costed technical implementation plan identifying what steps BirdLife Australia need to take in the next two years to digitally transform and optimise their digital presence across their websites, social media platforms and CRM system.
Outcomes
Through our work, BirdLife has the direction needed to go out to market to procure a supplier for the implementation of the website redesign and build and to select a new CRM provider suited to their needs. 
To close out the engagement we supported the BirdLife team through a series of CRM supplier interviews and provided advice on the best provider.
The final research and insights were costed into the technical plan identifying the steps they need to take place to:
rationalise their ecosystem of websites into a cohesive digital presence
integrate their website with a new CRM platform to provide data driven insights about their donors and a complete picture of website activity
provide BirdLife with the clarity they need to go out to market in their next stage of procurement and select a supplier for implementation of the website
Project team
Angie Raj, Senior Digital Producer
Peter Roper, Senior Content Strategist
Aishling Costello, Senior Design Strategist
Jason Hendry, Senior Developer