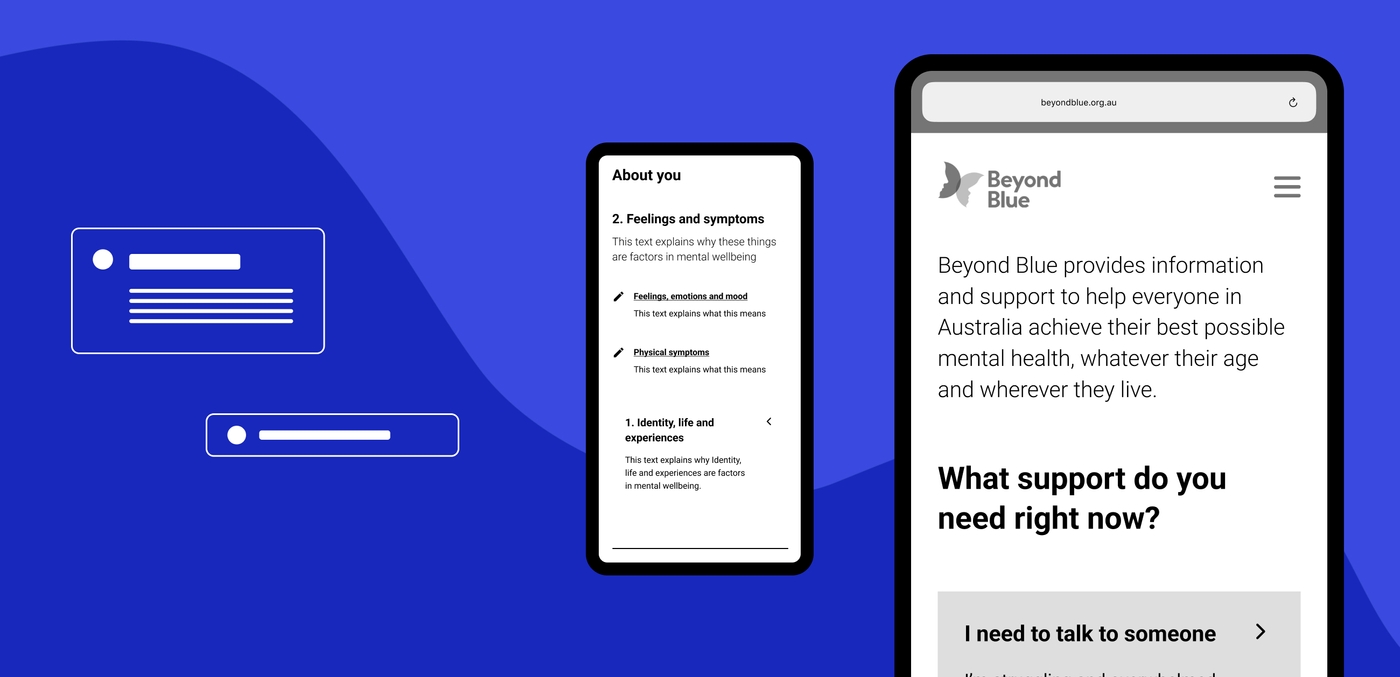 Beyond Blue is Australia's leading mental health organisation offering a wide range of services to provide information and wellbeing support, including phone, email and web chat support to those seeking help. Beyond Blue's vision is to provide accessible, personalised, safe, and connected mental health support for every person in Australia, designed in partnership with the community. 
The Productivity Commission's inquiry into mental health (2020) showed the need for the development of person-centred mental health and suicide prevention systems. The report discussed some key influences on people's mental health, examines the effect of mental health on people's ability to participate and prosper in the community and workplace, and implications more generally for our economy and productivity. 
In response to this, Beyond Blue defined a vision for "the Big Blue Door" – a seamless multimodal experience where each person can be supported in their mental health journey at any time. Beyond Blue is reimagining products, services and experiences to better serve the changing needs of the community and focus on providing preventative and proactive support.
Portable was engaged to define a clear vision for product and service experience improvement opportunities, and provide an understanding of Beyond Blue's current service users, how they engage with services, their desired experience across channels and how they navigate to and across services.
The Challenge
Beyond Blue is in the process of bringing its Big Blue Door vision to life to provide accessible, safe and connected mental health support and services for all people who engage with Beyond Blue. 
In order to achieve the project outcomes, our approach was twofold:
To research directly with the organisation to map out a digital roadmap that focuses on the highest impact activities to achieve the vision. 

To conduct research with communities to understand mental health journeys, pain points and how the current role Beyond Blue's service ecosystem services people's needs in order to provide a community-centred mindset to implementing the Big Blue Door vision.
Building the roadmap
We conducted a range of workshops and interviews with over 20+ stakeholders from across the business seeking to understand Beyond Blue as an organisation from internal processes, capabilities, technology and service perspectives. These activities enabled us to create a digital roadmap with Beyond Blue accounting for in-flight work, and business goals and creating a strong foundation to manage and grow digital services and infrastructure.
Qualitative community research
Our community research included over 30 people who all had previous or current experiences dealing with their own mental health struggles representing a broad range of identities and experiences. Spanning 18 in-depth interviews, 1 ideation workshop and 6 user testing sessions we were able to gain a clear understanding of end-to-end mental health experiences, how people interacted with Beyond Blue, other mental health services and why and when people would engage in services.
Behavioural archetypes and journey maps
We unearthed a broad range of research insights and in the process created 5 behavioural archetypes and behavioural journey maps to allow for greater understanding and connection with people using Beyond Blue's services. 
Behavioural archetypes enabled us to focus on higher-level behavioural taxonomies that are able to span across intersectional identities rather than focus on specific identity, demographic or narrative factors. These broad archetypes allow Beyond Blue to plan, design and deliver content and services according to key behavioural indicators such as experience, preparedness and current mental state.
Mapping the entirety of people's mental health journeys allowed us to understand people's behaviour, capabilities and motivations throughout their experience. It also provided insight into why people engage in services, what services they engage in and how they transition between information, services and touchpoints throughout their journey.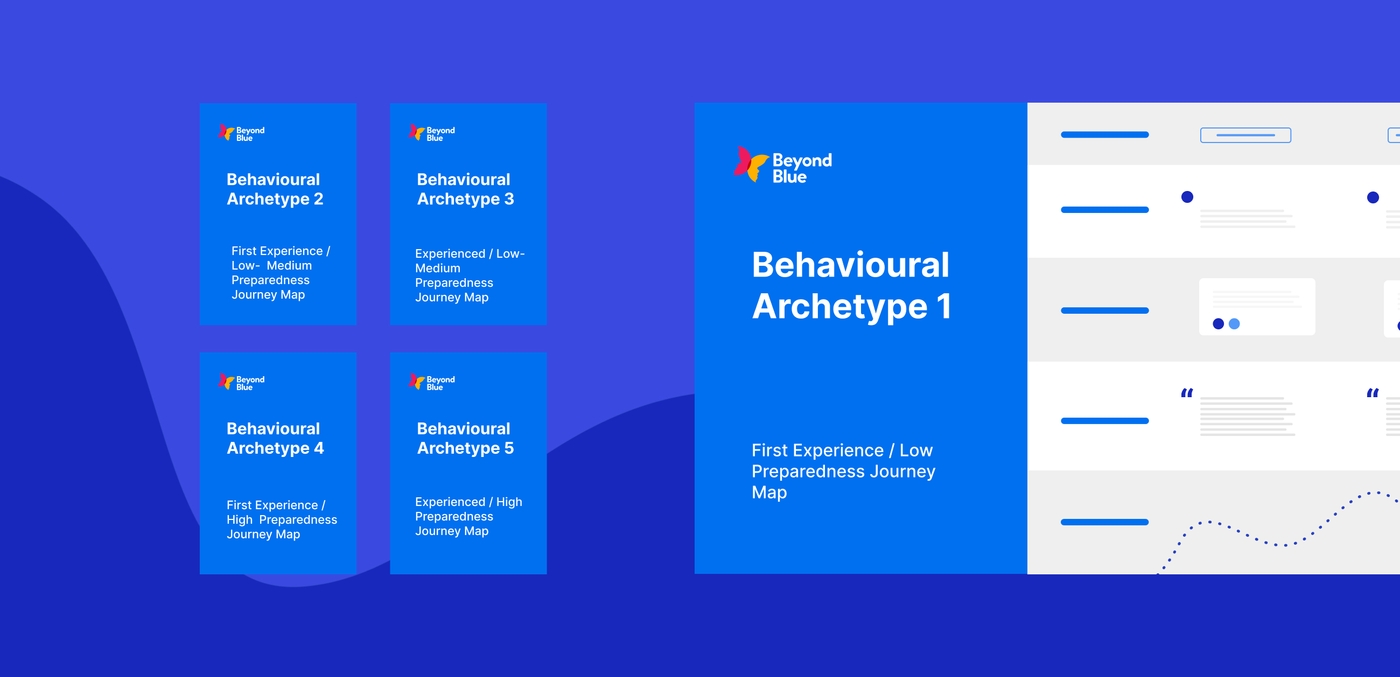 Mapping opportunities
From the synthesised research, we were able to create 17 opportunity statements that reframed the research insights making them more actionable for Beyond Blue to create ideas and solutions. All these opportunities correspond to insights within the research and provide solution agnostic framing allowing them to be used to address issues regardless of channel or service.
Ideation, prototyping and validating concepts
Translating insights into usable solutions can often feel ambiguous and challenging. In order to provide an example of this process to support Beyond Blue's future website redevelopment and service improvements, we took insights uncovered through the community research through to validated designs. Conducting rapid prototyping and testing helped highlight a usable, repeatable process that Beyond Blue can use themselves and provide a developed concept that can be refined and delivered to their users.
Technology insights and pillars
To complement the roadmap, we also developed a set of current state technology insights. These insights were based on our research with Beyond Blue, technology considerations uncovered as part of community research to address the needs of the community for a Big Blue Door experience and guiding principles for making technology decisions customised to support Beyond Blue's digital direction and vision.
Project Outcomes
Beyond Blue has a clear digital direction that will help guide core technology choices and digital direction for the organisation. Foundational research with organisation and community members can be built upon to improve services, address service gaps and align offerings to mental health experiences as shared by those with lived experience of accessing support.
Through delivering this clear digital direction, we:
Built and expanded existing Beyond Blue original research into how mental health journeys are experienced in Australia

Visualised research in a way that makes it easier for people across Beyond Blue to use and engage with

Provided tools and artefacts that support Beyond Blue's team in the long term.
Testimonials and Reflections
"We came to Portable with a time-sensitive significant piece of work to assist us in our Big Blue Door and transformation program; and they delivered. Taking a design-led approach enabled us to hone into the core problems we needed to solve, and their methodologies allowed us to build collaborative ways of working to get to the outcome needed.
There were two concurrent streams of work and Portable managed them effectively and to a high-quality. We built trust to enable us to have frank and fearless conversations, whilst being united on the end goal and shared purpose for the communities we serve. Portable brought great strategic, design, technical and delivery capability that ensured we got the best output and then ensured that it was clearly understood by Beyond Blue's senior leadership team.
Understanding and designing mental health solutions can be complex, however Portable were able to simplify that complexity through the use of their collaboration, methodology, language, visualisation, roadmaps, presentations and artefacts created. These outputs have laid a strong foundation for our work moving forward. We thoroughly enjoyed working with Portable throughout this process."
- Tish Tambakau, Head of Product and Service Development, Beyond Blue
"Working with the Beyond Blue team was a lesson in how collaboration between client and Portable teams create effective storytelling for an organisation working to implement transformation change internally, and for the community it serves.

We pulled together several diverse threads of research, best practice, and organisational priorities to create a clear direction for Beyond Blue, working closely every step of the way to make sure the nature of the exercise and the narrative of what we found was communicated compellingly.

A sense of trust quickly developed between teams, and this was important to openly resolve tensions, ambiguities and tough conversations the research brought up. I am excited to see how this direction is implemented and appreciative of being able to work on a project with clear benefits to a stronger mental health system in Australia."
- Sarah Kaur, Principal Business Designer, Portable
Project Team
Libby Tiding, Senior Producer
Alice Reeve, Senior Producer
Matthew Dalla Rosa, Senior UX Researcher
Greg Corlett, Technical Business Analyst
Daniel Hoult, Senior Experience Designer
Sarah Kaur, Principal Business Designer 
Kerri James, Senior Client Partner
Adam Corcoran, Lead Design Strategist
Ashlee West, Lead Experience Designer
Shayla Kappelle, Lead Producer
Chris D'Aloisio, Head of Technology