Created by government for government, the Australia and New Zealand School of Government (ANZSOG) works with local, state and federal departments and partner universities to strengthen the quality of public sector leadership in Australia and Aotearoa New Zealand.
ANZSOG inspires thousands of public servants to make a positive difference to the lives of people in Australia and Aotearoa New Zealand. In the digital age, it's important that organisations maintain a modern, up-to-date online presence which empowers them to fully engage and support their network, and so ANZSOG was seeking a partner to help replace their existing website.
A number of goals were identified as part of redeveloping their website, namely ensuring that it was accessible, easy to navigate, and provided a consistent experience for a range of audiences engaging with ANZSOG on a daily basis. Additionally, the website needed to be easy to maintain, align with ANZSOG's business goals, and reinforce their position as a culturally comfortable experience for First Nations People. 
The Portable team was thrilled to play a part in making the use of this website a more delightful and inclusive experience for the primary audiences including potential students, public sector leaders and managers or specific communities of practice, to name a few.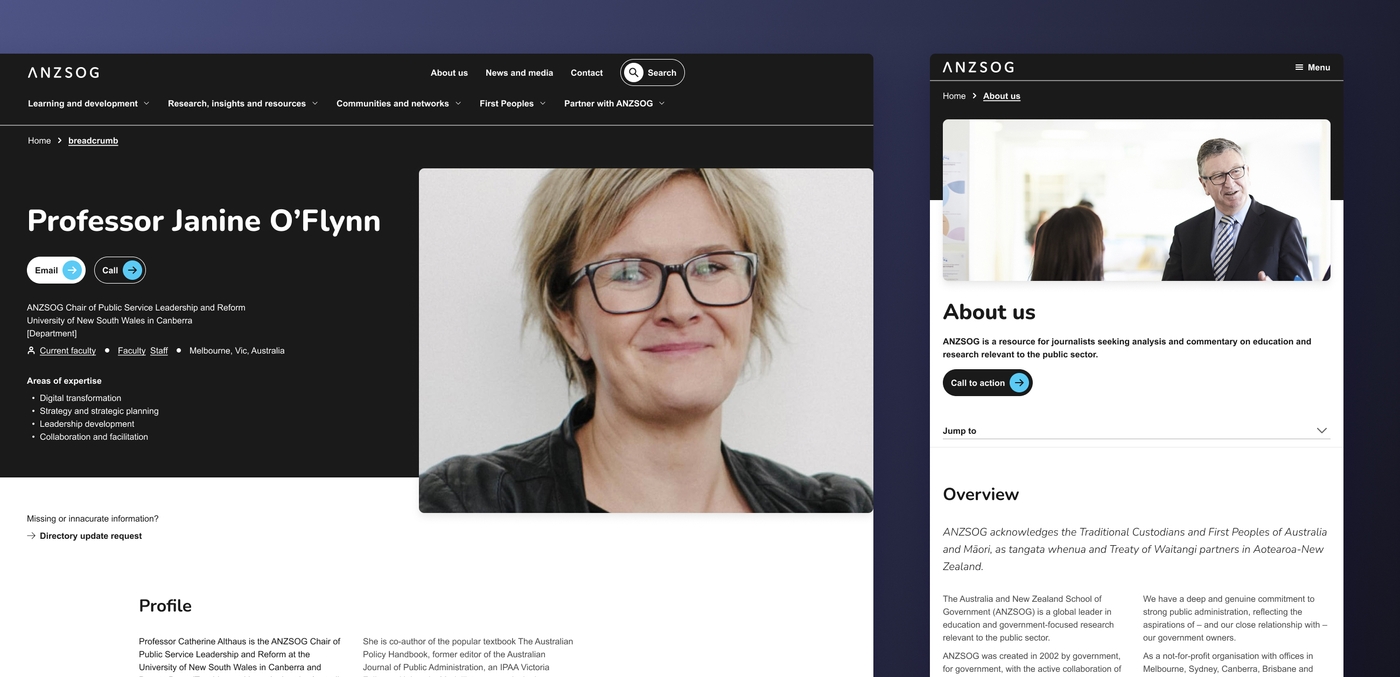 The Challenge
Despite having excellent content and services, it was common for users to feel that the ANZSOG website was confusing to navigate and failed to represent the whole of ANZSOG due individual pages and entire sections of the website lacking consistency in look and feel. Additionally the Content Management System was difficult for ANZSOG administrators to use and not flexible enough to accommodate their ever-evolving services and programs.
ANZSOG's primary goals when seeking to redevelop their website included:
support website users need to easily find the content best suited to support their unique learning journey
ensure the latest accessibility standards were met
enhance the digital experience for key stakeholders
support ANZSOG's digital strategy and overarching business goals
Our Approach
In order to support ANZSOG's goal of enhancing the digital experiences for key stakeholders and primary audiences, we took a human-centred design approach to the project by prioritising the user journeys for the new website.
Digital experience research
Understanding the benefits of co-designing solutions by engaging our project stakeholders, the Portable team undertook a collaborative research process which involved workshops and engagements with a range of both internal and external representatives. This approach allowed us to:
Align with internal stakeholders on the process of identifying and defining the audiences and user journeys which are of the highest priority
Better understand how users who are either time-poor or who need high-level information quickly would like to navigate the website so that we could prioritise content in order of importance
Clearly define the unique user flows for each primary audience and how these could be operationalised in the new website design 
Categorise the areas of the website which needed to be transactional and which needed to be informative, so as to meet user expectations.
Technical solution design
Referencing the synthesised insights from our Digital Experience Research, we were able to ensure that user needs, business goals, and prioritised features were clearly identified and validated to help us outline the future state for the website. 
The primary outcome of this process was to define a technical solution design which included the hypothetical website information architecture and preferred Content Management System. Ensuring that the ANZSOG content editors and managers had complete control with ease of use without negatively impacting security or performance, it was decided that WordPress would be the best CMS for this website.
Tree jack testing and information architecture
The tree jack testing process allowed us to rapidly test and iterate the underlying information architecture of the website to validate that it met the project requirements and user expectations before investing resources into designing wireframes. 
The objectives in this phase of the project included:
Better understanding of the current website structure
Testing our hypotheses with the primary audiences
Efficiently defining our approach to improving the findability of on-site content  
We also ran a stakeholder information architecture workshop, which helped us to build empathy with the existing website users and empowered stakeholders to become aware of barriers blocking, or reducing 'good' user experience, on the current ANZSOG website. 
This process also provided us with an opportunity to engage stakeholders and better understand how they believed the information architecture should've been shaped, while giving our team an opportunity to playback the results directly to ANZSOG internal stakeholders.
Accessible and user friendly UI web design
All websites and digital applications designed and developed by Portable are WCAG 2.0 and 2.1 compliant, providing a minimum AA standard and achieving AAA standard when possible.
Improved search functionality
For website and web-based application development, the Portable team provided improved search functionality in two ways: 
The way content is implemented
The way the website is built. 
Our Content Strategist worked with ANZSOG stakeholders to define a content tagging taxonomy to be consistently applied within the CMS by the ANZSOG team, helping improve the way content was found via search functions on the website, as a consistent tagging guide for future website administrators to follow. 
Utilising Algolia, a much more powerful and user friendly search provider, it allowed the ANZSOG team to customise how website search functions in the future, without needing technical support or significant development resources to do so.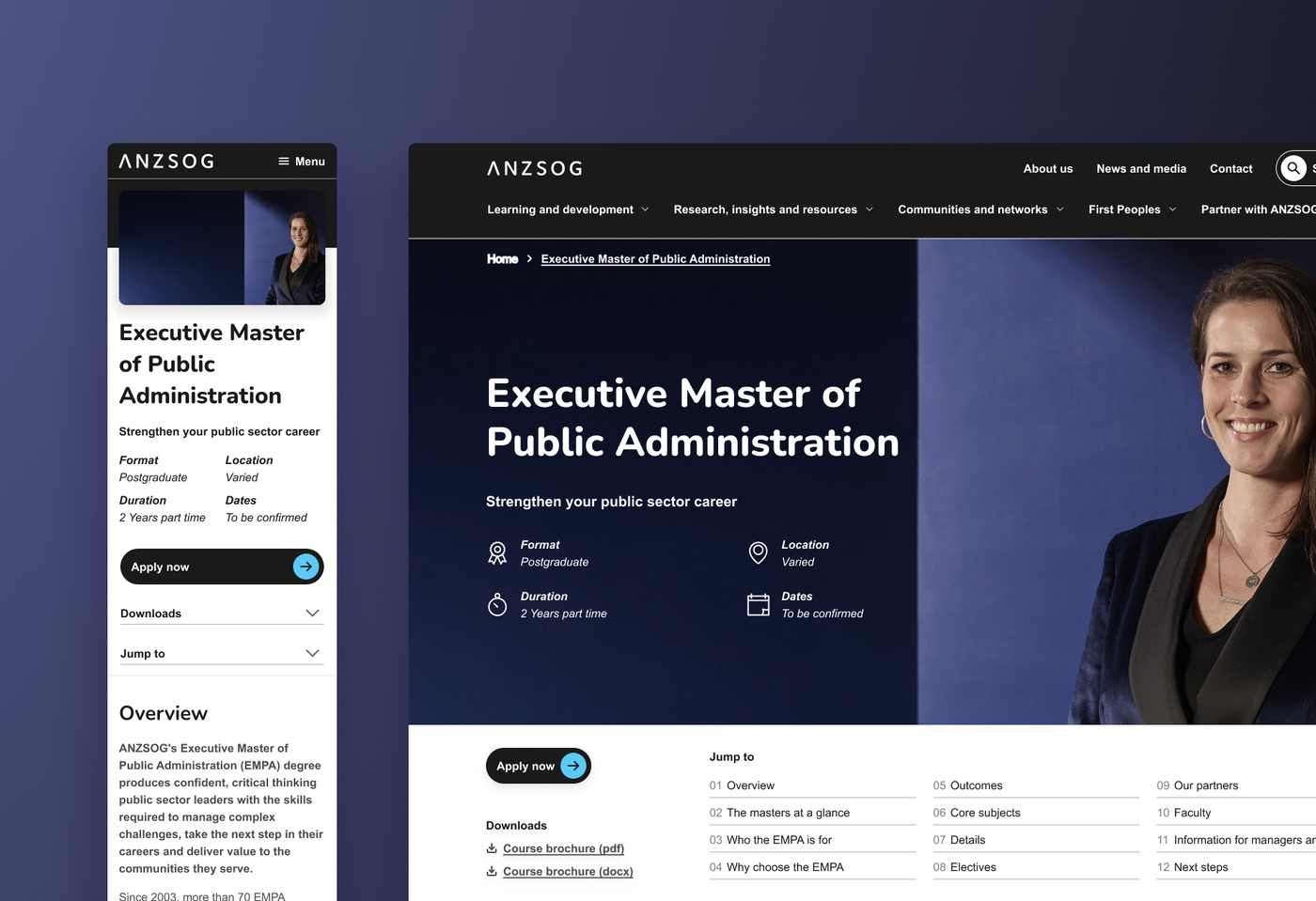 Website Development
When building websites and other applications, the Portable back-end development team ensures that code repositories and continuous integration pipelines, from staging through to production environments, were set up as the first step of the development process. Not only did this process follow industry-leading best practices, it significantly reduced total resource requirements for the life of the project.
Working from back-to-front
The back-end development team then completed the CMS setup and configuration process before integrating with preferred third-party services such as newsletter campaign software, Google Analytics, and website search functionality.  
Our front-end development team worked to bring the visual designs to life, working with our design system as a basis. This allowed us to translate the static designs into the customer-facing portion of the website.
Quality assurance and content migrations
Throughout this entire process, our Quality Assurance team was engaged to perform thorough tests which validated that the final product met project goals, security requirements, and user expectations. This included complete cross-browser testing which ensured that the website experience performed as expected on all current browsers, across the most common devices. 
As part of this process, the Portable team assisted in the extensive content migration process of streamlining, combining, and updating a total of 1,434 html pages and assisted the ANZSOG team with uploading 698 PDF documents onto the new website.
Outcomes
Portable's work with ANZSOG on their new-and-improved digital presence really highlights the importance of leveraging collaborative design processes and agile development frameworks when building an online presence for your organisation.
Despite taking a thorough approach to the research, engagement, co-design, and development of the website, the entire project took just five months to complete, from kick-off of research through to launching the website. 
Through this process, Portable engaged with external and internal stakeholders to successfully design, develop, and deliver a website which prepares ANZSOG for flexibility into the future, including:
A new website that accurately represents ANZSOG's three pillars: 'Education', 'Thought Leadership' and 'Research and Advisory'
A simple to use content management system that set ANZSOG up with the tools to continually make the improvements needed for better user pathways
Created a design that enabled users to easily find pathways to the content they needed for their unique learning journey while ensuring it aligned with expectations.

Reflections
"Working with Portable from program discovery right through to delivery was a positive one, especially given the extremely tight timeline and budget. Portable was able to provide a refreshed, fit for purpose ANZSOG website, enabling ANZSOG the flexibility to enhance and evolve the site with changing trends and organisational growth."
— Emma Rundle, Director Marketing and Communications, ANZSOG
"Portable and ANZSOG are aligned in our mission to help deliver better government which means better outcomes for citizens. We really enjoyed the opportunity to learn more about ANZSOG's diverse and ever evolving programs and services, and ensuring we set up a digital presence that can evolve along with ANZSOG"

— Naomi Wilson, Lead Client Partner, Portable
Project Team
Naomi Wilson, Lead Client Partner
Olivia Gregory/ Libby Tiding, Senior Producer 
Alexandre Lekic, Experience Designer
Peter Roper, Content Strategist
Lincoln Le, Senior Developer
Sonia Montero, Developer
Andrew Fulton, Lead Developer