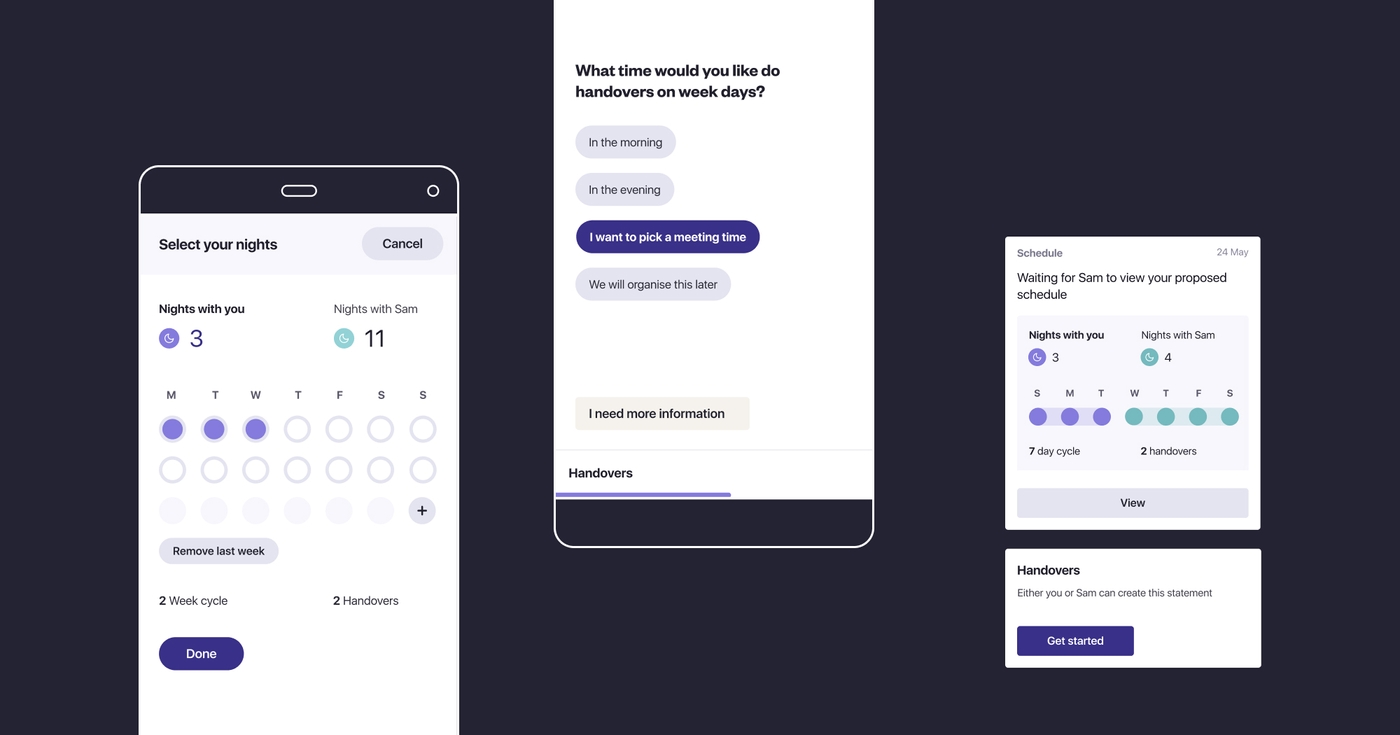 Portable has an established legal design practice and we proactively research, co-design and develop new initiatives that make a positive impact in the sector. The design and development of online dispute resolution (ODR) tools which use machine learning algorithms to generate predictions is one of our areas of expertise, exemplified in the product amica (www.amica.gov.au/), a tool which provides a suggested division of assets for separating partners which we launched nationally in July 2020.
You can learn how Portable's new digital platform for separation was conceived, designed and created by the team who brought it to life by watching a recording of a recent webinar with the team who designed and developed amica.
In early 2018, the federal government provided funding National Legal Aid to investigate how online dispute resolution could be used to help couples who are separating or divorcing in Australia. The recent challenges and reforms in Family Law highlighted the need to provide more support for people who want to resolve disputes or reach an agreement, without the added cost and complexity of formal legal processes.
Disputes arising from the breakdown of a relationship can be particularly expensive for people with relatively few resources, especially for those who don't qualify for legal aid. Often, formalities like parenting plans or property settlement arrangements are ignored until a serious problem arises. The Legal Services Commission of South Australia managed the project on behalf of National Legal Aid, and selected Portable to help realise an idea and create "a simple, cost-effective and innovative way to negotiate Family Law issues online".
Looking at online dispute resolution was a logical next step for us. After researching the successes and challenges of platforms like MyLaw BC and Rechtwijzer, we saw an opportunity to build an accessible, cost-effective and user-centred method for resolving disputes with technology. A combination of research and informal chats with government clients led us to commence our own internal R&D on what we could do to improve this experience for users. This led to a generic ODR workflow that formed the beginning of our internal R&D process, an early ODR app called 'Sort'd'. Mapping this dispute resolution workflow opened up the potential for opportunities to better understand the way people communicate in order to put their experience at the centre.
Approach
We initially partnered with the Legal Services Commission of South Australia to develop a prototype to prove that a mobile-first ODR tool can help guide former partners toward an amicable resolution of family law issues. It's been two years since we started that journey, the project evolved onwards from the prototype and we have now developed an application called 'amica' to help separating couples through property settlement and parenting arrangements.
We developed amica by working iteratively through different sections of the process with a cross-disciplinary team of researchers, designers, and developers, all in collaboration with the lawyers and the project team at Legal Services Commission of South Australia. Our designers researched existing user stories, relevant legal and jurisdictional constraints, and iterated on our prototypes through multiple rounds of user testing with people who had been through the process before in Adelaide and Melbourne. 
We redesigned the existing DIY Consent Order form provided by the Family Court of Australia to make it an accessible, user-friendly question flow that can be completed on your mobile phone, in your own time. If there's any disagreement between the parties, they can message each other on a guided platform that uses smart technology to prevent abusive language and prompt collaborative responses. We brought our designs to life by building out the technology over multiple series of two-week sprints where we continued to design, develop, test, and refine. 
Alpha and beta testing
Our focus on testing with real users of the system informed our design iterations by keeping us focused on designing systems people would want to use. We conducted six rounds of user testing with 34 people on our Alpha and Beta prototypes.
We were able to directly test our Beta prototype with some of the same people who participated in the initial interviews. This allowed us to confirm our assumptions and design principles and modify the tone of voice, functionality, and content as needed.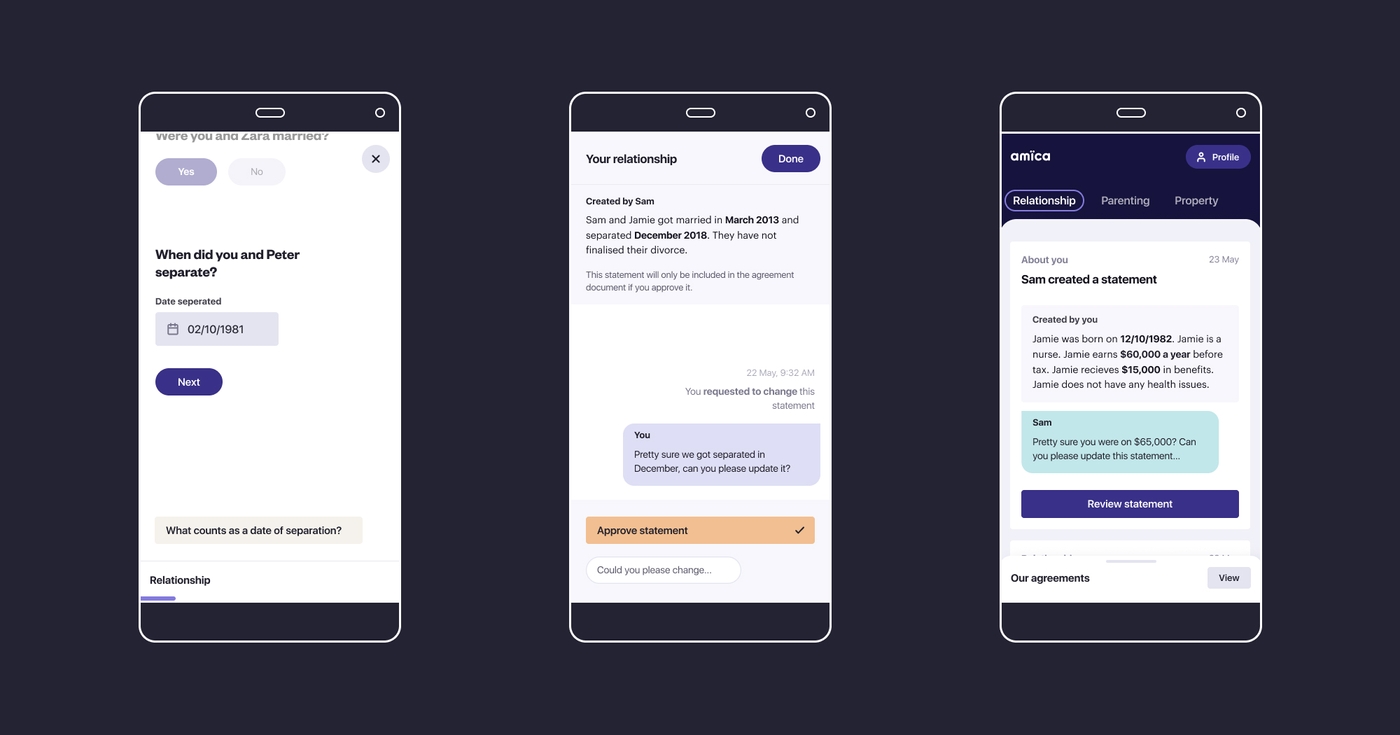 We learned that:
People want clarity and transparency
People need their online experience to integrate with offline services (such as legal and financial advice)
People want context and education throughout the process
People sometimes need a friendly nudge
People may need an authoritative decision-maker to provide an objective benchmark
People want the tone to be authoritative, but not stuffy or legalistic
A lot of the feedback we got from users was around how helpful it was to view the process step by step and with plain language text with a conversational user interface.
User research and user testing helped to inform the features and functions of the ODR tool. Features and functions of amica include:
conversational interface with supportive messaging, updates, and subtle nudges to help people fill out simplified forms and negotiate agreements that work for them
contextual guidance and plain English legal information so people can make informed decisions
document uploads to support claims or provide evidence of value for property
sentiment analysis and a 'tone cop' to prevent parties from using abusive or profane language
artificial intelligence provides a suggestion of what a lawyer would consider a fair division of their assets based on the information they've entered.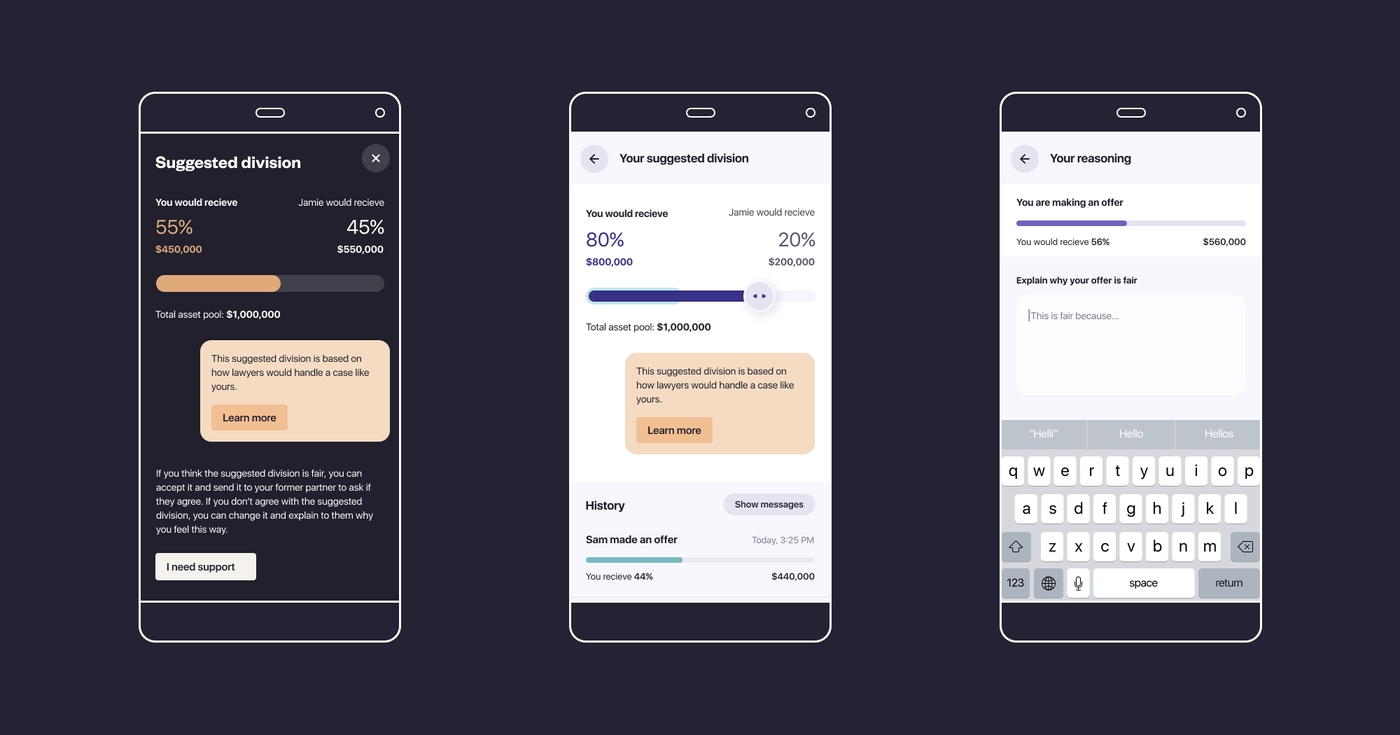 Machine learning algorithm
We also worked alongside the Legal Services Commission of South Australia project team to develop a machine learning algorithm that provides a suggested division of a former couple's total assets. Once both parties enter all their assets and liabilities into the tool, they'll see this suggested division as a starting point for their negotiation. When they agree on a fair division of their total asset pool, they can work out the best way to split their assets so they can both walk away with greater financial certainty and independence.
Instead of using published case data to power the machine learning algorithm, which we found contained biases due to the contentious nature of the parties' disputes, we chose to create a synthetic dataset that included the same variable we'd expect to see in our user base, including their respective incomes, number of children, marriage duration, super balances, and an overview of their respective financial contributions to the relationship. We did this by creating a way to crowdsource data from actual lawyers by developing a web interface that provided legal aid family lawyers with hypothetical scenarios that represented the kind of information we'd expect to see from people using the tool.
We asked lawyers to assess the hypothetical scenarios, enter a division of assets they'd consider fair, and then reset it and continue to fill in the data set using the web tool. By working with National Legal Aid and legal aid bodies in every state and territory, we were able to create a data set to inform our machine learning model. It is currently operating live on amica and provides a suggested starting point to guide former couples in negotiating on the division of their assets.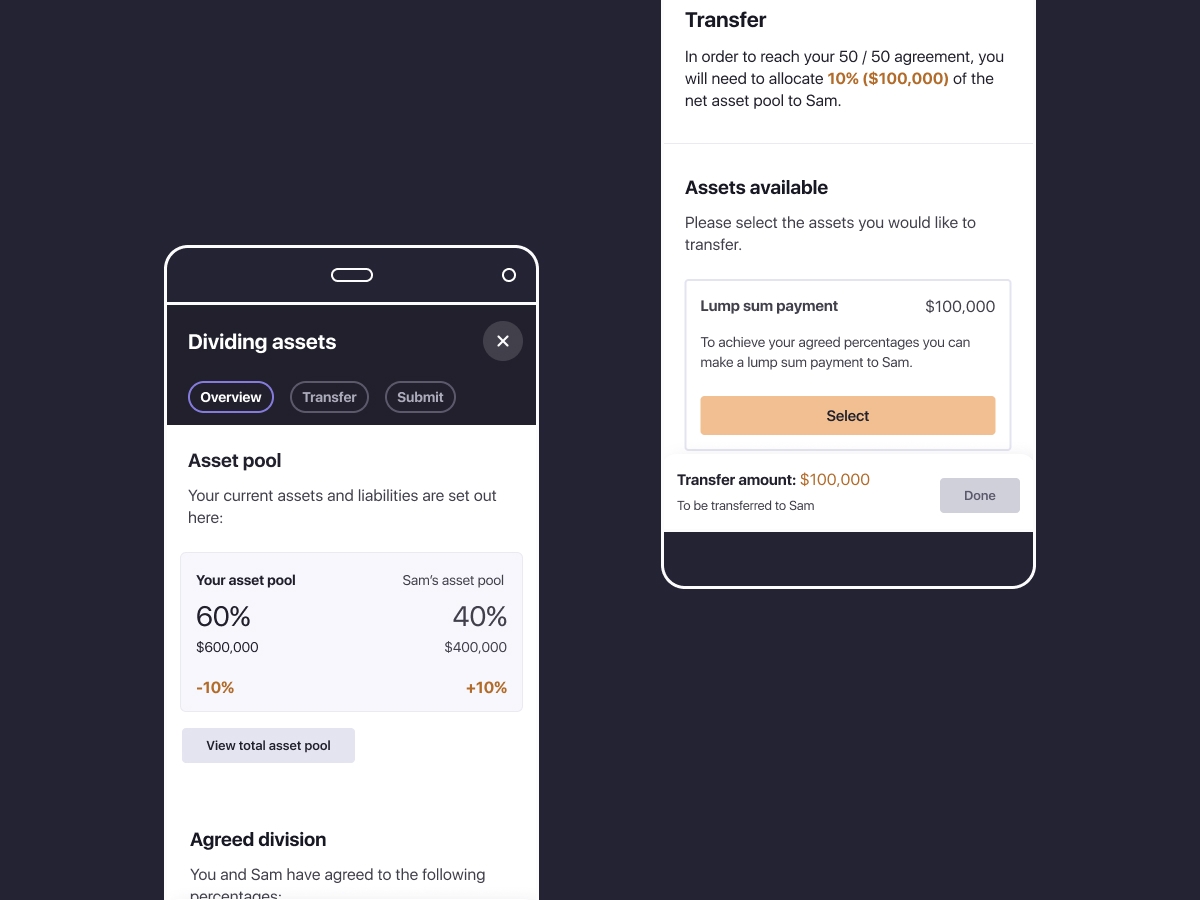 Outcomes
Our ODR tool, amica went live in February 2020 with a limited rollout in South Australia. It is now part of a coordinated effort across all legal aid jurisdictions to refer clients and increase their online service delivery.
It provides a low-cost alternative to private family lawyers and increases access to legal services for amicable couples who wouldn't otherwise be able to afford legal help. amica was launched nationally on June 30 by the Federal Attorney-General, Christian Porter, who noted in his press release that: "amica will be a valuable tool to help many couples resolve their disputes between themselves and avoid court proceedings."
As a result of this launch, people around Australia can use amica instead of paying to see a lawyer, allowing for greater equitability in accessing justice regardless of the income level of those in need of legal support in settling the division of assets and resolving disputes online. As of July 1, 2020 over 200 couples have accessed the service.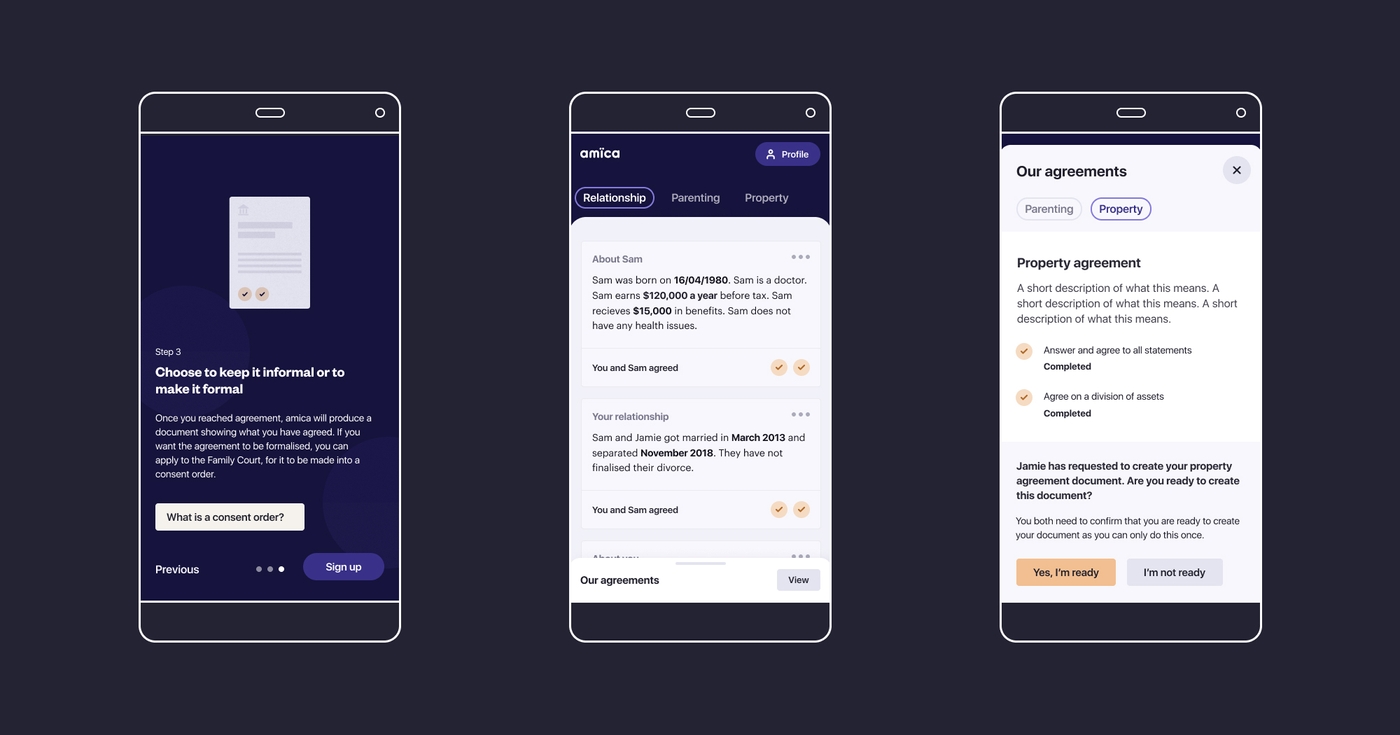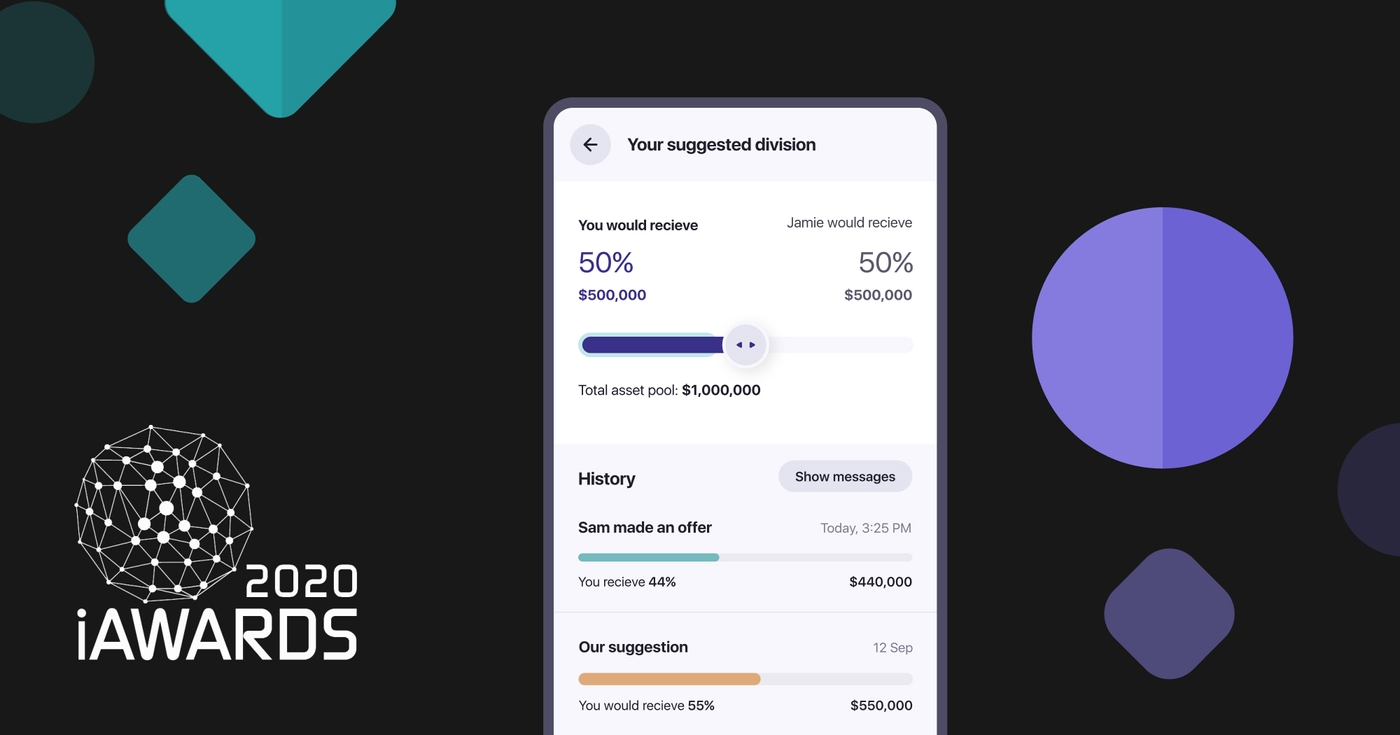 iAward 2020 for Best Government and Public Sector Solution
amica was awarded this national award in November 2020 in recognition of the innovative outcome we achieved by working in partnership with the team at the Legal Services Commission of South Australia.
Download our report on designing for justice