Content warning
This article describes mental health challenges, a broken mental health system and potential triggers for people facing or supporting others through mental health challenges. 
We encourage anyone who is affected by this article to reach out for support. If you're unsure where to go or who to reach out to, we recommend reaching out to Lifeline 24/7 crisis helpline 13 11 14 or any of these services.
Introduction to Research and Development at Portable
At Portable, we're currently working through an 18-month, independent deep-dive into the mental health sector. We've just completed our second sprint. Our first led us to develop a set of Mental health design principles, which guided us through our most recent sprint as we reviewed the Royal Commission into Victoria's Mental Health System report. This research is self-initiated, it is not attached to any project or client. It is our independent deep-dive into the mental health sector, aligning to our company mission.
This is the second publication in a series of articles, sharing what we are learning, developing and thinking about as we progress through our 18 months of research.
Our mission at Portable is to seek out areas of social need and policy failure and make transformational change using research, design and technology. We work in a series of impact areas including mental health, justice and the public sector. 
3 principles of a human-centred mental health system
Following on from our review of existing research, the royal commission recommendations and our own two week research sprint we developed these 3 principles as part of a larger set of Design principles for the mental health sector. We then used these principles, as well as our expertise as human-centred designers and our Portable ethic principles to develop concepts we believe could address some of the challenges people experience in today's mental health care system. The concepts we have developed so far include:
Exploring mental health conversations about support and consent.
Digital tools mediating face to face conversations about how to support people through mental health challenges.
You can read more about our research sprint here. Keep an eye out for future articles in this series, explore these concepts and more findings from our research!
01 See me for who I am
Through our research, we learned that people experiencing mental health challenges can feel isolated, bearing the weight of their mental health journey on their own. Many people feel as though they are falling through the cracks of a system that does not see them or offer continuous support. Some supporters are also subject to this cycle of falling through the cracks as they feel they are the sole life-line supporting their loved one.
While a diagnosis can be helpful from a practitioner or treatment perspective, many people feel they are often defined by their diagnosis, creating a reductionist view of who they are as a person.
People want to be recognised for the myriad of experiences, thoughts, feelings, expressions and opinions that they have outside of their mental health. People want to be remembered as multidimensional humans, where their mental health is just one aspect of who they are. When exploring this, we often reflect on principle 2 in our mental health design principles: Stay with people throughout their journey.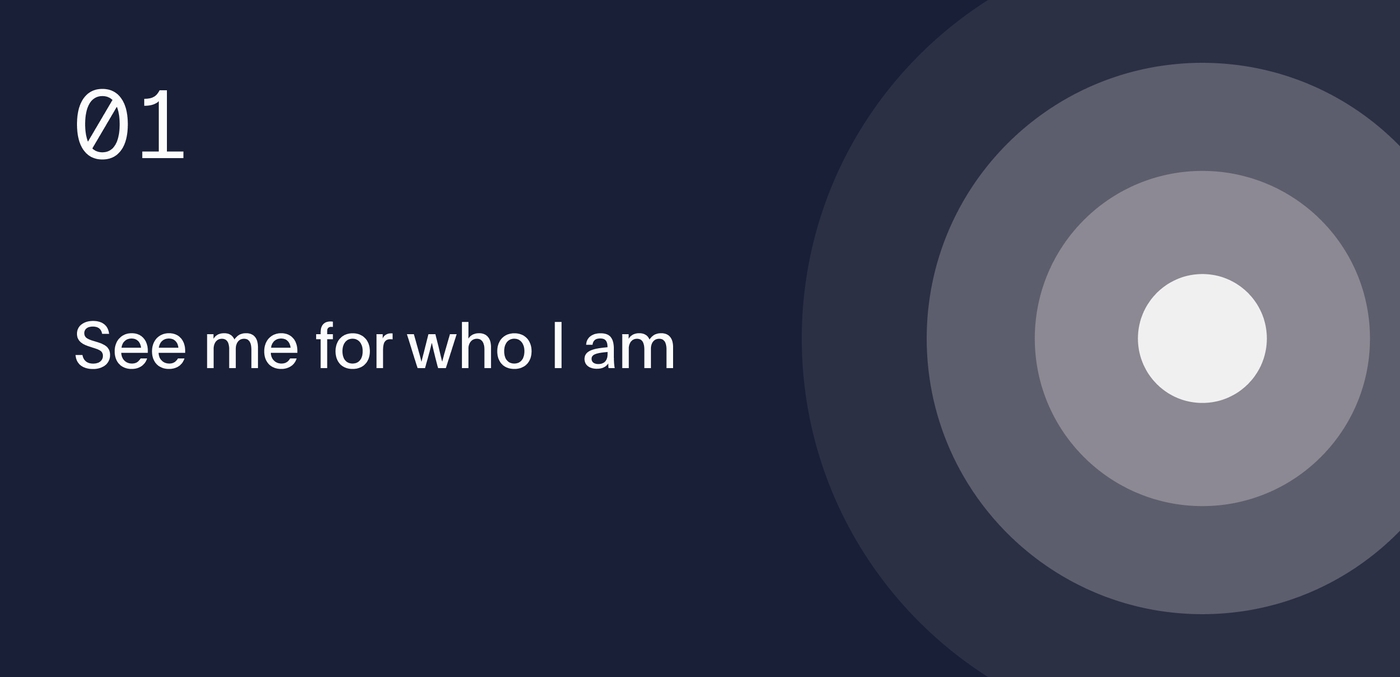 02 Help me ask for support
We also learned that people with lived experience of mental health challenges want support from someone who understands them, is non-judgemental and potentially a peer from their community. However, people are not sure how to go about setting up this kind of support for themselves. When exploring this, we often reflect on principle 4 in our mental health design principles, Help people to talk about mental health in ways that feel familiar.
People living with mental health challenges may be unsure what to expect from a support person. They may be unsure what form the support might take, how to reach out and ask for support, what the limitations of the support are and how the relationship could work.
These uncertainties build a barrier between the person seeking help and them reaching out and receiving support. If boundaries are unclear or not well set up, there is a risk that a support relationship could become less effective or put strain on a familial relationship. This perpetuates a cycle of guilt, shame and rejection that affects both the person experiencing mental health challenges and their support network.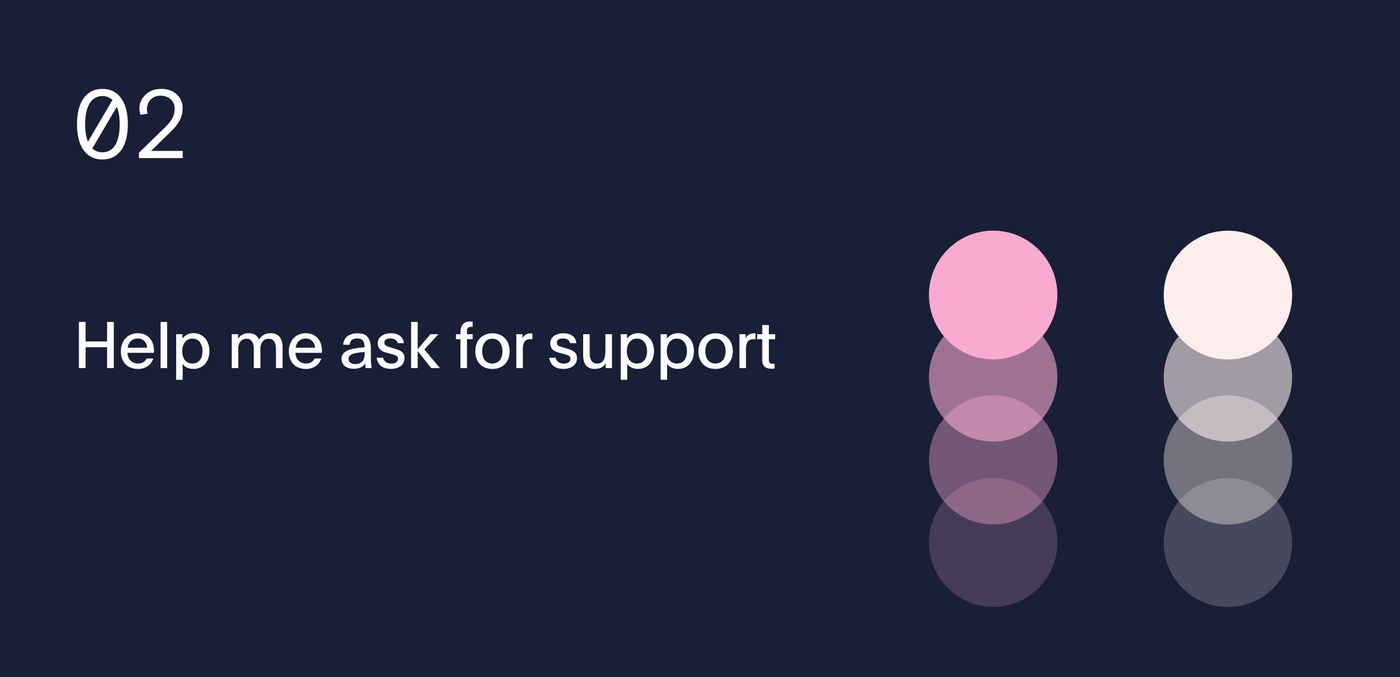 03 Help me understand what you need
Equally, supporters struggle to share their own limitations with the person they are supporting. Many supporter's personal stories show compassion fatigue, which is made worse by a system failing to help them support someone while receiving their own care. This can lead to a supporter becoming overwhelmed or needing to step away from the role to protect their own mental health.
We learned that typically, supporters are not medical professionals, they're often family members, friends or members of their community-group or faith-based community. This limits what they can and should do when caring for someone living with a mental health challenge. This in turn can then impact their relationship equity and boundaries.
In order to successfully support someone living with a mental health challenge, supporters need to have a deep understanding of how best to help the person, the types of help that the person responds to and what to do if the person is struggling or in crisis. 
Supporters want a system that delivers reliable support for everyone involved in the experience. Experienced supporters want to build healthy, open, equitable and honest relationships with the people they are supporting, but they are not always sure how to go about this.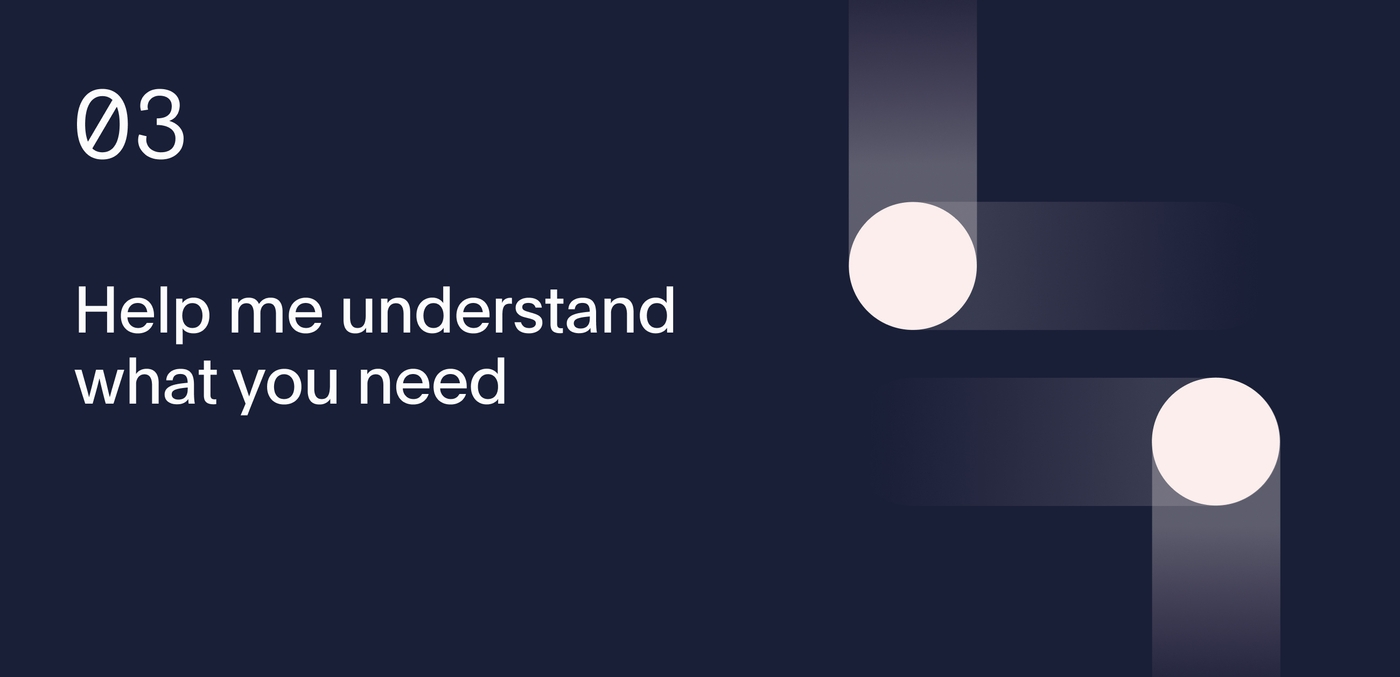 What's next?
This research is continuing at Portable and we'll be looking to further expand on our initial concepts outlined above over the next 18 months, through sprints, workshops and community engagement, much of which we hope to publish and share with the sector.
If any of our work resonates directly or discreetly with work you or your organisation is addressing, we would be happy to connect, share insights and continue working on these important topics. You can find us at hello@portable.com.au
This article is part of a series. Check out our other articles to see where our research into the Commission takes us next:
This research and development work was guided and completed by:
Allison Snow, Lead Producer
Chris Rickard, Lead Technologist
Greg Corlett, Senior Business Analyst
Maria Garcia, Senior Experience Designer
Lucy Boehme, Experience Designer
India Lock, Strategic Designer
Aishling Costello, Strategic Designer
Emily Pearce, Senior Content Strategic Designer
Andrew Apostola, CEO, Portable