HoMie (Homelessness Of Melbourne Incorporated Enterprise), as a social enterprise, aims to create a positive impact in more ways than one and HoMie goes beyond just the ethical production of its streetwear to do so. Through HoMie's training programs and academies, the team supports young people affected by homelessness or hardship to equip them with skills, confidence and experiences to become work-ready and better prepared for their future. HoMie does so through the HoMie Pathway Alliance Program, an eight-month paid internship completed through HoMie's retail store or through its Partners – Bonds, Cotton-On Group, Champion, Nike & TOMS. 
However, 2020 has been a year of change for all. The students couldn't complete their retail placements this year as planned because of the COVID pandemic, so HoMie had to consider how they could pivot the program while still achieving the goal of equipping HoMie interns to be work-ready, and as such launched HoMie's Retail Ready program for 2020. Following this, HoMie partnered with the boutique recruitment agency, Creative Natives. HoMie's partnership with Creative Natives meant the team could explore how the program could be adapted to provide the students with exposure to the different kinds of jobs available in the creative industries upon completion of the program. Together, HoMie and Creative Natives developed a 4-week Creative Academy program for their current interns.
As part of the Creative Academy, HoMie and Creative Natives invited a range of creative agencies and design studios to participate in the facilitation of workshops and training sessions for the interns. Through these engagements, the young people were able to gain broad entry-level knowledge of the variety of businesses operating in this sector across design research, marketing and multimedia. 
Portable was invited to contribute to week 4 of the Creative Academy through the delivery of a workshop for the students.
Our Design Strategy team dusted off their post-it notes and dived straight in, excited at the chance to participate in such an innovative and worthwhile initiative and not least because it was their first foray back into in-person workshop facilitation since before the lockdowns started in March. The workshop they ran aimed to provide entry-level knowledge of Portable and how we operate as a full-service digital design studio, provide an insight into all of the different types of jobs within our company and inspire the students through hands-on learning of the common skills and mindsets required from our staff at Portable.
We took a crowdsourcing approach to gathering the various job descriptions from within Portable, by creating a fun activity that we ran in each of our internal team meetings using the remote cloud-based collaboration tool Miro. We asked everyone at Portable to describe their job using plain English to make it easy to understand for those new to the industry. We also asked everyone to articulate the top 3 skills or mindsets needed for their job - it got us all thinking hard about what it takes to be a good Design Strategist, Experience Designer, Developer, Producer and Business Developer.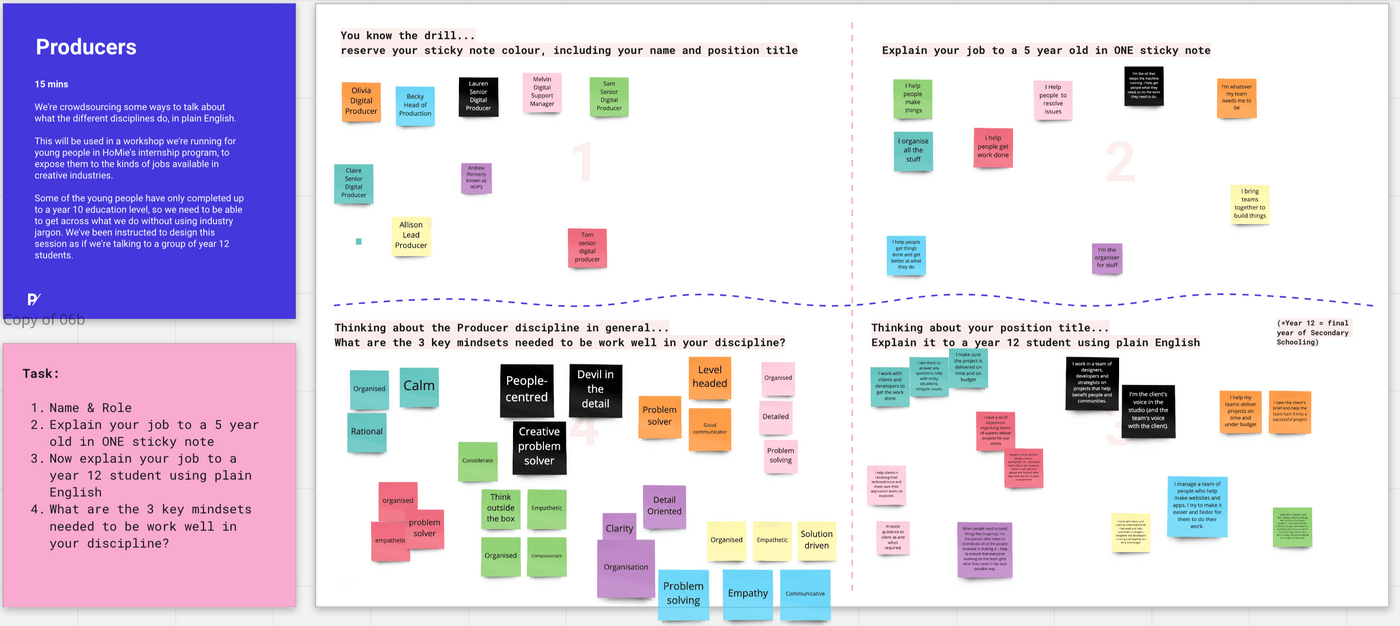 We then looked for patterns and themes to arrive at six key skills and mindsets common to working at Portable.
Curious
Open-minded
People-centred
Collaborative
Problem solver
Logical thinker
The team then used this information to create a 'persona' for each, summarising the main functions of each job at Portable.
We recruited some generous volunteers from our team at Portable to bring to life these jobs in a video which we edited to include some visual examples of our work. We presented this video and the personas to the young people in the workshops and engaged them in learning about the key skills and mindsets through a series of fun and practical interactive activities. 
It was important to deliver the workshop in person in order to best engage the young people, so (with a COVID-safe plan in place), we delivered our first in-person workshops for 2020 which is one milestone of the year we are very happy about! The activities we used in the workshop to introduce the students to the different roles and skillsets in Portable also introduced them to design thinking and the ways in which we use human-centred design methods.
The young people who participated in this workshop and the Creative Academy will be able to apply for creative agency internships once they complete the course. We hope that the introduction we gave to working at a creative sector agency like Portable provided them all with a good grounding for their future work placements and for entering the workforce.