Content warning
This article describes mental health challenges, a broken mental health system and potential triggers for people facing or supporting others through mental health challenges. 
We encourage anyone who is affected by this article to reach out for support. If you're unsure where to go or who to reach out to, we recommend reaching out to Lifeline 24/7 crisis helpline 13 11 14 or any of these services.
Introduction to Research and Development at Portable
Exploring mental health conversations about support and consent
Our research has led us to explore two ways in which the future mental health care system could take a human-centred and trauma-informed approach when realising Recommendation 61: Sharing mental health and wellbeing information.
While we will introduce each concept separately in two articles (you can read about the first concept here), it is easy to imagine how they might be two features or ideas explored in the same system, suite of digital tools or reinvented to inform and shape new products. These concepts are the starting point. They need to be tested with people who will be using the future system, iterated upon, validated and reshaped.
Digital tools mediating face to face conversations about how to support people through mental health challenges
We believe that digital tools can be used to support face to face conversations, for people experiencing mental health challenges and their supporters, which will achieve clear boundaries for seeking and offering support that is agreed by all sides.
Our concept is centred around mediating and guiding conversations between a person with lived experience of mental health challenges and a support person. We knew the concept should embody whole person care and promote positive mental health outcomes. We also wanted to ensure that human conversation and connection were at the centre of our concept, that the role of technology was a supplementary one and not a replacement for peer or therapeutic support. For more information on the Benefits and challenges of digital approaches see Volume 5 of the report.
Mediating a conversation should enable both people to have open, respectful, supportive and equitable conversations about what support might look like, how this could take place and when it should take place. The intention of this concept is to enable sharing of lived experience with someone else who is not a mental health care professional so that they can celebrate when times are good and bolster someone when times are tough. This will hopefully allow for less structured and more organic conversations which could help people with lived experience feel more cared for and seen. 
In the image above, we see two people using a tool filled with conversational prompts and questions, guiding them through the challenging elements of 'asking for help' style conversations. Hopefully, this helps create space and opportunity for conversations to occur in an equitable, honest and respectful way.
When considering how to best facilitate and guide these conversations, we reflected on design considerations such as accessibility, style of language and how to promote user choice and agency. Our vision is for a concept that embodies clear, easy to understand language that is friendly and direct.
Mediated conversations would also incorporate elements of a Ulysses Pact or Safe Plan. This is where the person with the lived experience defines how they like to be approached, listened to, what support is to be provided and by whom, at a time when they are not at their best.
Additionally, the conversational prompts and questions will enable supporters to be specific about the support they can offer, setting clear expectations for the person receiving their support. This ensures that each person has a clear understanding of what the other will or will not do at a time of crisis.
This approach also provides an opportunity for people with lived experience to build an understanding of the information that is important to share in order to receive the support they need, allowing the person to retain control over their own story. Through these conversations, each person is able to share and learn about individual boundaries and what this might mean for accessing and providing support, all the while recognising that boundaries can shift and change over time. 
In developing this concept, we reflected on the support frameworks that have been developed by organisations such as Lifeline and headspace. Conversational prompts and questions would reflect existing frameworks and tools available to guide people when supporting someone in crisis, such as those included in the Mental Health First Aid Action Plan.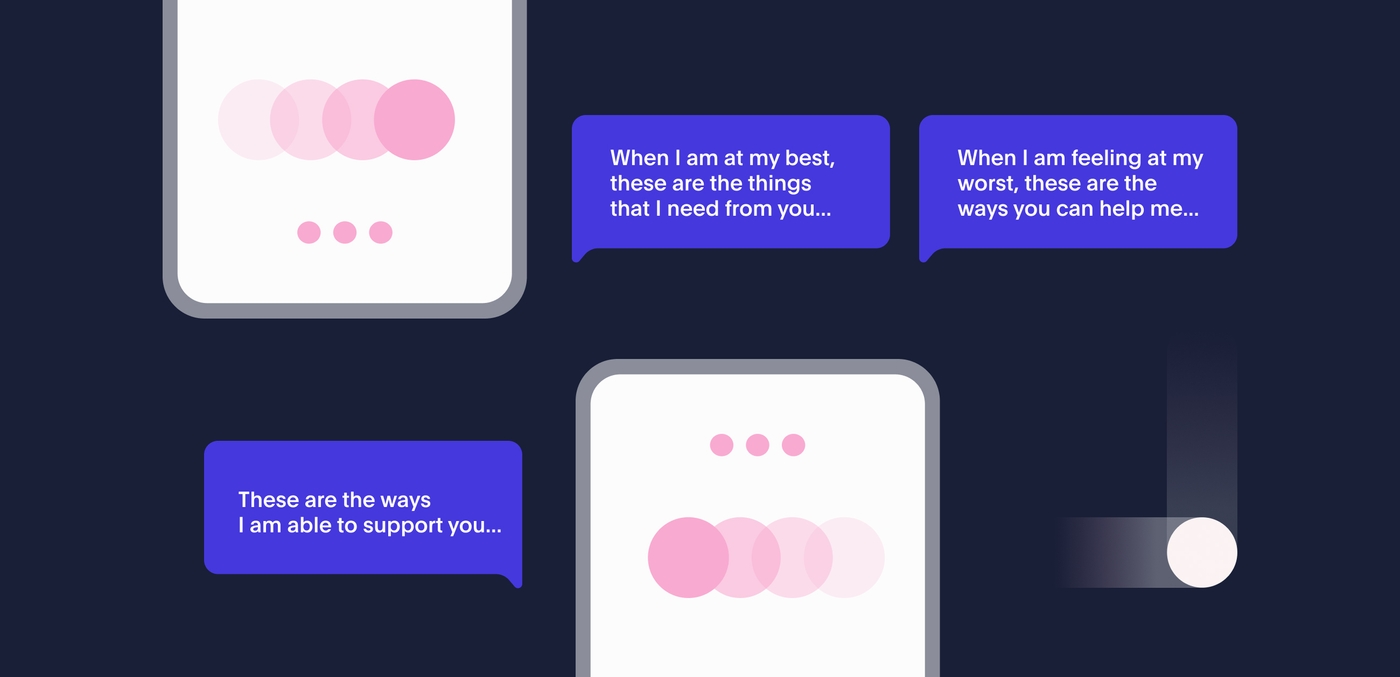 Considerations for this concept:
Make it easy to reach, digitally accessible and easy to use so that everyone can access the services they need, when they need them.

Support equitable relationship dynamics through each of the conversation prompts.

Meet people where they are at and allow them to set the pace. Acknowledge that decision making capacity shifts over time and work with individuals at their current state of mind, experience and level of understanding of the situation. 

Reduce potential re-traumatisation. Test and validate the content, user flows and interactivity with mental health care professionals, supporters, community groups and people who have lived experiences with mental health challenges.

Reduce the barriers around asking for help. Create a path for people to get the support they need, when they need it.

Reduce potential compassion fatigue. Encourage healthy boundaries to protect the health and wellbeing of the supporter network as well as the person they are supporting.

Recognise that supporters are not medical professionals and should not be put into a position where they replace the care of a medical professional. Where possible, future systems should encourage warm-handovers to trusted and known professionals or community-based groups (as described in the shared Ulysses pact).
This article is part of a series. Check out our other articles to see where our research into the Commission takes us next:
What's next?
Our research is far from over. There is a lot of work to be done, learnings to be learned and conversations to hold about the Mental health system in Victoria. If you or your organisation wants to be part of this conversation, we would be happy to connect, share insights and continue working on these important topics.
You can find us at hello@portable.com.au
For us at Portable, we will continuing our research, remembering...
to co-design with communities, industry experts and people with lived experiences
to develop, test and reiterate on ideas with the people who will use the systems and services you redesign
technology isn't a solution, it's in service to the people who interact with it
put people up-front and policy in the back
This research and development work was guided and completed by our cross-disciplinary team:
Allison Snow, Lead Producer
Chris Rickard, Lead Technologist
Greg Corlett, Senior Business Analyst
Maria Garcia, Senior Experience Designer
India Lock, Strategic Designer
Aishling Costello, Strategic Designer
Andrew Apostola, Co-founder, Portable