Portable recently co-hosted a dynamic panel discussion, titled Zero Emissions: Business Meets Sustainability, alongside The Business Pickle.
Featuring a lineup of industry leaders from a range of sectors, all of which passionately spoke about what businesses can practically do to help tackle climate change and contribute to a more sustainable future.
If you missed out on joining us live, don't worry — we've put together some of our favourite insights from the panel discussion for your viewing pleasure!
And for those of you who are inspired by these takeaways and want to watch the full discussion, you'll find the recording at the end of this article.
Alright, let's dive into our five favourite takeaways from our recent Zero Emissions panel event!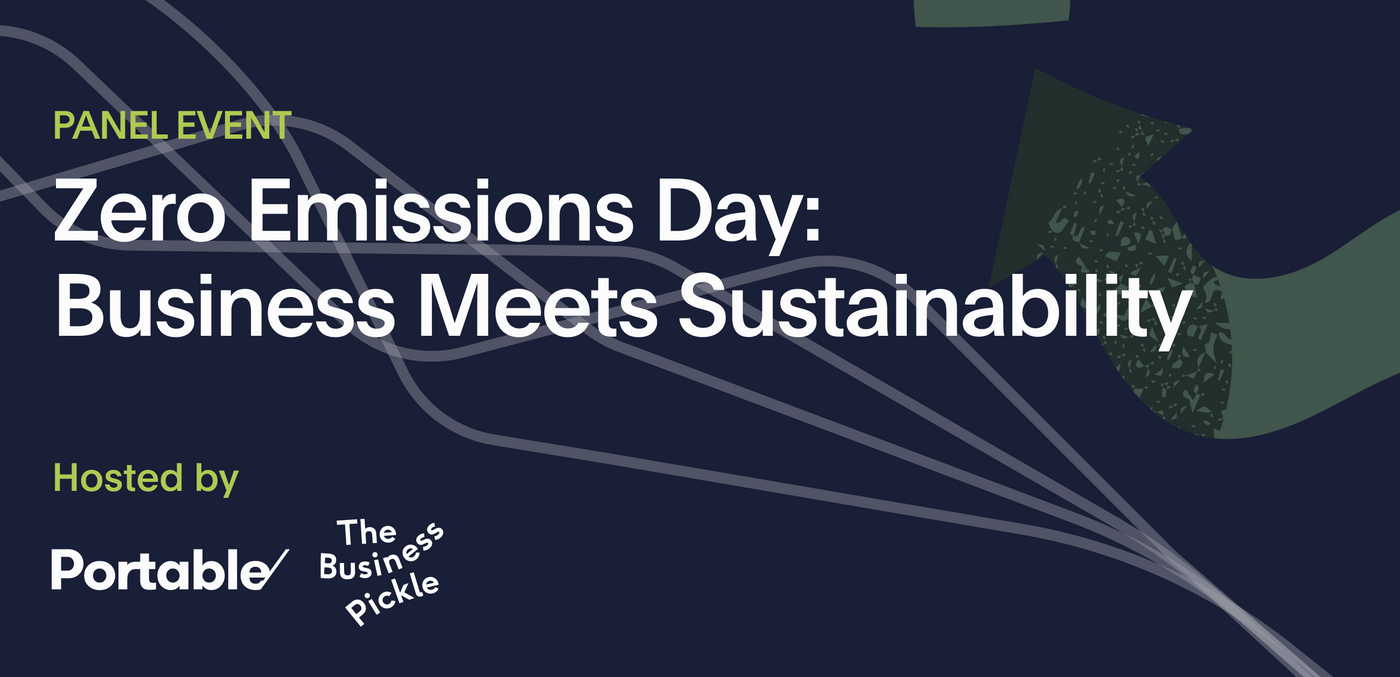 1. It's Past Time for Climate Action
"Why wait for government regulations when businesses can take the lead right now?"
When Emma Pocock, CEO and Co-Founder of FrontRunners, emphasised the need for urgency in climate action during the panel, she really struck a chord with the audience, highlighting the fact that any action taken is progress over the status quo.
Insight:
Policy may take time, but innovative practices exist today that can reduce carbon footprints immediately. Your organisation doesn't have to wait for policy changes to make a difference. Don't wait for the perfect time, begin today.
Action:
Check out our recently-published sustainability strategy and discover how we worked with The Business Pickle to bring it to life, featuring downloadable templates to help you get started on your journey.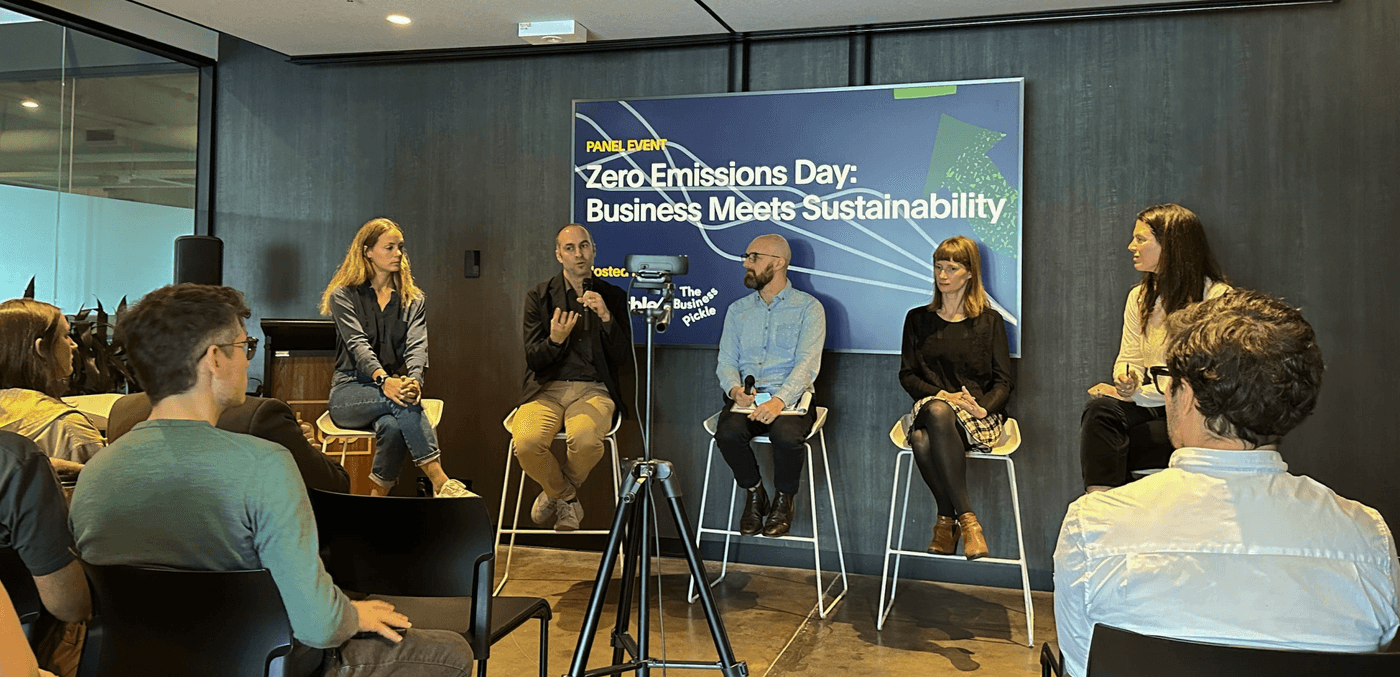 2. The Nuances of Carbon Offsetting and Reduction
Laure Legros, Head of Experience at WorkforClimate ANZ, made a point to question the tangible impact that generalised strategies such as carbon offsetting actually generates, emphasising the need for tailored approaches to building a more sustainable business.
Insight:
Sustainable business strategies should be tailored to the organisations that are seeking to make a change, as not all solutions will have the same outcome for all businesses.
Action:
Evaluate your organisation's specific needs and capacities to implement a multi-faceted strategy to reduce carbon emissions and build a more sustainable business.
Experience the discussion first-hand by watching the recording below or dive into the details by checking out the complete transcript over on our co-host's website, The Business Pickle.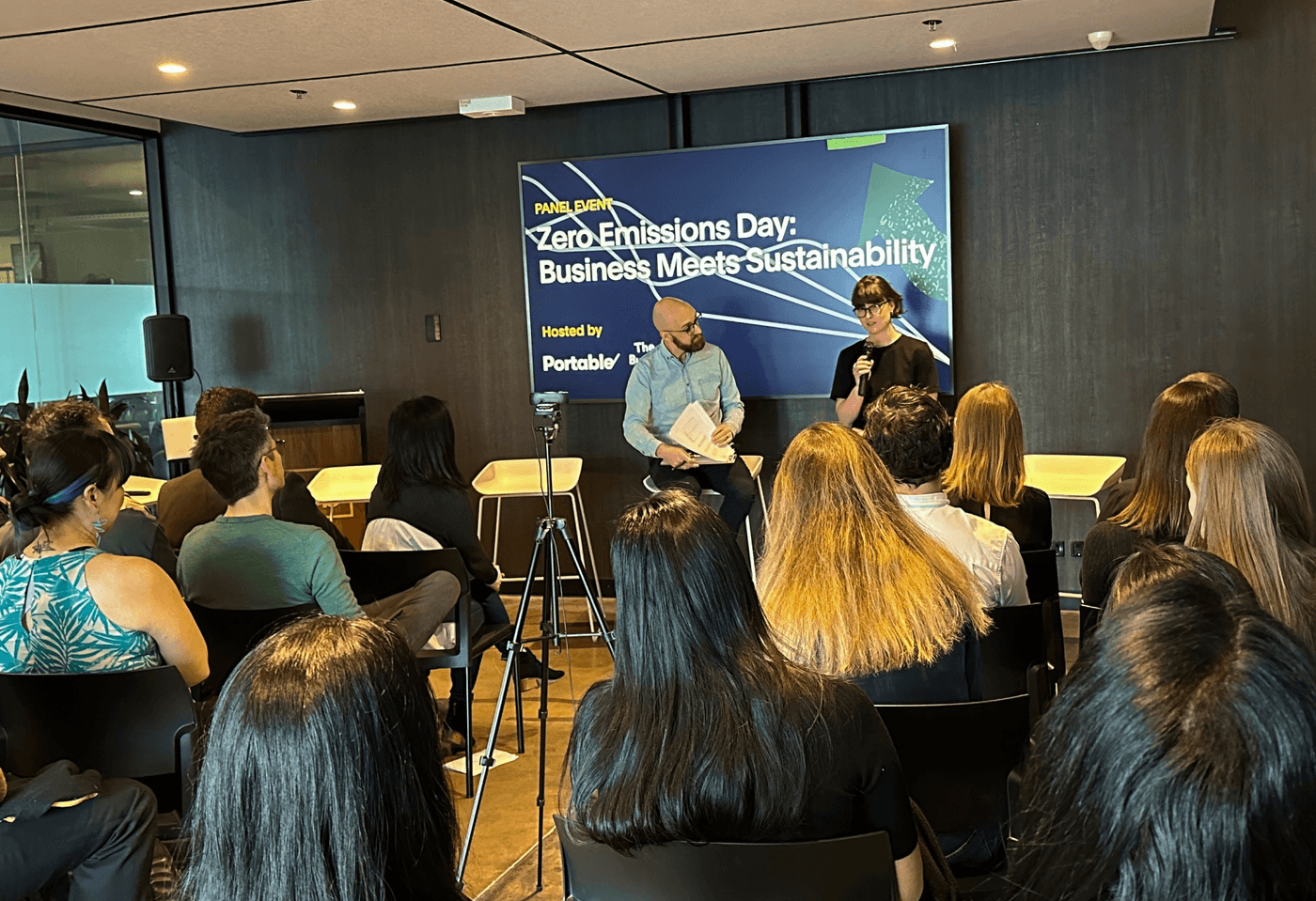 3. Electrification Is More Than A Buzzword
Jane Kern, Head of Impact Management at Bank Australia, helped us break down the concept of electrification while in discussion with the rest of the panel. It was made clear that electrification isn't simply a buzzword nor is it a glimpse into a futuristic utopia — it's happening right now. From electric vehicles to green manufacturing practices, the switch is flipping across sectors.
Insight:
Electrification offers immediate tangible benefits for a more sustainable future — and the technologies are already being utilised by purpose-driven businesses right now!
Action:
Review your operations to pinpoint where current technology can offer sustainable alternatives.
Check out our Net Zero 2025 Target pledge for helpful resources and to begin planning out a practical roadmap for your business.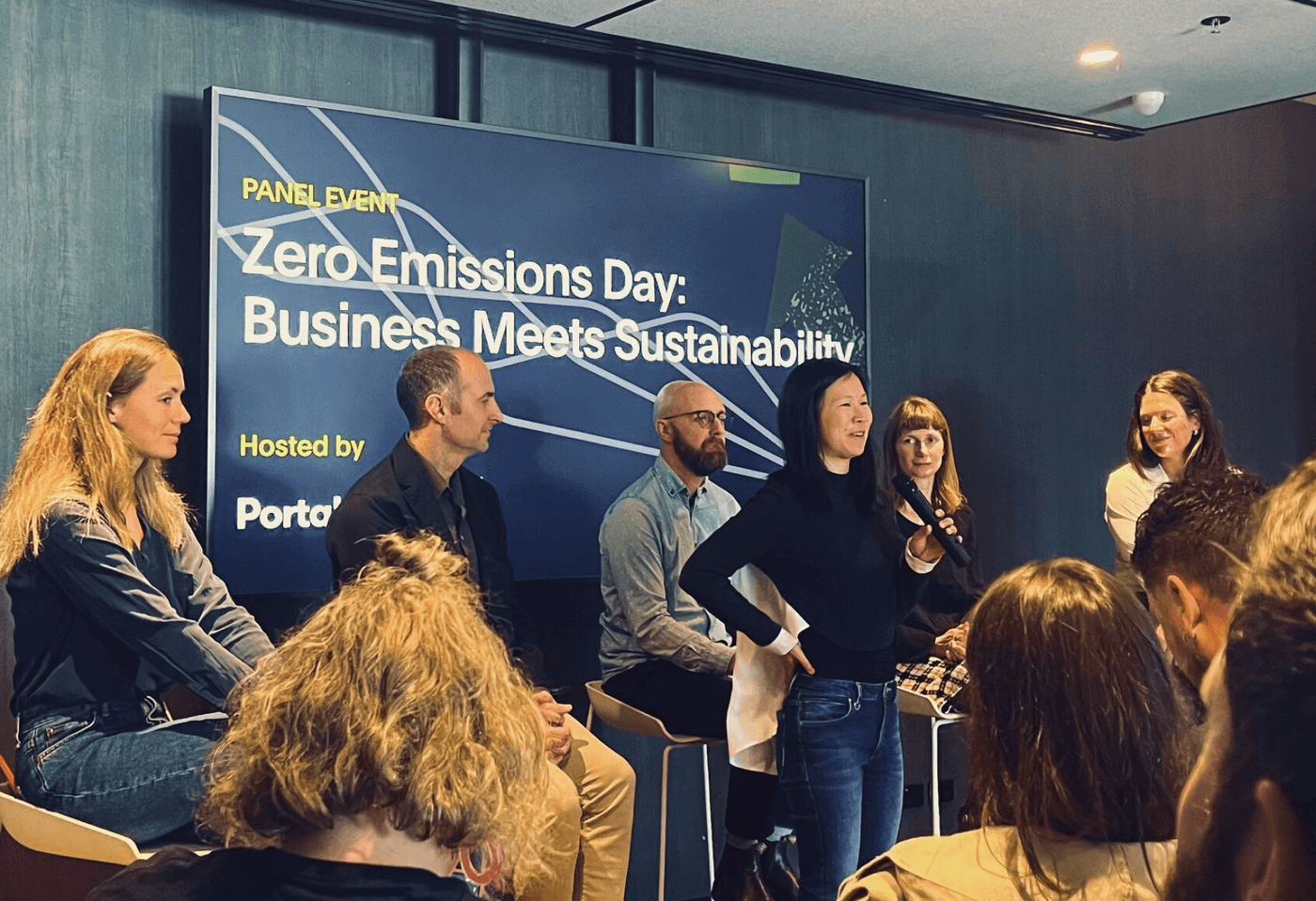 4. The Power of Policy Advocacy
The entire panel wholeheartedly agreed that there is real power in raising one's voice when it comes to creating real change within an organisation, particularly when it comes to sustainable business practices.
Insight:
Policy change needs champions, both from the grassroots and the executive level.
Action:
Utilise your organisation's influence to advocate for necessary policy changes, even if it means starting small by starting an advisory/advocacy panel with like-minded colleagues.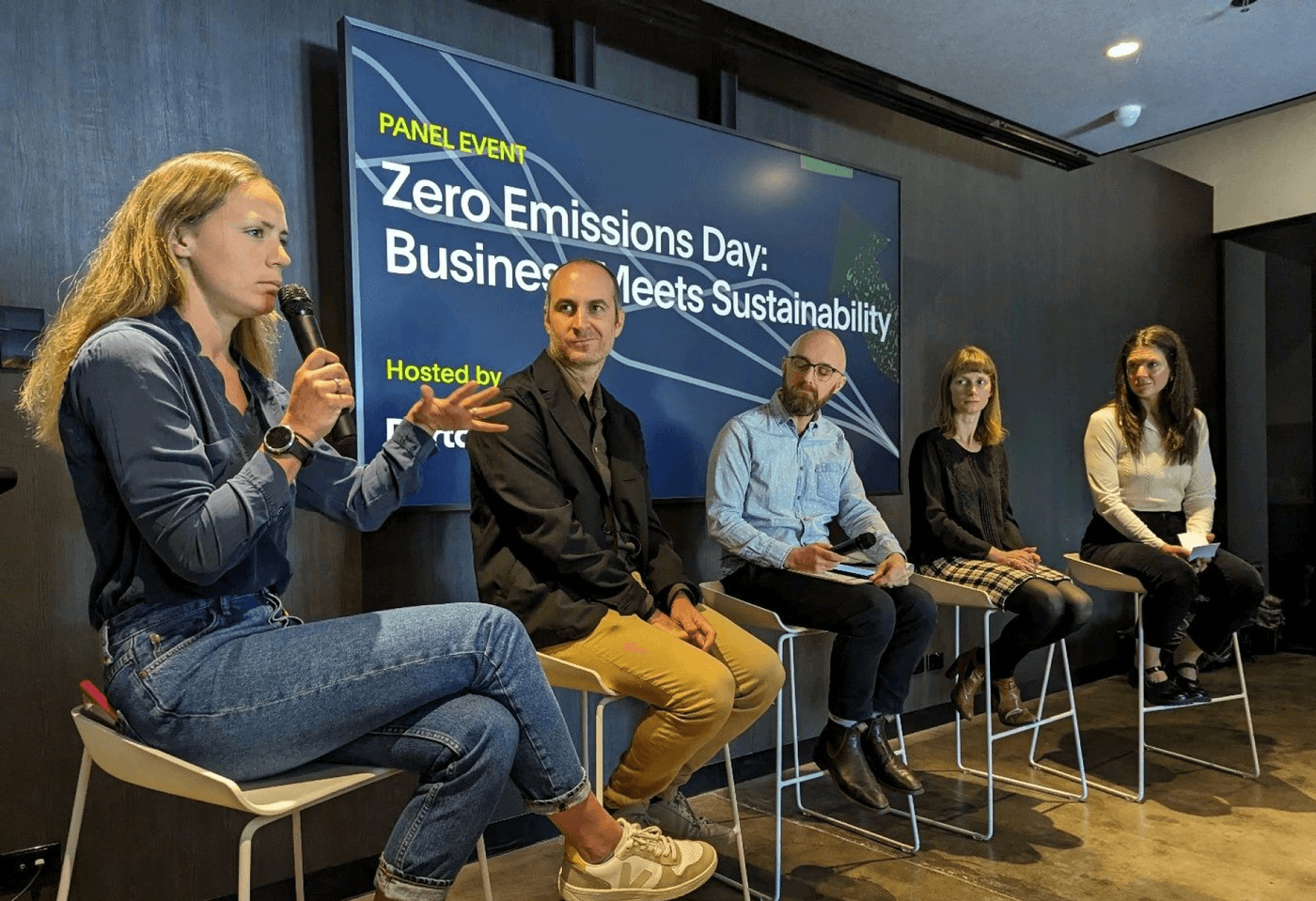 5. Community and Collaboration Create Change
Early in the panel we heard from Portable CEO, Andrew Apostola, as he advocated for being selective when it comes to organisational partners — ensuring that they align with your sustainability strategy and can support you on your journey.
This sentiment was echoed by the panel during the closing discussion which really helped to highlight the power of collaboration and collective action when seeking to create long-lasting change.
Insight:
Build a professional network that can support your organisation in creating an effective sustainability strategy. Remember that the cumulative effort of many almost always achieves what one cannot.
Action:
Explore partnerships and collaborations to amplify your sustainability efforts.
Consider starting your search with a certified list of organisations such as those who have taken the time to become a B Corporation.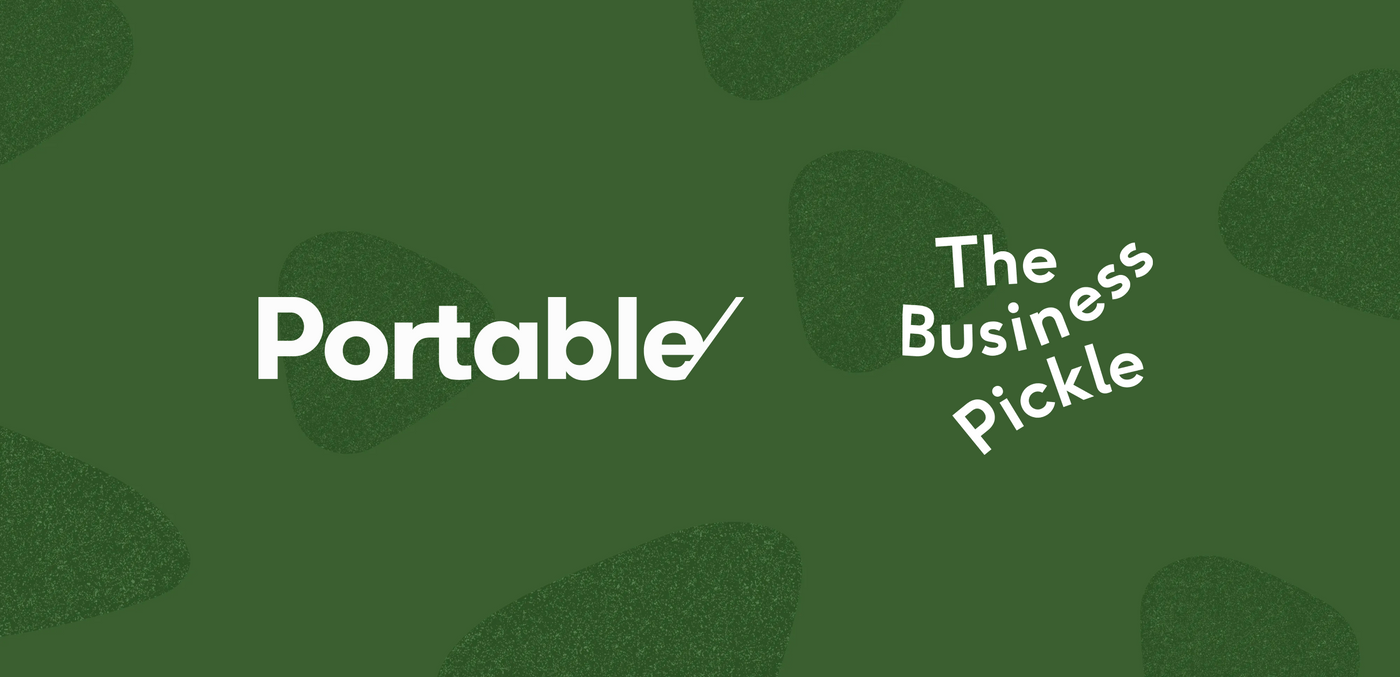 Seize The Moment: Take Action
Right now, there's an unparalleled momentum in the community. This isn't just a moment; it's a movement. The gathering of experts, advocates, and curious minds at our panel discussion for Zero Emissions Day 2023 was more than just talk — it was the groundwork for actionable change.
So here's the game plan: dive into the resources below, share actionable insights with those in your network, and kickstart the change you want to see.
Because the future doesn't just happen; we shape it, together.
Resources:
Dive into the details by reading the recording transcript on our co-host's website over at The Business Pickle.
Learn about how Portable plans to cut our carbon emissions in half by 2025 by reading our recent pledge for the Net Zero 2025 Target.
Get the resources to begin your journey toward a better business by exploring our recently-published sustainability strategy.
For an immersive experience, watch the recording of the panel event which is featured below.