Our work in death and ageing
In 2017, after engaging with industry, clients, health professionals and members of the public, Portable started a new, self-initiated research project into death and ageing. Through this work, not only did we publish a report and recommendations, but we also developed a range of prototypes that we believed could help move the sector forward towards better outcomes including a prototype platform 'Endly' which connects people to death doulas in their area (death doulas act as companions, advocates and educators for the dying and their families).
In 2018, we submitted our report to the Australian Royal Commission into Aged Care Quality and Safety and whilst we waited for the commissioners to draw their findings, we shared these prototypes with the sector to seek feedback and drive conversations around how technology and design could bridge the gap between citizens' real-life experiences with end-of-life care.
Leisa Leon, a project officer and occupational therapist who worked at the PHN at the time reached out to Portable to discuss partnering on building this community connector platform for end-of-life care services in the area based on our work exploring the future of death and ageing and prototypes we had designed which echoed this idea.
Through a number of conversations, it became very clear that North West Melbourne Primary Health Network was the right partner to work with to bring this vision for a digital service into the world. The team at the Primary Health Network were looking to introduce a new service to serve an unmet need in their catchment areas and their passion for leaning into innovation and technology meant that we were able to form a strong partnership based on a shared vision. 
In 2020, both Portable and North West Melbourne Primary Health Network committed to investing the required time, money and resources to bring what would become 'Lately' into the world in partnership.
What is Lately?
Lately is a tool that empowers dying people and those who support them to find holistic approaches to end-of-life care, with the services and information they need throughout the course of their constantly evolving journey. Lately encourages and supports people to continue doing the things they enjoy, and find opportunities for new things too. 
It is a web-based application that can be accessed from a computer, tablet or mobile device, and used to find services in their area that provide medical, emotional and practical support, as well as many other parts of end-of-life care and palliative care. It also answers questions and helps people have difficult conversations about dying. 
We worked with North West Melbourne Primary Health Network to launch the product within their catchment areas as a locally branded solution called 'Precious Time.' The platform itself though has been designed and built to be scalable into other public health catchment areas across Australia and can be branded to suit other local PHN contexts and audiences.
At its core, Lately does three things:
Guides and connects people to a diverse network of services and support
A powerful search directory that guides people to the pages and services they need, supports them with multiple information hubs on popular topics and a glossary of common end-of-life terms.
Creates opportunities for addressing social, emotional and medical needs together
Listing a wide range of services that cater for the diverse preferences, attitudes, language groups, skills and hobbies of the North West Melbourne community, with a comprehensive list of frequently asked questions around end-of-life topics.
Empowers people to connect with their communities and each other
A list of tips and resources for starting important conversations and the opportunity for people to nominate services to be listed on Lately. Promoting and empowering grass-roots and community-driven services and groups, and providing opportunities for individuals to create and connect with the networks around them.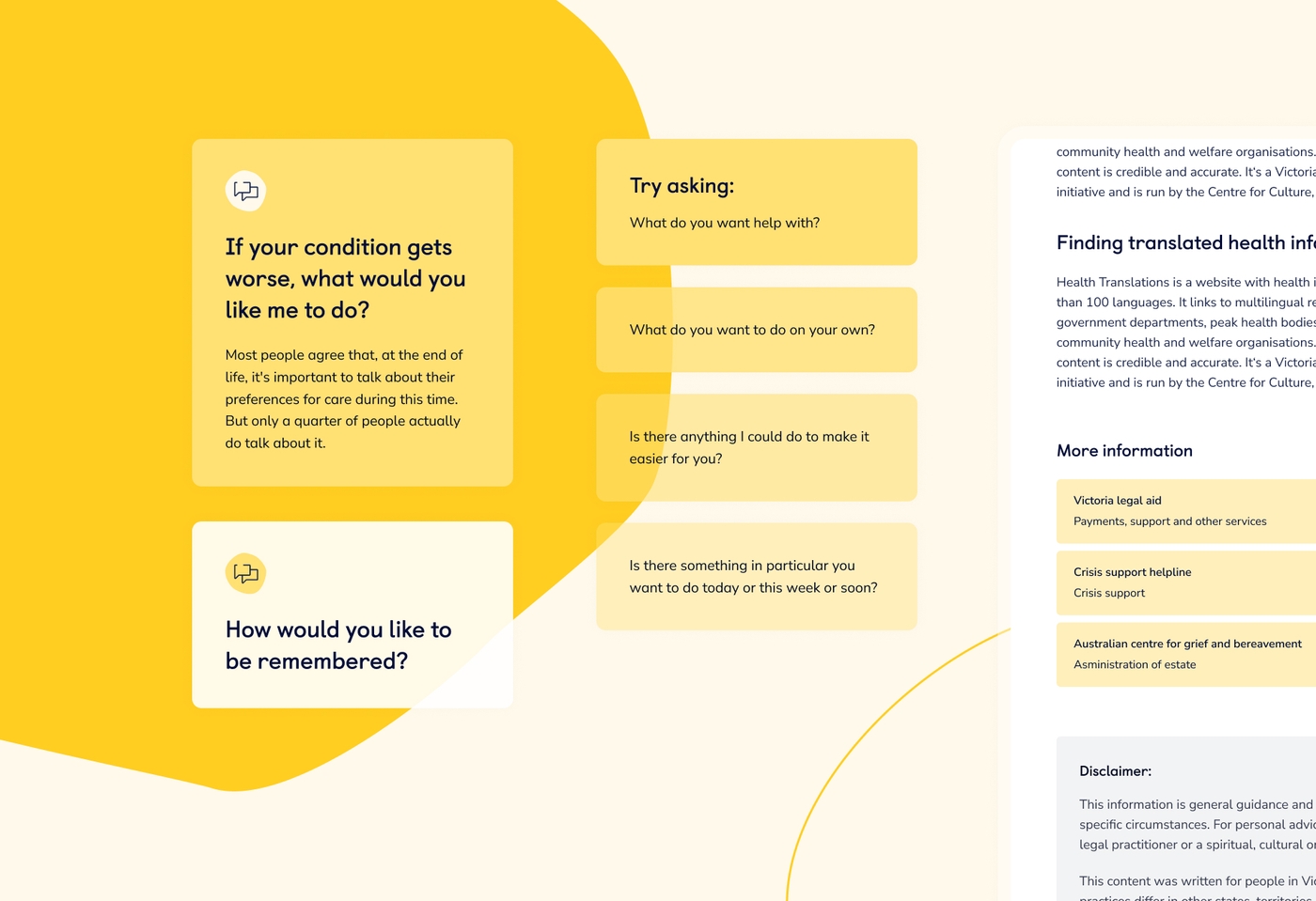 Design challenge
Entering and navigating the final stage of life is something we will all go through. Despite this being an inevitable and universal experience, it is currently complex, rarely spoken about and often doesn't cater to people as individuals. Many of us hold beliefs, values or wishes that we want reflected and upheld as we begin the end of our journey, but few people know what services and support is available to them when they eventually reach this stage, or how to access it. 
For many people, talking about death is a new, untrodden path. The system is made up of many moving parts, an overwhelming amount of information without a central place to refer to. On top of this, many services, keywords and concepts around the end-of-life journey are unknown, making it a topic that feels like hard work, and subsequently avoided.
Knowing this context helped us to define a how might we question to direct this project:
How might we design a tool that honours people's deeply personal experiences and preferences for accessing, exploring and engaging with services for themselves or their loved ones who are dying?
Approach
A true partnership
Our team felt inspired by the fact that we had found a partner that was willing to dive deep into our research and deepen our combined understanding of the problem space and join forces with us to fund the research, design and development of this new tool. 
Taking an agile approach
Knowing the intended outcomes of Lately, and understanding the user needs meant that our design and technology team now needed to prioritise and estimate the effort for each feature and function of the application. Taking an agile approach meant that we could build the application through iterative releases, with each release demonstrating a key feature or functionality set that met one or more prioritised user needs. We decided to take a sprint-based approach to the project, starting with a series of discovery sprints focusing on learning about the needs and challenges of dying people and their carers. 
Using scrum methodology with rituals like sprint planning, showcases and retrospectives, we modelled and implemented an agile approach. We invited our North West Melbourne Primary Health Network project partners to be in the team with us, participate in the rituals, and ultimately build their capability in using agile to stay informed and create better technical decisions throughout the application development phases.
Stakeholder and community engagement
We completed several engagements with subject matter experts and people either diagnosed with a terminal illness or supporting/had previously supported a dying person. Working with North West Melbourne Primary Health Network, we recruited participants from across the community, including healthcare workers, palliative care staff, service providers, carers, and end-of-life researchers. 
We worked with multiple partners including The LOTE Agency and a cultural consultation with Wurundjeri elders through the Wurundjeri Woi Wurrung Cultural Heritage Aboriginal Corporation to ensure that the voices contributing to the research for the tool represented the North West Melbourne population. We engaged with community leaders and Elders to learn about the needs of Aboriginal communities in the area and their preferences for care and support, and ran focus group sessions supported by translators with members of the Arabic, Vietnamese and Chinese community – the 3 largest non-English language groups in North West Melbourne.
Visual design
The later stages of the project, also conducted in sprints, focussed on the design and development of the website UI and the finalisation of prioritised features selected for the MVP (minimum viable product). Our design team started by crafting a set of design principles to inform all of our design decisions. We also conducted a brand positioning exercise with the team at North West Melbourne Primary Health Network to identify how to create a brand that suits their organisational context. Themes of social, emotional and medical needs were used to inform a look and feel that is clear and trustworthy, whilst also being welcoming and playful.
Choosing a name
The product name of 'Lately' was then selected as it represents the later stages of life and carries a conversational tone that continues through into Lately's written content and features.
Usability testing
During over 20 interviews with potential users, the team carried out three rounds of testing. We tested our initial concepts to understand what format the tool will take. We then developed mid, and high fidelity prototypes and tested them at each stage. Testing and refining our work in this way allowed us to arrive at a set of features and functionality that is tailored to the people that will use it, and is truly unique to the tool we developed.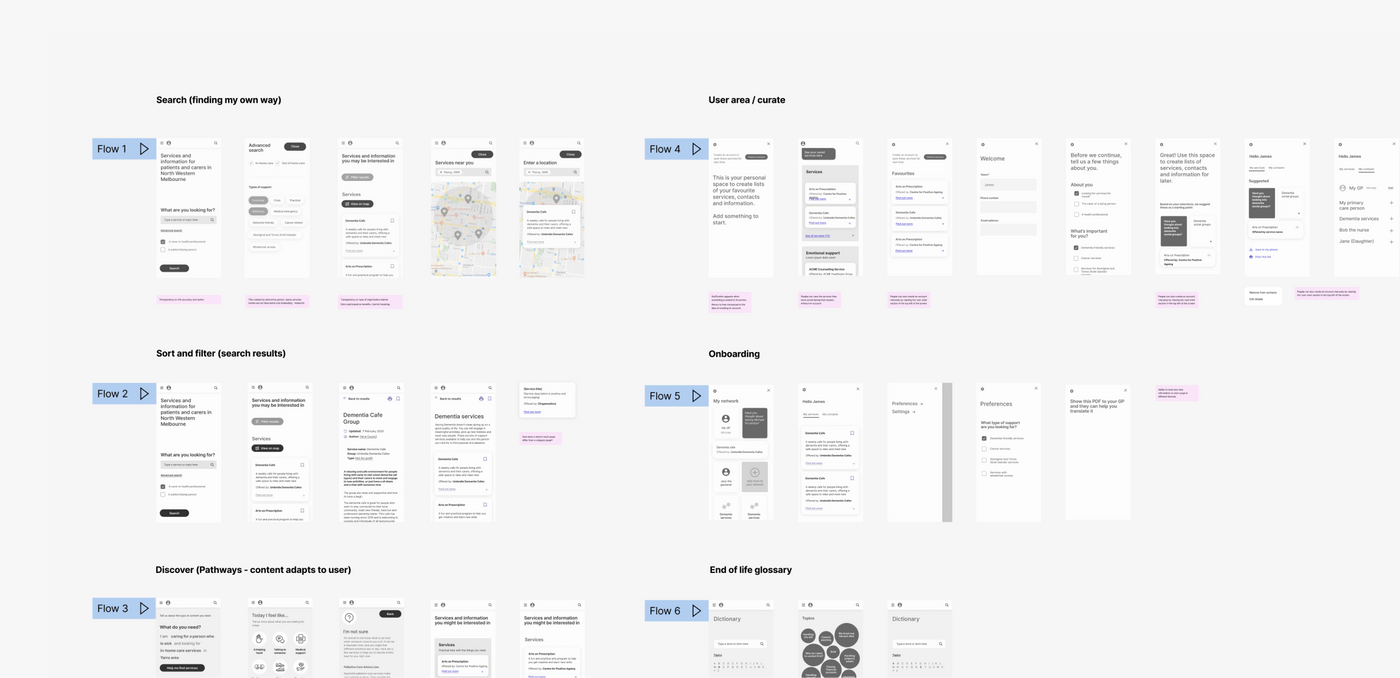 Accessible content
With a predominantly older user group in a time of heightened stress, we worked to create accessible, supportive content that acknowledges the common challenges, anxieties and emotions present throughout the end-of-life experience and is free from jargon. Through extensive research and user testing, we created three distinct content formats to sit alongside our services directory: answers to commonly asked questions, conversation cards and glossary terms. Each of these formats relates to specific stages in the journey of finding help for yourself or for someone you are caring for who is nearing the end of their life.
Content implementation
Our technology and design team worked together with our Content Strategist and Experience Designer to build templates for the various types of content that Lately would offer, including the service listing data as well as content pages. We also created guidelines for inputting data into Lately. This helped both Portable and North West Melbourne Primary Health Network in content gathering so that we could build and test with real data. 
The process of creating, reviewing and approving content involved research and copywriting by our Content Designer, followed by review by subject matter experts, who were independent of North West Melbourne Primary Health Network and varied depending on the topic, as well as review by the product owner and PHN executive. This content governance process was mapped out prior to starting content creation and it helped to make sure that all content in Lately had been thoroughly checked for accuracy, appropriateness and represented the opinions of experts.
Digital development
Our Technology team and Developers worked closely with our Design team to understand the requirements of the service to appropriately select the technology for Lately. One of the primary considerations was whether or not to leverage an existing well-known content management system like WordPress and build additional functionality into that in a modular way, or to choose something that would be more lightweight that would be flexible to expansion and growth.
The team chose to build on the Strapi CMS framework, which was powerful enough to handle all of the different types of structured content the application would need to display. It also gives North West Melbourne Primary Health Network the opportunity to easily scale the entire application for other PHNs to use. Algolia Search API was used alongside Strapi to enable powerful content and services searching functionality, which the team saw as key to connecting people with what they were looking for. We wanted to ensure that someone can find exactly what they need quickly and easily especially as they might be experiencing a time of great stress. To complement this, a Google maps integration has been used to easily see what services are nearby.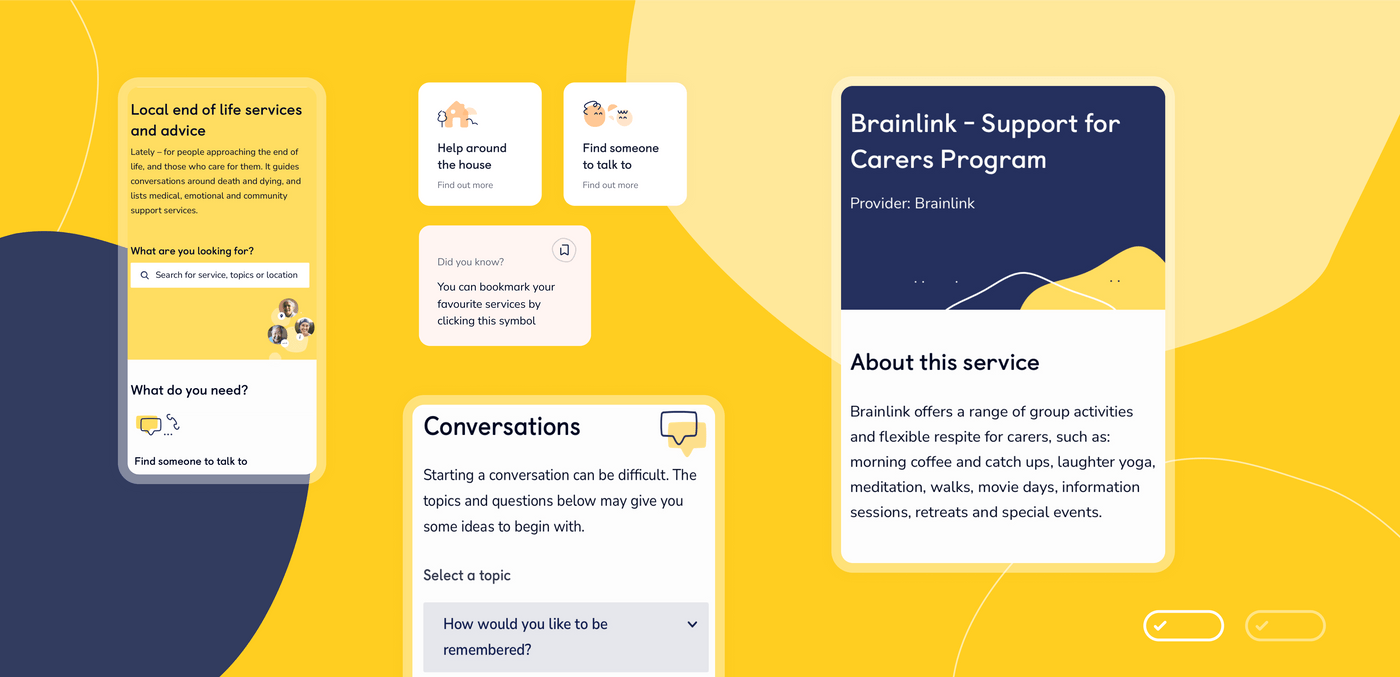 Outcomes
Entering and navigating the final stage of life is something we will all go through. Currently, finding end-of-life services is siloed, disconnected and complex. Without a central point of information to turn to, people are becoming lost, services are missed and people are dying without the right care. Lately bridges the gap, connecting people with the support, services and information that they need.
Previously, communities didn't have easy and direct access to a digital directory of services. GP's relied on paper directories to share information with their patients. Lately is a digital service directory of local community services, enabling people to choose the services that best reflect their needs including geographic, religious, language and other requirements. Through championing of local community services Lately also enables these organisations to reach more people and achieve greater impact within their communities. 

Services are made visible based on the value they deliver to people, meaning that smaller, grass-root service offerings are just as discoverable as institutional, established offerings.

Lately empowers people to easily find plain language, accessible and inclusive content that helps them to more easily traverse the end-of-life journey. It brings visibility and ease of access to information that was previously hidden or fragmented and difficult to find. 

Lately has been created to be easily scalable to PHN's across the state and country, with minimal management required by those PHN's.

Lately can be branded to suit local PHN contexts and audiences, as the North Western Melbourne PHN did for the Precious Time instance. 
Interested in finding out how your PHN could use Lately?
Reflections
Jesse Osowicki, Manager Integration, North West Melbourne Primary Health Network
"NWMPHN sought a partner to develop a community connection platform for end-of-life care services. We saw an opportunity with Portable to create a holistic approach to finding end-of-life services to improve the quality of life and create opportunities for culturally appropriate and values-led choices for dying people and their carers in our community. We are continuously looking at the future of our end-of-life care services and Lately is the digital support we wanted to add to our service offering to the NWM community."
Rebecca Hall, Program Officer, North West Melbourne Primary Health Network
"It's been such a pleasure to work with you all on creating the unique and meaningful digital tool that is 'Lately'. The team at Portable have shown such dedication and flexibility to ensure the needs are our community will be met by this project."
Celia Delaney, Design Strategist
"Lately was a challenging project, but deeply rewarding. Everyone's experience of the dying process is vastly different, but there are universal things we can all benefit from. Guidance, support, encouragement and connection to community. That is what we hope Lately can offer to the people it serves." 
Lately has since been awarded Gold in the 2022 Melbourne Design Awards and again at the 2023 Australian Design Awards.
BETTER FUTURE (previously known as DRIVENxDESIGN) have awarded Lately Gold in the category of 'Digital - Health' at the 2022 Melbourne Design Awards and subsequently Gold at the 2023 Australian Design Awards. This category celebrates "everything from ground-breaking apps accelerating medical research to apps helping consumers make healthier choices, we're looking for apps that are making health information and medical services more accessible to all.."
We are delighted that our work across the research, co-design, and development of critical services which aim to solve commonly-overlooked issues across the death and ageing areas and we would like to thank all of those involved in the project and setting it up for success.
We hope that this helps to highlight the importance of co-design collaboration with a broad range of individuals across the community when developing new services to ensure that they both align with the expectations and meet the needs of those who may be facing incredible hardship and who are seeking support based on their unique circumstances.
Project team
Angie Raj, Senior Producer
Olivia Gregory, Producer
Ash West, Lead Experience Designer
Adam Corcoran, Lead Design Strategist
Lee Briggs, Technical Lead
Andrew Fulton, Technical Lead
Debra Cupitt, Developer
Celia Delaney, Design Strategist
Peter Roper, Senior Content Strategist
Maria Garcia, Experience Designer
Harrison Blackmore, Experience Designer
Kerri James, Senior Client Partner
Sarah Kaur, Chief of Strategy
Download our report on the future of death and ageing